I wasn't intending to post this… A friend who needed to try GAPS for her newly-diagnosed daughter asked for some help with the time management portion of the GAPS diet.  I do cover time management in my Grain-Free Meal Plans by prepping multiple things at once, sprucing up leftovers for lunch the next day, and by using all the parts of the chicken for dinner and to make stock.
But sometimes even more simplicity is required.  Sometimes we need to do most of our cooking on the weekend when we have help so that we can get to appointments, work, or other activities during the week.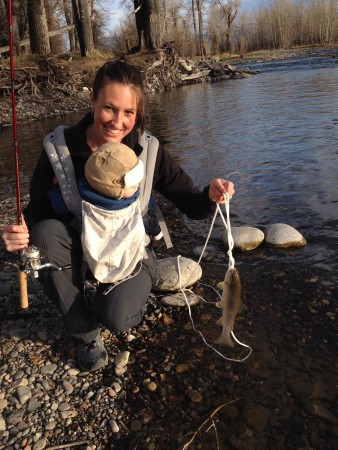 Sometimes… Sometimes we just need to go fishing rather than cook from scratch every night.
If we're doing GAPS or paleo for health problems, we know that when we deviate to processed or convenience foods our old symptoms come back. Our kids are cranky. Nobody sleeps well. Suddenly we're sick, even though the weather is warming up.
For many of us eating well is non-negotiable.
So what does an overwhelmed mom (or determined fisherwoman) do?
We bulk cook.
To follow is a very simple bulk cooking strategy that I do most Sunday afternoons. Yes, I let the kids watch The Little Mermaid or The Fox and the Hound on Disney Jr while I do this. But it allows me to bulk prepare the majority of our meals for the next 7-10 days.
For my friend, I wrote out some sample GAPS friendly menu ideas for a busy mom and non-picky toddler, with ketogenic options, dairy free. Those are included below as well.

Yes, I wish I could do this for everyone but I just don't have the resources to do so. I hope you find this helpful and encouraging though, if you have specific dietary needs maybe ask in the comments section and people can chime in with help.
This all lasts me more than a week, but it keeps my freezer stocked so that I don't resort to eating out or anything. Don't feel like you have to do all this, these are just the things I aim for when bulk cooking.
I bulk cook:
meatballs, 3-4 lbs of ground meat worth veggie-packed meatballs.
Chicken – I get boneless skinnless thighs from Costco, I think about 5 lbs at a time, cut into thin strips that she can pick up and then sautee in coconut oil, sea salt, lemon juice or lemon pepper
Beef stock cubes – and then add this to all stir fries/scrambled eggs, it's super good for them.
Kale or collard greens –
As much kale as fits in my big stock pot (about 1 pound? I buy it in a big container from Safeway pre-sliced up)
1/2 cup coconut milk, 1/4 c lemon juice, about 1 teaspoon sea salt, 1-2 of the broth cubes – put all in pot with lid on and let steam until soft, it cooks way down.
Carrots – peel and cut into rounds or sticks, then roast (2-3 lbs)
Onions and mushrooms – as many as you want to do, they cook way down. Just peel, slice, cook in coconut oil with sea salt. I could eat this forever ;) I do 5-6 onions and a big package of mushrooms from costco.
Spaghetti squash (2) – I don't even scoop out the middle any more, I just bake it whole, and take the middle stuff out after it's cooked, then separate the 'spaghetti' part with a fork, grease 3 pie plates and divide the squash over the pie plates, top with the meatballs, and use diced tomatoes (canned – just watch for added sugar), sea salt, pepper, and parsley or something to season it. Garlic too if you like that. These are your 'casseroles' and what I use on the days we have martial arts, I stick it in the oven before we leave (covered with foil) and it's hot when we get back.
Dried apples – this is great for snacks when you're out.
If you're doing ketogenic, you'll want to skip the fruit and the honey and just do meat/veggies. It's more complicated than that, but I know you need to avoid those.
* Scrambled eggs in coconut oil and a broth cube with sea salt
* Chicken strips dipped in applesauce (Costco has sugar free in little cups), carrot sticks
* Green beans (frozen. Again, Costco), cooked in a broth cube and with coconut oil and sea salt, add meatballs and heat through. One dish. Boom ;)
~~
* Smoothie: Coconut milk, frozen berries, frozen banana (freeze when they get spots on them, I buy like 6 bunches at a time and then peel and freeze once ripe)
* Meatballs in marinara sauce or just diced tomatoes (easier to find without sugar). Thawed frozen broccoli or peas. Add some coconut oil to the sauce for fats, a broth cube because we're obsessed with broth on GAPS ;)
* Your beets, add coconut aminos (health food store has this – not Braggs, Coconut) to them to make a beet salad. Chicken strips dipped in mustard if you want, fruit salad.
~~~
Coconut flour waffles top with coconut oil or almondbutter and honey, or simmer down some frozen blueberries and add a little coconut oil to up the fat.
Salmon salad with homemade mayo (it really only takes 3 minutes in the blender)
Burgers (bunless) with guacamole (homemade) and your onion/mushroom stuff that you made. Wrap in lettuce if you want. Squash fries if you have time.
~~~
*Eggs poached in stock (broth cube)
Bacon – watch for added sugar, many stores are carrying sugar free now.
* Chicken strips and carrot sticks (cooked), mayo to dip from yesterday's salmon salad.
* Greens that you cooked already, add chicken strips to it, and more frozen green beans or frozen cauliflower. Cooked in a broth cube and coconut oil :)
Shortcuts (stuff you can buy pre-made):
Epic bars
Coconut milk (Natural Value)
Lara Bars (not ketogenic)
Stretch Island Fruit Leather (not ketogenic)
Coconut Aminos
Mustard, yellow
Nearly any frozen veggie (no corn or potatoes)
Frozen fruit (not ketogenic)
Pre-washed/cut kale, spinach, lettuce
Applegate Sausage (watch for fruit in it if you're doing ketogenic)
Tropical Traditions bison summer sausage
Applegate hotdogs (Our Safeway has the best price – I just grabbed half a dozen packages for $3.50 each)
Organic lemon juice, bottled.
More encouragement:
I've been doing this a long time, so this is what I've settled on for our basics.  The more you get used to cooking like this, the easier it will get. Having a stocked fridge and freezer helps tremendously for seeing progress and reducing stress.
Watch below as I bulk prep snacks for the week.