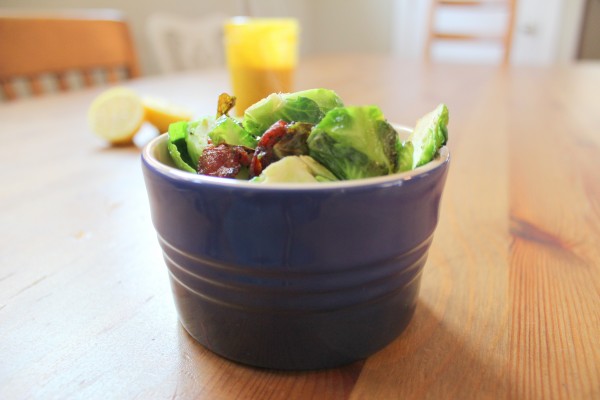 Brussels sprouts cooked in bacon drippings, and then topped with honey mustard dressing are a prefect side dish for winter. Brussels are sulfur-rich, sulfur is abundant in the human body and needed for many functions of our body – including detoxification. Sulfur can also be found in eggs, beef, and other animal products. (see more about sulfur in the body here)
In addition, brussels sprouts are in season during the winter, and are a nice hearty dish for holiday tables, or an easy one-pan dish for week nights! The leftovers of this recipe are delicious the next day for lunch as well. Be sure not to cook the brussels sprouts too much – take them out of the pan when they're a little under-done and they will continue cooking as they sit a little bit.
Brussels with Bacon One-Dish Recipe
Serves 4-6
Ingredients:
4 cups brussels sprouts
4 slices bacon (or more, depending on how bacon-y you want your side dish- up to 1/2 lb)
1/2 cup chopped almonds (optional)
1 lemon
(for the dressing)
1/4 cup mustard of choice
2 tablespoons honey
1 teaspoon apple cider vinegar
Directions:
Cut bacon into 1-inch pieces and heat over medium heat in a large skillet, stirring occasionally to prevent sticking, for 10-15 minutes.
While the bacon cooks, rinse the brussels sprouts and remove the stem end, as well as any blemished leaves from the outside.  Cut in halves or quarters and reserve.
When the bacon is done, remove the bacon, leaving the grease.  Add the halved brussels sprouts and sautee over medium heat, stirring every minute or so to prevent sticking.  Sautee for 10 minutes, or until bright green and still fairly firm.  Remove from heat and place brussels in a serving bowl.  Top with bacon pieces and pour dressing over the top of each serving.
Honey-mustard dressing:
Combine above dressing ingredients in a mason jar, mix with a fork.  Keep any extra in the fridge, covered.