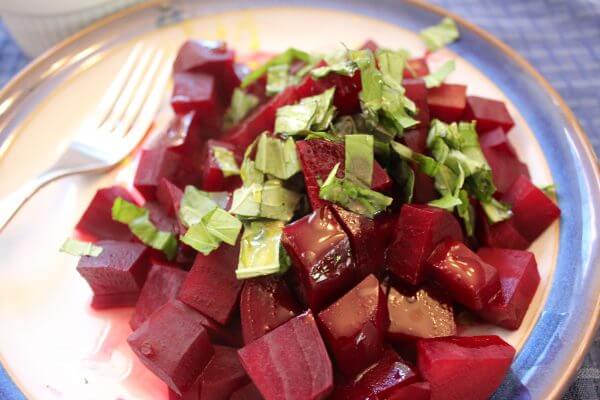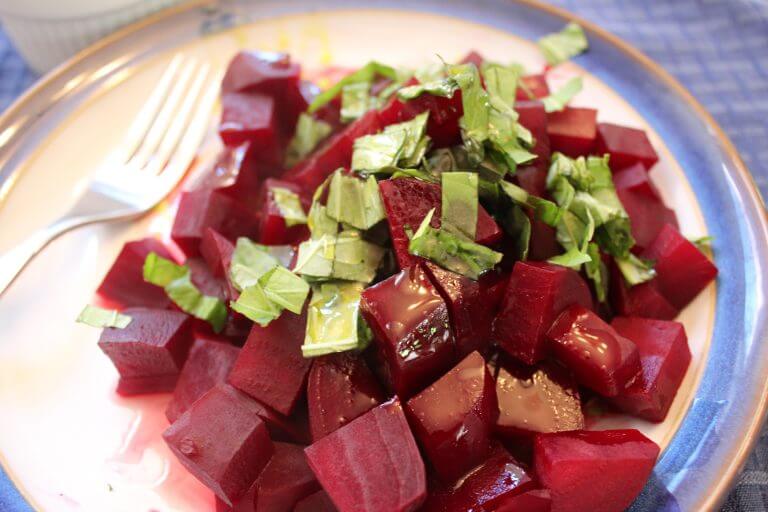 Beets, with their bright red color and earthy sweet flavor make a lovely winter salad.  This salad keeps well, I recommend doubling or tripling the recipe to enjoy all week long.  Beetroots traditionally are used to cleanse the liver, for heart health, and toxin reduction.
There are many medical studies that also show the health benefits of beet consumption (source), and I encourage you all to give this delicious fresh salad a try this winter!

Sweet and Tangy Beet Salad (GAPS, Paleo, Seasonal)
This fresh salad has raw herbs and sweet steamed beets and is perfect for winter. The
fresh-pressed olive oil
and raw apple cider vinegar both add beneficial nutrients that are missing in many diets. Beets are thought to have cleansing properties, especially for the liver. Finally, use unrefined sea salt to add additional trace minerals to this salad.
Cuisine:
Paleo, Gluten Free, GAPS, SCD
Ingredients
4 large beets (about 1 pound)
¼ cup olive oil (find fresh pressed olive oil here)
2 tablespoons fresh basil, diced, or 1 tablespoon dried basil
½ teaspoon sea salt
1 teaspoon raw apple cider vinegar
Directions
Scrub beets, and peel using a high-quality vegetable peeler.
Use a large knife to cut beets into bite-size pieces.
Steam in a steamer basket on the stovetop for 10-18 minutes, or until fork-tender but not mushy or in the Instant Pot for 8 minutes.
Remove from heat and allow to cool until comfortable to touch as to not kill off the raw enzymes in the apple cider vinegar.
Toss with olive oil, basil, sea salt, and apple cider vinegar.
Serve still warm, or chill and serve.
Store leftovers in the fridge, covered.
Notes
This recipe is part of
Real Plans
- the healthy menu planner that is customized to your specific dietary needs!
Click here
to add this recipe to your weekly meal plan right now.
Getting back in the hang of eating more seasonal vegetables this winter?
Here are 3 more winter salads you are sure to enjoy!
Cabbage-Apple Slaw with homemade yogurt dressing
Brussels with Bacon and Honey-Mustard Dressing

21 Easy and Delicious Grain-Free Meals
Curious about eating grain-free? I want to show you how easy and delicious it can be!
Try our best-selling meal plans... for free!
Just enter your information and I'll email it to you right away.