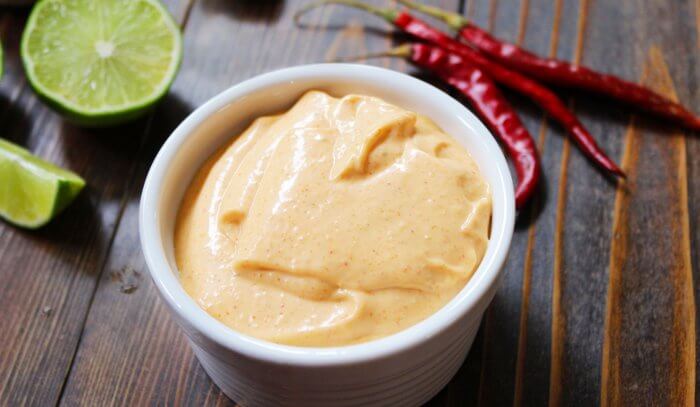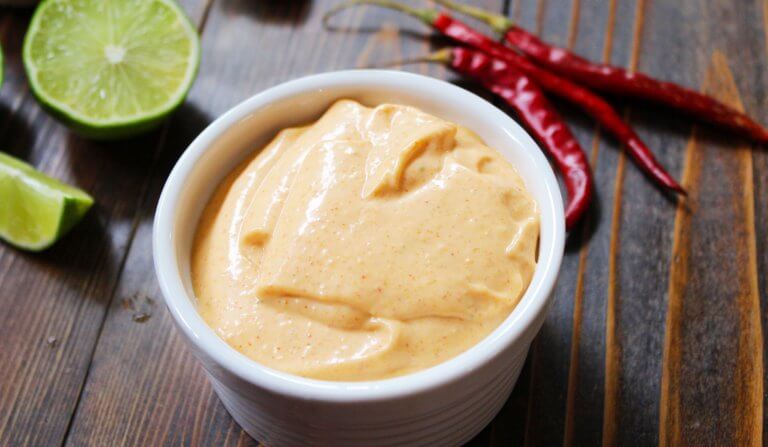 I have love love loved Primal Chipotle Lime Mayo ever since I first tried it. I still purchase it for when we travel and I need a flavorful healthy condiment to keep us from eating junk food that will make us feel sick. But the price tag for store-bought (though completely reasonable for this high quality product!) does not work for my weekly budget, so I was excited that I could make this myself at home.
  Read more about eating real food in hotels and on vacation here.
Why Not Sriracha?
There are lots of recipes for Sriracha mayo around the web that I'm sure are delicious.
Sriracha has been an incredibly popular condiment for the past few years, with its bright read bottle, green cap, and white line drawing of a rooster on the label standing tall on many restaurant and home tabletops.
Ingredients in this Sriracha hot sauce (and many other prepared hot sauces) include sugar, which isn't allowed on the GAPS Diet even in trace amounts, preservatives, and xanthan gum (also not allowed on GAPS).
While I don't think Sriracha is going to cause an otherwise-healthy person any real harm, when I choose a hot sauce I tend stick with simple hot sauce like Tabasco (the original) or just add cayenne to taste as in this recipe.  All the flavor, none of the junk.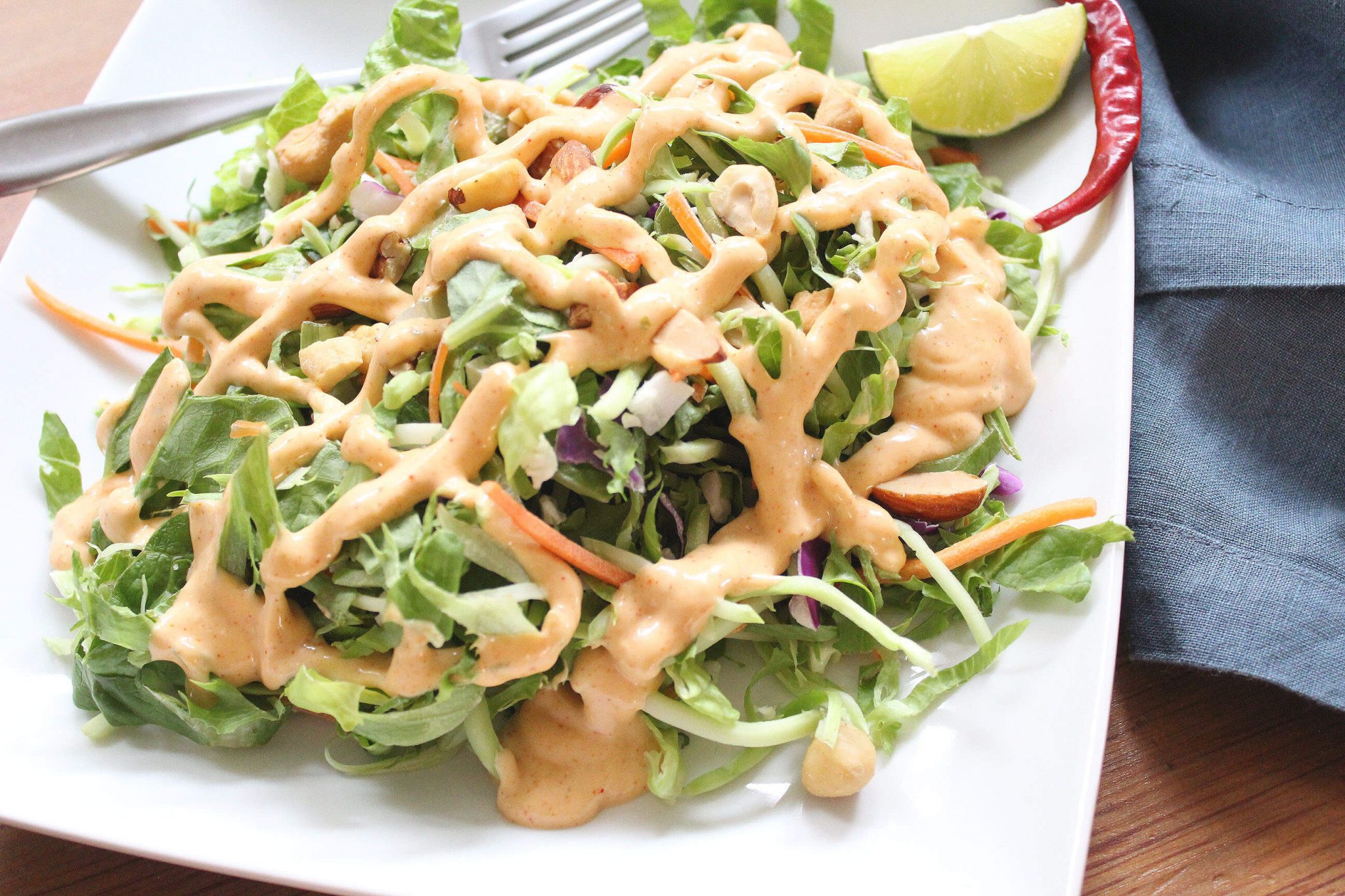 Homemade Mayonnaise & Dressing
A good homemade dressing is easy to whip up, and makes or breaks a boring salad.  The salad pictured above? Bagged salad from Costco ;) (I let the kids eat the pita strips that came with it). But a sprinkle of mixed nuts, and a drizzle of rich and creamy salad dressing, and it's the perfect meal or side!
To make salad dressing out of our mayo, simply add more lime juice to thin to desired consistency. The acidity of the lime cuts the richness of the mayonnaise.
Kid Tip: Increase the fun of salad dressing by putting it in a squeeze bottle for a pretty presentation and even coating of dressing.  Since this salad dressing is full of flavor and healthy fats, you can let kiddos express their creativity as they dress their own salad.
Keto and Dressings
When doing the ketogenic diet it can be easy to go way over your protein goal for the day.  While that's not necessarily bad, healthy fats like this dressing can both lower your grocery cost and make you feel better.
A friend recently asked how hard doing keto is with a family and I replied, "It's really not hard at all – just add gobs of fat to whatever protein you're serving your family for dinner, and take a medium portion of vegetables, again, with more fat."
What to use this for
This mayonnaise is delicious on meat, and even on top of scrambled eggs! Thinned for salad dressing, this is my favorite ketogenic salad dressing and adds pizzaz to even bland bagged salads.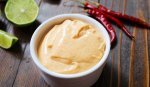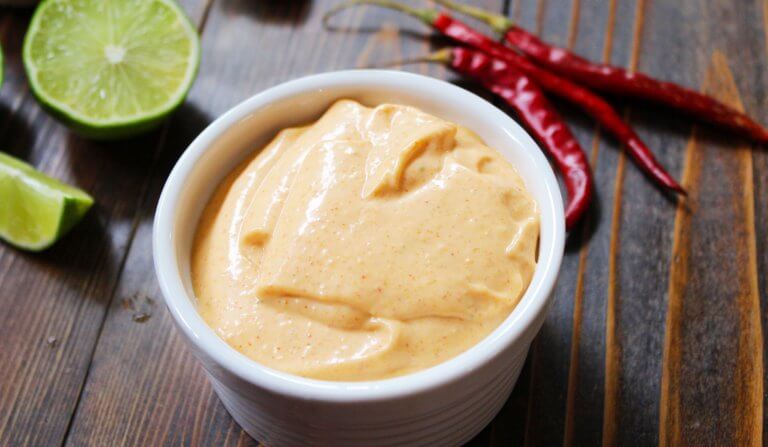 Creamy Chili Lime Mayo and Salad Dressing (Keto, GAPS)
The complex subtle flavors of chili and lime add a delicious depth to this easy homemade mayonnaise. It's super to be a hit in your house that you want to make again and again.
Print
Ingredients
to make salad dressing
3

additional limes

juiced
Instructions
After making your mayonnaise with a food processor or immersion blender, add the zest of one lime, juice of two limes, crushed garlic, sea salt, cayenne pepper, and smoked paprika.

Puree until mixed through.

Adjust to taste if needed: Too rich? Add more lime juice or zest. Not spicy enough? Add a pinch more of cayenne- be careful, though, the heat can sneak up on you!
To make dressing
Add additional lime juice to thin.
Storage instructions: Store covered in the fridge and use within 3-4 days.
Recipe Notes
Nutrition data calculated for the mayo. Carbohydrates have been rounded up, there is about 1/2 net carb per tablespoon of this recipe.
Nutrition Facts
Creamy Chili Lime Mayo and Salad Dressing (Keto, GAPS)
Amount Per Serving (1 g)
Calories 103
Calories from Fat 108
% Daily Value*
Fat 12g18%
Carbohydrates 1g0%
* Percent Daily Values are based on a 2000 calorie diet.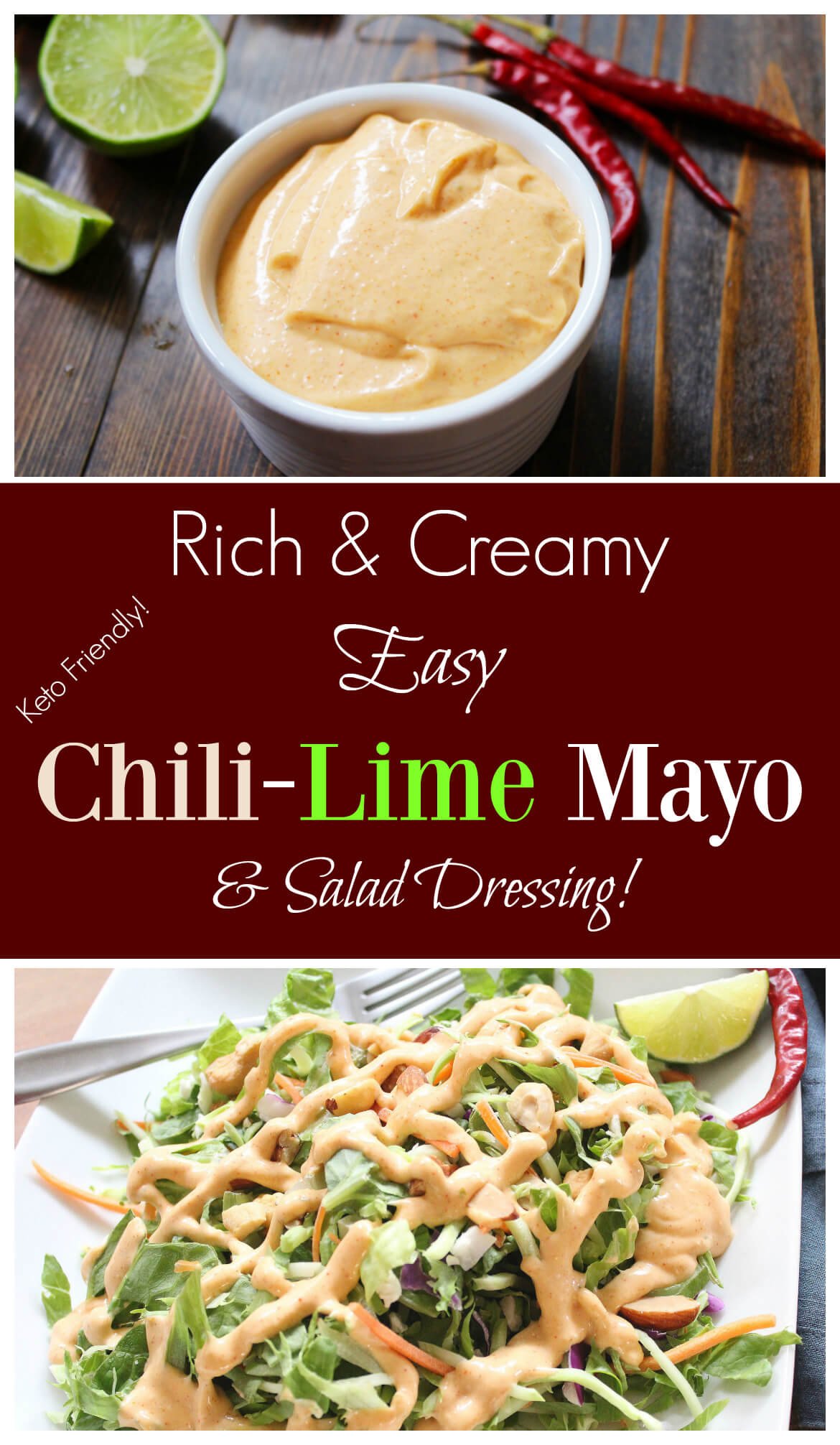 Please follow and like us: