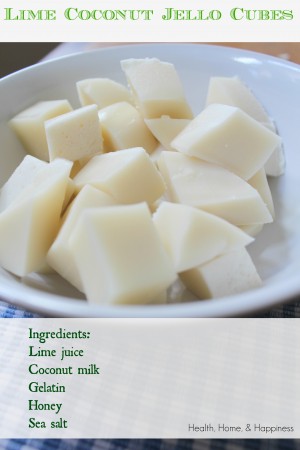 I made these little gelatin cubes for a creamy sweet-tart dessert for my kiddos.  Since I use bovine gelatin from cows that were grass-fed, not only are these fun, but they're also a healthy treat.
These are simple and fast to put together, their texture is more finger-jello-ish, a little softer than gummies like my pineapple coconut gummies.  Yes, I just cut them into cubes rather than doing fun shapes. Simpler this way, but feel free to use any gelatin molds if you have them.
Ingredients:
1/2 cup lime juice
1/2 cup coconut milk (buy full fat coconut milk here)
3 tablespoons honey
1/8 cup gelatin (buy grassfed gelatin here)
dash sea salt (sea salt can be purchased here)
Directions:
Mix all ingredients with a fork. Warm over medium-low heat until melty and gelatin is completely dissolved. Whir with an immersion blender if there still are a few pockets of gelatin that need to be mixed up.  Pour into a bowl (I used a cereal bowl), cover with plastic wrap, and chill for 6 hours, or until firm. Cut into cubes and enjoy!  Store covered, in the fridge.