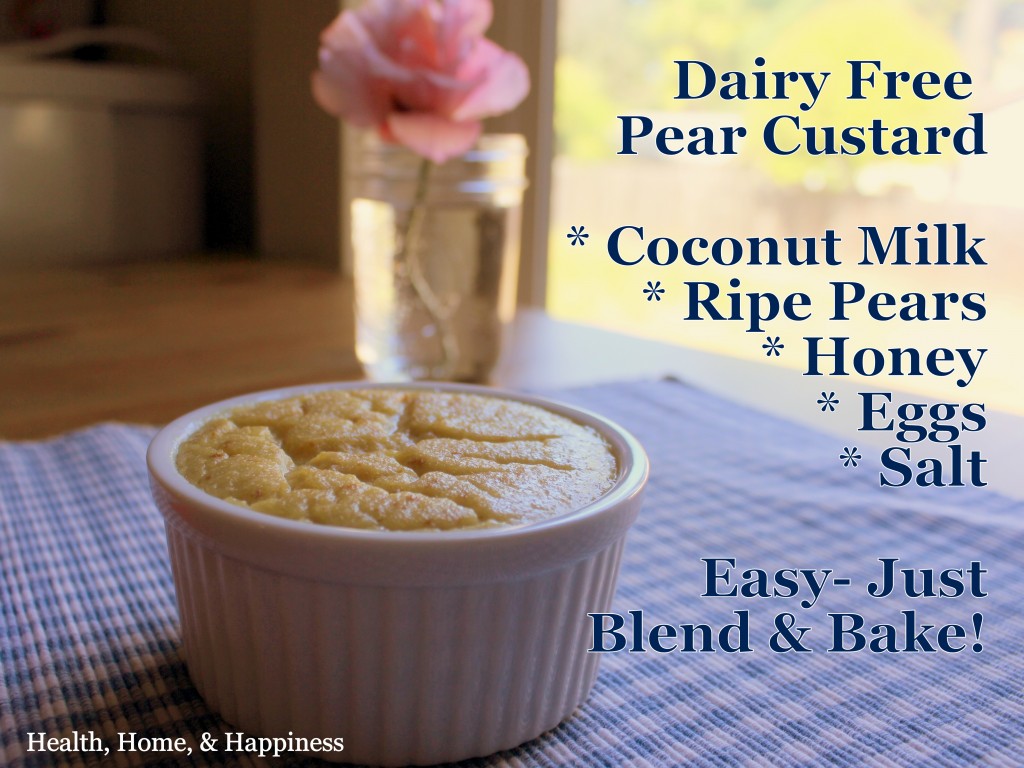 This custard can pass for dessert and then breakfast the next day. It is such a wonderful nourishing dairy free meal/dessert I know you'll love it!
Pear Custard
1 can full fat coconut milk (dairy option: Substitute 1-1/2 cups cultured cream or  full fat yogurt)
1/4 cup honey
2 ripe pears
4 egg yolks (reserve the whites for biscuits, meringues, or macaroons)
4 whole eggs
1/2 teaspoon salt
1/4 teaspoon cinnamon, optional
Makes 4 large or 8 small custard cups
Fill 1 or two 9×13 inch glass dishes with 1 inch of water for the water bath. Place in the oven and preheat oven to 350*.
Mix all ingredients in a blender or food processor to a smooth puree.  Fill custard cups (or ovenproof cups such as mason jars) half full with custard mixture.  Once the oven has preheated, gently set the cups in the water.  Bake in the water bath for 30-45 minutes or until custard is mostly set but still soft in the center.  Remove carefully with oven mitts or crack the oven door and allow to cool in the oven, removing when cool.  Serve warm, or cover with plastic wrap to store in the fridge and serve cool.
Looking for high quality real food ingredients? Check out my Resource Page– all these companies are fantastic, hand selected by Real Food Media!  Click here!
21 Easy and Delicious Grain-Free Meals
Curious about eating grain-free? I want to show you how easy and delicious it can be!
Try our best-selling meal plans... for free!
Just enter your information and I'll email it to you right away.