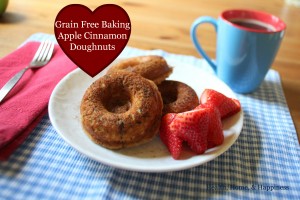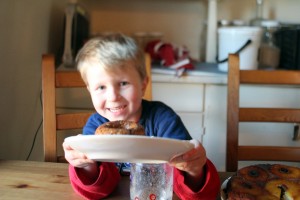 What's the deal with sweets on the Gut and Psychology Syndrome (GAPS) Diet?
There are a few different ways to look at this question.
Dr. Natasha says that 85% of our food intake should be healing nourishing foods like meat, vegetables, and fats.  The remaining 15% is where sweets and baked goods come in.
In simple terms, that's about one average serving of sweets per day- it's not dessert for lunch, dinner, and a sweet snack. But it's also not depriving yourself of anything sweet ever.
As you start or work toward GAPS, you may rely more heavily on sweets and baked goods just to get used to the diet. That's ok, it's just not ideal. But it's ok, and if it's the only way you will realistically stay on GAPS, it's going to be better for your body to have multiple GAPS friendly baked goods a day than it is to have a food that your body is reacting to (wheat, gluten, etc).
On the GAPS Intro, there is a little fuzziness on the issue of honey. In the GAPS Book Dr Natasha allows honey stirred into tea from the beginning, and mixed with butter to control blood sugar crashes.  In previous versions of the intro, honey wasn't allowed at all until the end or after.  We always do intro without any honey, my daughter had trouble with sugar in the past, so we wanted to make sure the sugar in honey wasn't irritating her gut as it was trying to heal or feeding any pathogens.
Blood sugar

You might be like I was prior to GAPS and think that you could never go low carb, since your blood sugar crashes and you start to get dizzy or pass out.  I was like this for 26 years, and then one intense run through intro, and my body figured out how to regulate its blood sugar without a constant source of carbs. This has been so freeing to me- I used to have to eat right as I woke up, and at regular intervals, or I would get light headed and eventually pass out.  Now, while eating on a predictable schedule is good, I no longer have to worry about my body shutting down if I don't.

Obligatory reminder: I'm a mom, not a healthcare professional. Always talk to your healthcare professional before you eat or don't eat anything new.
Losing your Sweet Tooth
As you progress on GAPS, you may lose your sweet tooth.  I sure did (and I was the kid who, ahem, would buy a Snickers and Peanut M&Ms from the vending machine for lunch every day in high school).  Now that we're done with GAPS we eat fruit daily, usually as 'dessert' with lunch and dinner, and we make something sweet like banana bread, cake, or pie on Saturdays.  But there isn't the overwhelming craving for sweet things that we had before.
The first year on GAPS we ate a lot of macaroons, nutbutter brownies, jello, and custard.  But it slowly lost its appeal.  We've been off GAPS for over 6 months now, and the sweet cravings still haven't come back.  I attribute the intense cravings for sweets that people either to not getting enough calories overall, so your body is crying out for fast energy, or to pathogenic bacteria that rely on refined carbohydrates to function and have invaded your gut.  We talk about the gut-brain connection and how pathogens can send out chemicals that make it to your brain, requesting more of the very food that is preventing you from healing.
Takeaways
So, overall, you're not being 'better at GAPS' if you never eat any baked good- having some fun and celebration with food is good for the mood and good for the body. But if you are better off without it, work on getting healed enough that you can enjoy sweets sometimes.  And for most people on GAPS, it's okay to include a sweet treat weekly, if not daily.
See the recipes we made here: Pineapple Upside-Down Cake, Apricot Almond Bars, Spiced Apple Crisp, and Apple Cinnamon Doughnuts. And read more about what the GAPS book says about sweets here.
Please follow and like us: