Dates are the surprising ingredient that sweeten this chia pudding, and they really do give it a surprising caramel flavor!  This decedent chia pudding, like our raspberry chia jam, is thickened with whole chia seeds.  The chia seeds absorb liquid in the coconut milk and water and form a pudding texture, without cooking, without eggs, and without dairy!
This recipe is fast and can be done with an immersion blender in a tall container, or in a regular blender or food processor.  Allowing the chia to fully absorb the liquid overnight is ideal, but this pudding can be enjoyed after a couple hours as well.
Quick breakfast
Finally, because the only sweetener in here is fruit, I often serve this as an easy and cool breakfast. My kids love eating pudding for breakfast… and I love that they're getting the medium-chain fatty acids in coconut milk and gut-nourishing (source) soluble fiber in chia seeds.
Whole30 Notes
Finally, though the ingredients in this recipe are Whole30 compliant (other than the vanilla, which contains alcohol), puddings are 'not within the spirit of the Whole 30' and are not allowed.  You can read more about the Whole 30 here.
GAPS, Paleo, Gluten Free, Egg Free
This recipe is suitable for the GAPS Diet, is completely gluten free and egg free, and if you omit the optional nuts for garnish it is nut free as well!
Recipe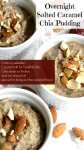 Delicious Overnight Sea Salt and Caramel Coconut Chia Pudding
Dates are the key ingredient to getting this delicious and simple no-cook pudding to taste like caramel!
Print
Instructions
Cover dates with hot water in your blender container. Allow to sit for a minute to absorb the water (start with 1/2 cup and add another 1/4 cup at the end if too thick).

Puree dates and water until a smooth paste forms.

Add in coconut milk, chia seeds, vanilla, and sea salt and puree.

Pour into one large bowl or 6 small custard cups.

Cover, and chill overnight.

Enjoy!

Will keep one week in the refrigerator, covered.
** Note for those on the Specific Carbohydrate Diet: Chia is not allowed, as it contains polysaccharides. I think these are as fiber, so I doubt they would feed the bad bacteria, but I'm not completely sure. They are allowed on GAPS after the introduction diet.
Free Ebook this month only: 20 Grain-Free Breakfast Recipes
20 Delicious Breakfast Recipes suitable for GAPS and Paleo diets!
Please follow and like us: