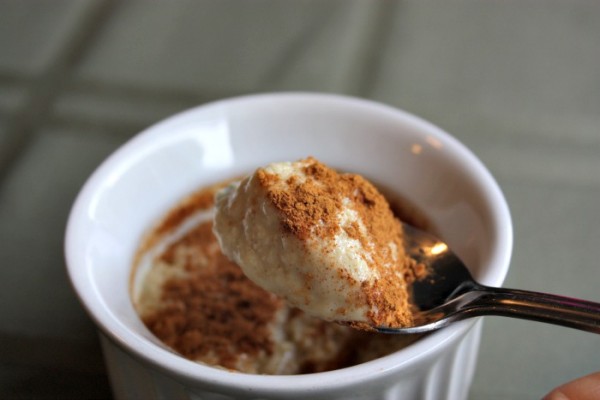 Gelatin has to be one of the most fun superfoods. Want to eat healthier and give your body a dose of powerful nutrients? Make jello. Or a smoothie. Or creme brulee.

Use as much or as little sweetener as you think your family needs to enjoy this dessert. I found 1/2 cup was extremely sweet (think pre-whole food days sweet), so I prefer less. 


GAPS & Paleo (Dairy-free!) Creme Brulee

Ingredients:
1 (13.5-ounce) can full-fat coconut milk (find coconut milk here) 
3 egg yolks (from pastured eggs)
1/4-1/2 cup honey (find honey here)
2 tablespoons pure vanilla
1 teaspoon gelatin (find gelatin from grassfed cows here) 
Ground cinnamon or sliced fruit, as garnish (optional)

Directions:
Combine coconut milk, egg yolks, honey, and vanilla in a medium-size saucepan with an immersion blender. Heat over medium heat until warm through, then stir in the gelatin and use the blender to mix it in thoroughly. Pour into individual glass bowls or a glass baking dish. Cover tightly then refrigerate for at least one hour or overnight. To serve, garnish as desired.
This recipe is from Hollywood Homestead's Gelatin Secret book! Check it out by clicking here, it's a fantastic resource for gelatin recipes and how to include this awesome superfood into your diet.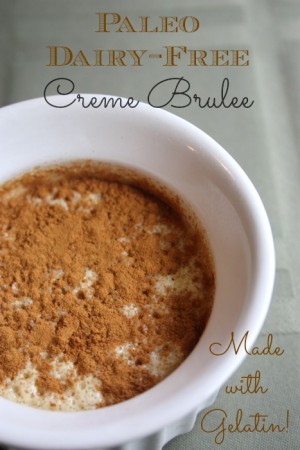 Free for this month!
20 Grain-Free treat recipes including Mouth-Watering Bacon Roses, Buttery Grain-Free Shortbread, Creamy Coconut Vanilla Custard, and MORE!