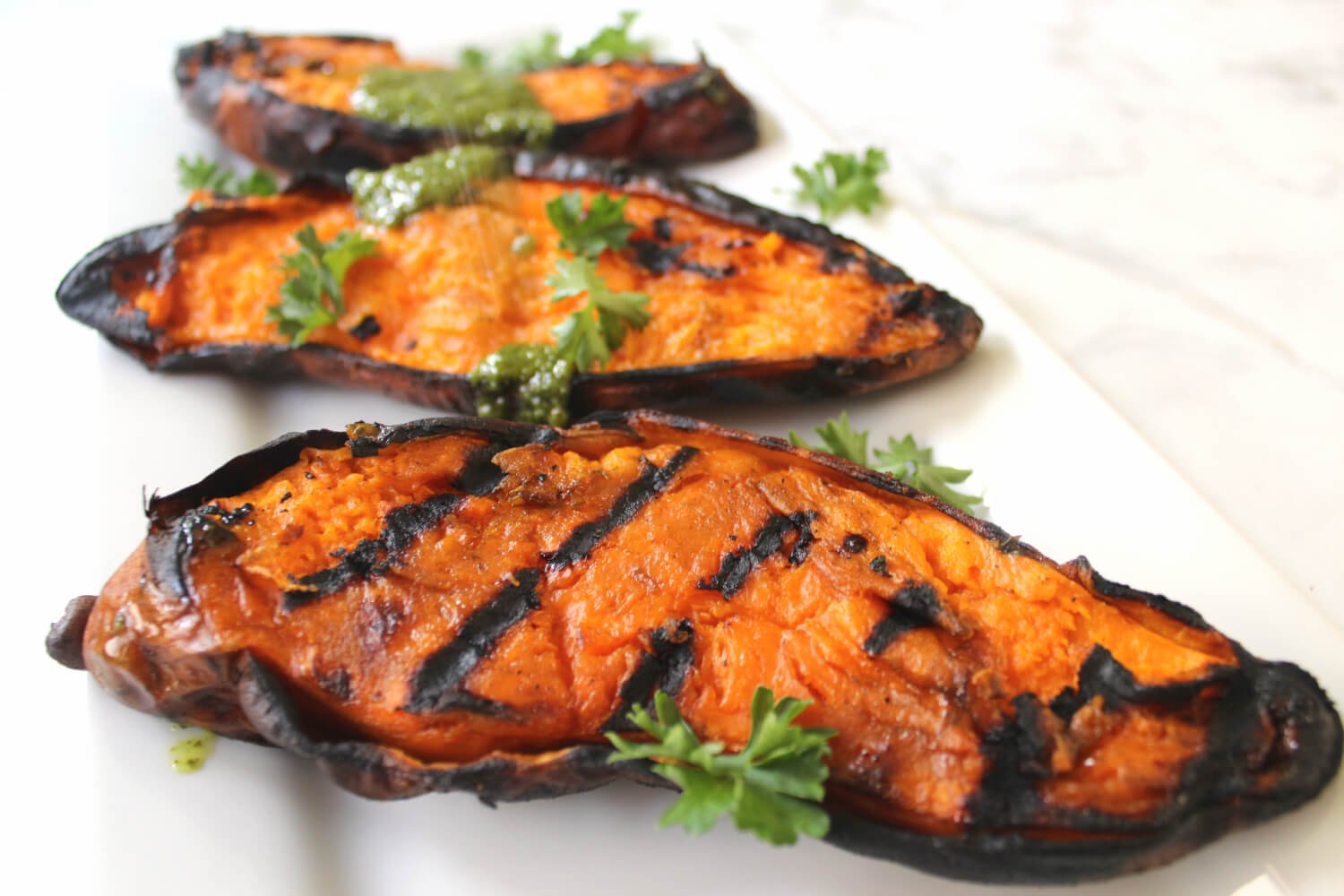 Sweet potatoes are a delicious nutrient-rich carbohydrate that many enjoy.  The only drawback is the long (hot!) time in the oven, or the uneven cooking of a microwave.  We eliminate both of those problems with this method of pre-cooking our sweet potatoes by steaming or par-boiling, we can then preserve them by freezing.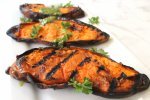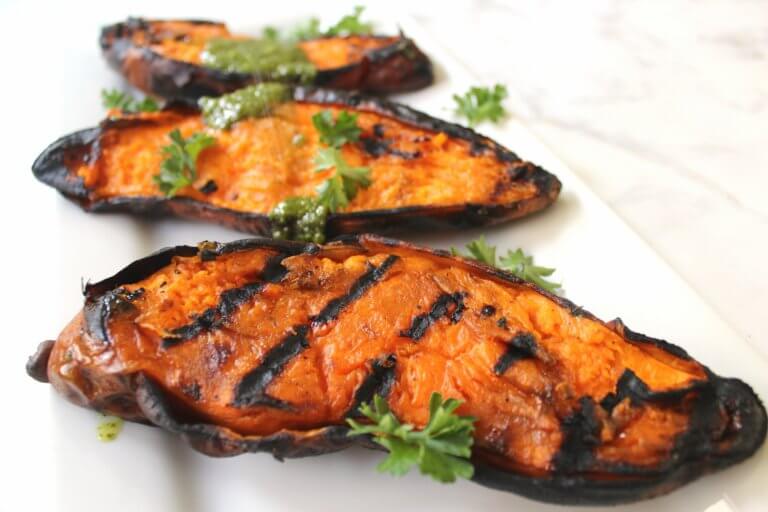 Quick Grilled Sweet Potatoes (great freezer-to-grill side)
By pre-cooking these sweet potatoes, they're ready in just minutes on the grill.
Print
Ingredients
10

pounds

sweet potatoes

Water as directed below

Sea salt

smoked paprika, olive oil for seasoning
Instructions
Scrub sweet potatoes, and then cut either in half lengthwise, in quarters, or in 3/4" rounds. We will keep similarly sized sweet potato pieces together since they will have similar cooking times.
Instant Pot Directions:
Place steamer basket in Instant Pot, and add 1-2 cups water. Working in batches of similarly sized sweet potato slices, fill Instant Pot 3/4 full, piling sweet potatoes onto the steamer basket. Close lid, set vent to seal, and cook on manual for 10 minutes to start. Once complete, use quick release to vent steam and continue steps above with the remaining batches. Adjust time in the remaining batches if needed.

Instant pot notes: If your sweet potatoes are too soft or too firm after the first batch, reduce time by 2-5 minutes if the sweet potatoes are too soft, or increase by 2-5 minutes if too firm. The variations are usually due to the ring seal in your Instant Pot and how hot your Instant Pot gets, it is recommended to replace your seal and check to make sure it is securely in the lid if your cooking times are varying greatly from Instant Pot recipes.
Stovetop Par Boil Directions:
Bring large stock pot 3/4 full of water to a boil.

As the water heats, slice sweet potatoes as directed above.

Take about 4 cups of sliced sweet potatoes at a time, and plunge into the boiling water. Boil until still firm, but easily pierced with a fork, about 15 minutes. Remove with a slotted spoon so that you can re-use the water without having to heat up a whole pot full again. Repeat with the remaining batches, bringing water up to a boil between batches, and adding water if needed.


Grilling Directions:
Pull desired amount of sweet potatoes and allow to thaw overnight in the refrigerator. Once thawed, place a single layer of sweet potatoes on the preheated grill alongside your meat and get the yummy flavors from outdoor cooking- all without having to heat up your house!

To cook sweet potato halves, put cut side down first and cook on one side for 10 minutes, or until edges are starting to brown and grill marks have been left on the potato. Turn and cook on the skin side for an additional 5 minutes, and then turn off the fire under the sweet potatoes and continue with the meat that you are cooking, removing the whole meal from the grill at once.
Recipe Notes
GAPS & SCD Note: Sweet potatoes contain complex carbohydrates that are not allowed on the Gut and Psychology Syndrome or Specific Carbohydrate Diets. You can use rounds of butternut squash in their place- use the same pre-cooking and seasoning instructions as above, but use butternut squash in place of the sweet potatoes. Leave the skin on until after the butternut squash is grilled, then you can peel it off right before eating. The skin will help hold the squash together on the grill.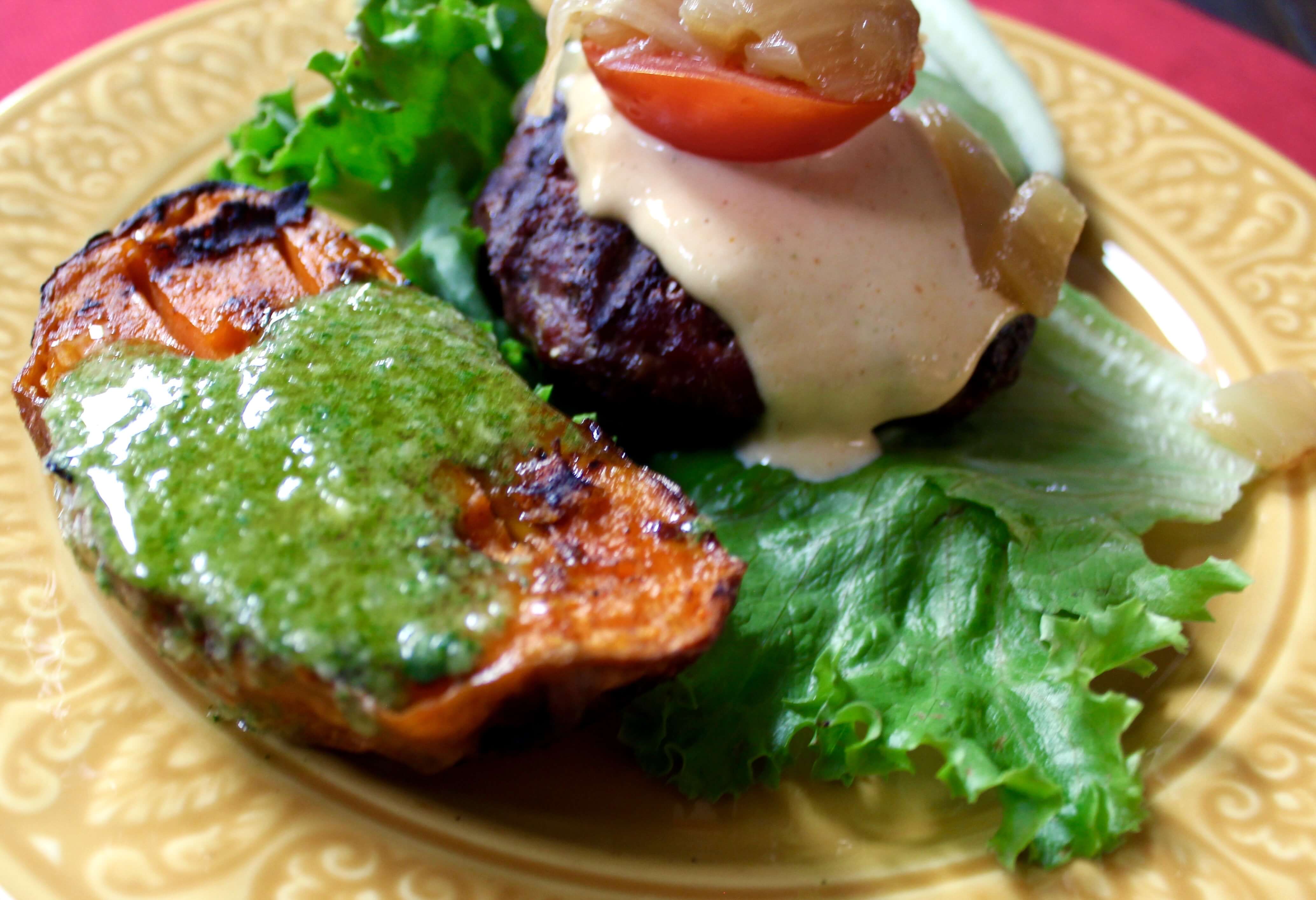 Serving Suggestions: Top sweet potatoes with herbed olive oil and serve alongside any meat dish.
Serve burger sliders on top of grilled sweet potato rounds and topped with pickles, burger sauce, and caramelized onions.
Since these sweet potatoes are already pre-cooked and quick to heat up, they also can easily be added to soup- just heat up chicken or beef stock, add the frozen or thawed sweet potatoes, and then simmer until cooked through.  Puree for a smooth delicious soup, and top with a drizzle of herbed olive oil before serving.
We make these in our Freezer-to-Grill class! Click here to visit my Freezer Cooking Class.