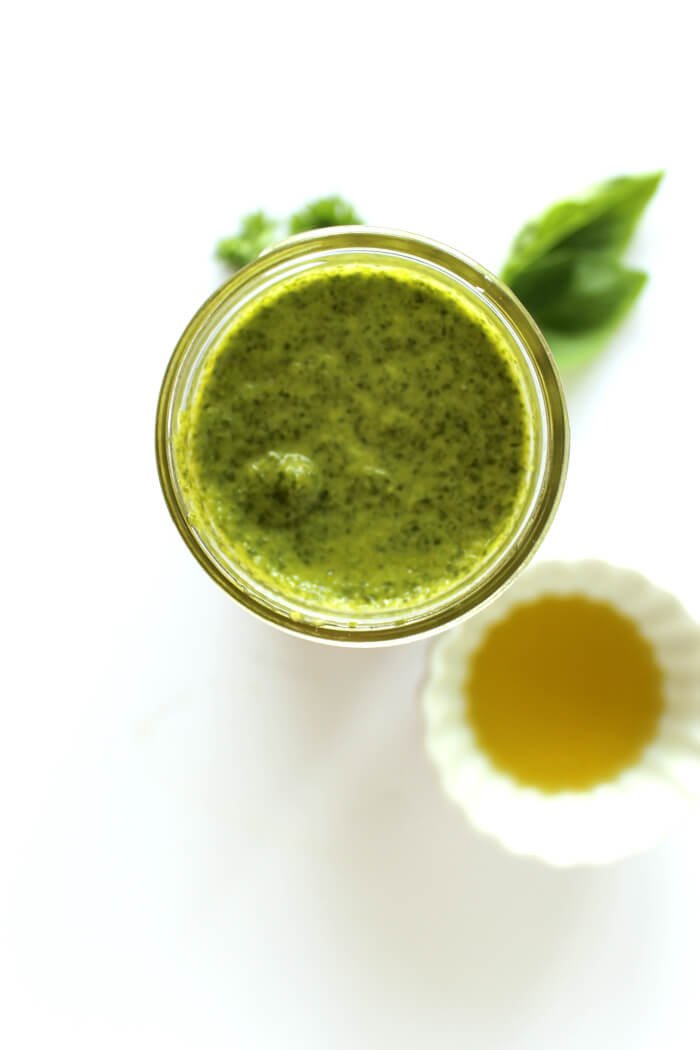 Not only is this fresh herbed olive oil a delicious way to include bright flavors from herbs in your diet, it also is packed with all sorts of things that you need for health. If that wasn't enough, by suspending fresh herbs in oil, we also preserve them. If you've ever watched a bunch of basil or parsley go from beautiful to blemished before you had a chance to use it, this recipe is for you.
(Click here to jump right to the recipe)
Fresh Pressed Olive Oil
Olive oil has all sorts of health benefits including providing essential fatty acids that are used for cell membranes, as a precursor to all hormones, and for reducing inflammation. (source) (source)  Olive oil, especially extra virgin olive oil, is linked with lowering heart disease, risk of stroke, and preventing certain cancers. (source)
I prefer Fresh-Pressed olive oil especially when I am using it raw. Fresh-pressed olive oil is meticulously sourced and is shipped fresh after harvesting, preserving the antioxidant benefits and delicious flavor. You can get a free full-sized bottle of Fresh-Pressed Olive Oil by clicking here and signing up for a sample. 
Fresh Herbs
Basil, cilantro, oregano, parsley, chives, dill, even mint and sage all bring in unique flavors and phytochemicals that have unlimited benefits to the body including:
Why take the whole plant rather than an isolated compound?
Because plants are smarter than people. ?
There are times that an isolated portion of a plant can be used as medication effectively, delivering a high dose of a needed compound. But for the most part, healing plants contain a synergy that prevents side effects, and provides supportive compounds to help the body use them most effectively, as in cancer prevention.
When we try to isolate certain compounds, it's much easier to overdose, and we miss out on the other parts of the plant that are useful that haven't been studied yet.
Apple Cider Vinegar
In its raw form apple cider vinegar contains beneficial probiotics and enzymes in addition to the already-potent healing properties of vinegar. Vinegar is used to preserve food (source), as an antibacterial agent (source), and has traditional and modern use lowering blood glucose (source) (source), lowering blood pressure (source), increasing digestion of nutrients (source), and even inhibiting cancer growth (source).
For flavor, vinegar healthily boosts and brightens flavors in recipes that seem like they are missing a little something. In this recipe the vinegar not only provides health benefits, but it also really highlights the complex flavors of the herbs used.
Want to try it? When you sign up for Thrive Market you can not only save on organic groceries that you buy every month, but you also can get a free bottle of Apple Cider Vinegar with the mother! Click here to learn more. 
Sea Salt
Finally, just a touch of unrefined sea salt not only provides electrolytes and trace minerals, but also balances the flavor.  Many people have become afraid of salting their food, but salting food to taste is a way to ensure you are getting enough of this essential nutrient. What you need to watch out for, though, is using salt as your only flavor- here we use the acidity in the apple cider vinegar and loads of fresh herbs for flavor, so salting to taste brings in just enough for our body to use well too.
Recipe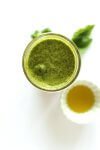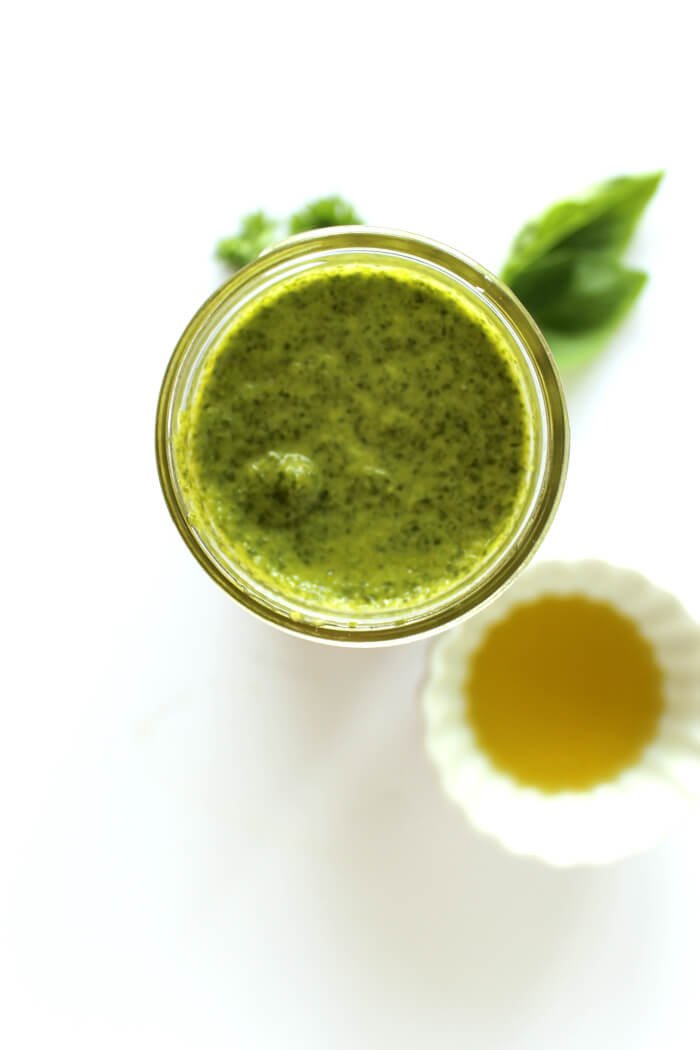 Detoxifying & Antiinflammatory Herbed Olive Oil
Delicious, and rich in so many nutrients that are amazing for you.
Print
Ingredients
1

cup

fresh-pressed olive oil

claim your free bottle here!

1-2

bunches of fresh herbs
Recommended combinations: Parsley & Cilantro

Cilantro and Oregano, Basil and Oregano, Basil and Mint, Chives and Parsley, Chives and Thyme, Mint and Dill, Sage and Rosemary.

2

tablespoons

raw apple cider vinegar with the mother

find here

1

teaspoon

unrefined sea salt

find here

1/4

white onion

diced

4

cloves

garlic

crushed
Instructions
Rinse herbs under cool running water and pat dry.

Remove tough stems from the herbs, leaving the edible leaves.
*This is a great job for kids to do!

In a wide-mouth mason jar or blender jar, pack herbs and add olive oil, vinegar, sea salt, onion, and garlic.

Use an immersion blender to puree until uniform in consistency.

Taste taste, and add 1 tablespoon more apple cider vinegar if the mixture tastes too much like olive oil. The ACV brings out the flavors of the herbs beautifully.

Store in a glass jar, covered, in the fridge for up to 6 months.
Recipe Notes
GAPS Intro:
Fresh pressed olive oil and fresh herbs are allowed on stage 4 of the GAPS Intro Diet.  Omit apple cider vinegar and onion from this recipe for GAPS Intro. 
In addition to using it to cook with, fresh basil blended into cold pressed olive oil is a yummy sauce for meat and veggies and provides health benefits.  Cold pressed olive oil is recommended to be poured over every meal in the GAPS Intro diet.  Adding some fresh herbs to it makes this more flavorful, and the olive oil helps preserve the herbs as well.
From the book Gut and Psychology Syndrome,
"Olive oil is a time-proven health-giving food, used by Mediterranean countries for centuries.  Virgin cold-pressed olive oil has been shown to improve brain cell maturation and function.  And yet it doesn't have much in the way of essential fatty acids, which shows us that we need much more than just omega-3 and omega-6 oils"
Serving Suggestions:
Spoon over cooked vegetables
Enjoy with thinly sliced meat
Add a spoonful as a colorful and delicious garnish to pureed soup
Use a spoonful on top of eggs in the morning
Spread over bread in place of mayonnaise in a sandwich or on its own
Spread across a hard-boiled egg cut in half as a 'lazy devil' egg.
Nutrition Facts
Detoxifying & Antiinflammatory Herbed Olive Oil
Amount Per Serving (1 tablespoon)
Calories 81
Calories from Fat 81
% Daily Value*
Fat 9g14%
Sodium 97mg4%
Potassium 3mg0%
Vitamin C 0.2mg0%
Calcium 1mg0%
* Percent Daily Values are based on a 2000 calorie diet.
5 Delicious Keto FatBombs
Sign up to get my 5 Best Keto Fatbomb Recipes sent right to your inbox! Plus a bonus pizza recipe :)
Please follow and like us: