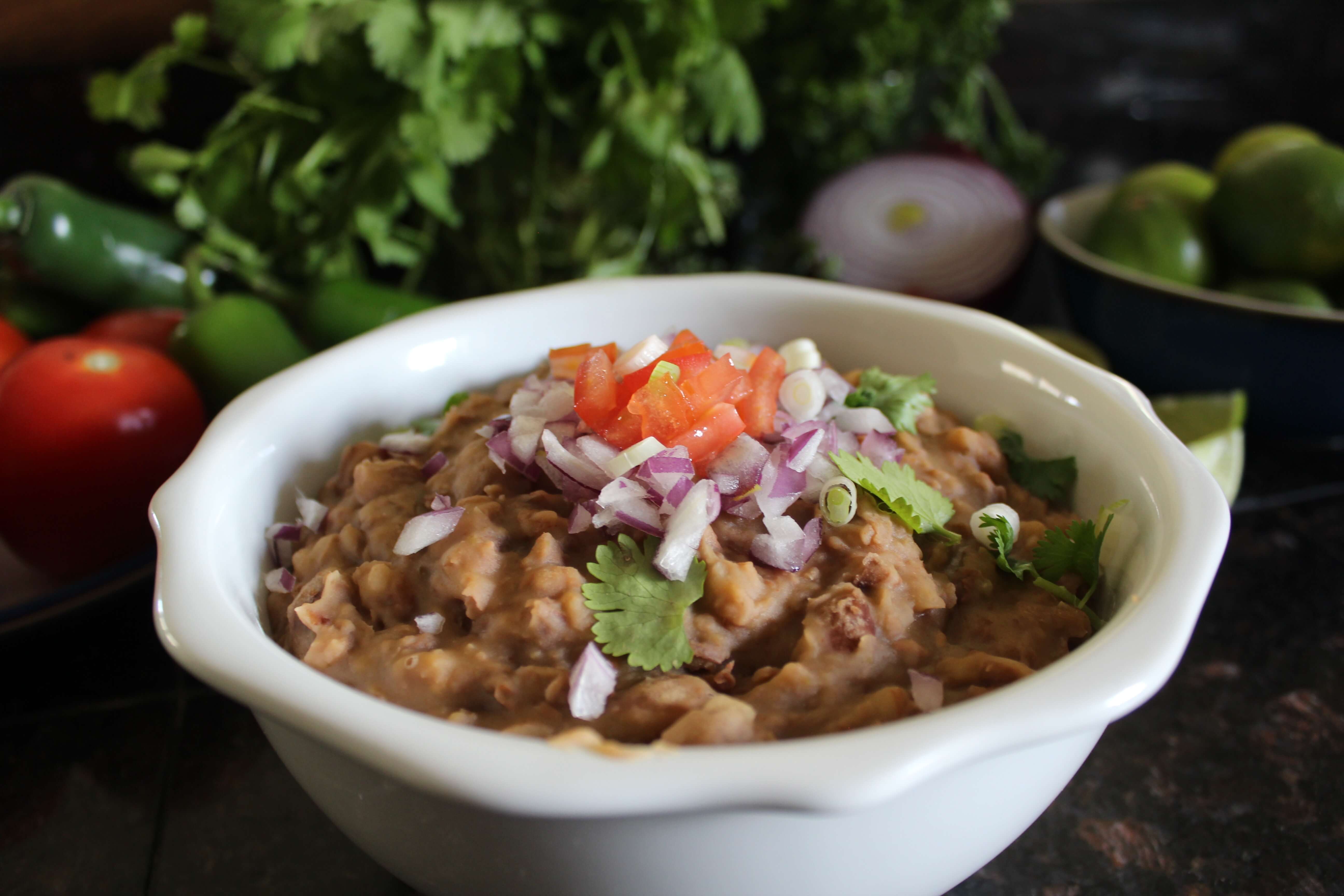 Watching a can of refried beans glop into a saucepan on the stove and then turn from a can-shaped slimy solid to warm and smooth comfort food was one of my favorite dinner memories as a child. Now in an effort to make more food from scratch (especially if it's as easy as this recipe!) and for my family who would eat 3 cans of refried beans and still want more, we've switched to homemade.
When I'm not using the Instant Pot for anything else, I do these in the Instant Pot quickly.  But they're also easy to do on the stove, so I've included those instructions as well.  Once made, they freeze well, though we usually just eat them until they're used up.
Healthy Additions
When you make refried beans from dried beans we can do the following easily to improve nutrition:
Soak to reduce the gassy compounds, make the beans more digestible, and lessen the starch.
Choose organic over conventional and save, even organic dry beans are cheap!
Cook in chicken or beef stock for added nutrition and protein.
Add in real tallow or lard from grassfed animals for healthy fats.
Use real sea salt with trace minerals.
Beans on GAPS
On the GAPS Diet we use navy beans (the small white beans) as they have the lowest starch content.  I've used pinto beans here, as they are what you are used to when you think if refried beans, you can substitute navy or black beans in this recipe and it will turn out just fine.  When we were on GAPS, I found my children did just fine with any kind of bean, but technically only navy beans are allowed.
Recipe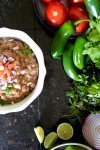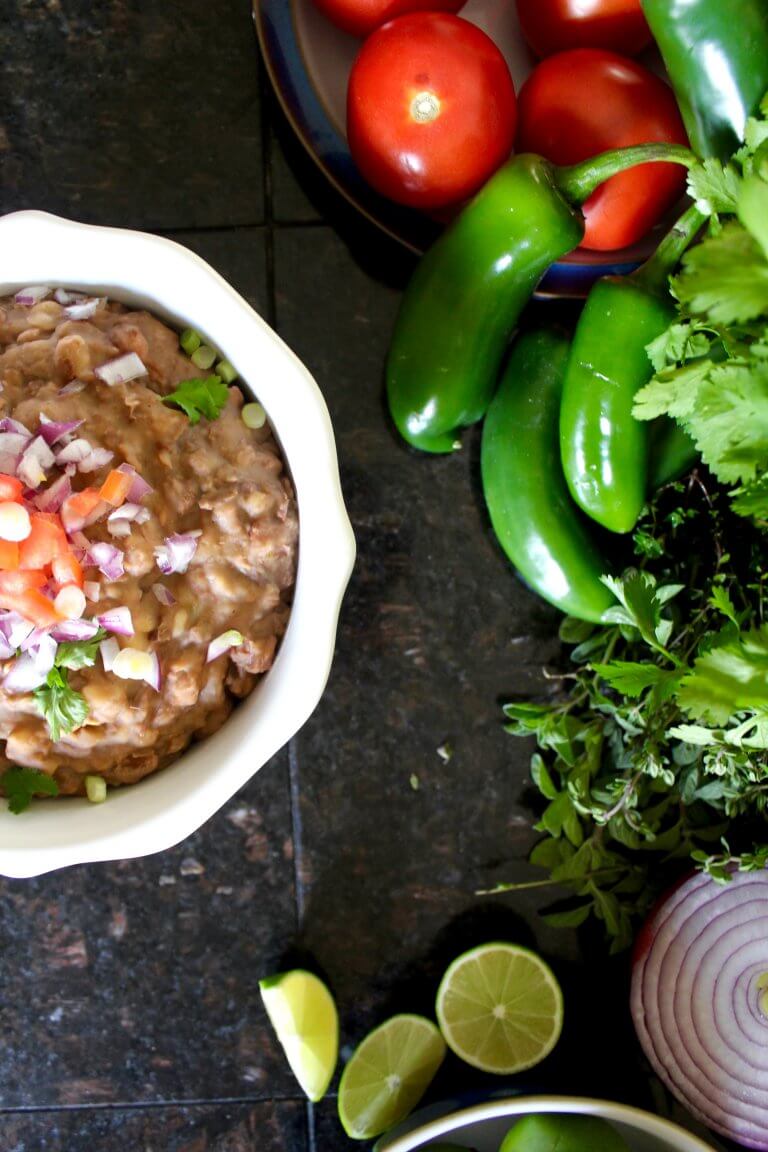 Easy Homemade Refried Beans (Instant Pot)
The Instant Pot makes these easy because the whole process is self contained and fast because of the pressure and high heat. You can double this recipe without making any other changes if desired.
Print
Instructions
To Soak:

The soaking step can be skipped if you're in a hurry, but add an additional cup of water or stock when you cook the beans.

In a medium bowl, place dry beans, discarding any pebbles or blemished beans.

Cover with a few inches of water and add 1 teaspoon sea salt. Allow to soak at room temperature for 12-24 hours.

Drain soaking water away and rinse beans under running water.

Place rinsed beans in Instant Pot and add the 4 cups stock and tallow or lard, and optional garlic, jalapeno, cumin, and cayenne. Do not add the sea salt at this step, we'll add that after cooking as salt can keep the beans from softening while they cook.

Close the lid on your Instant Pot and set to Chili/Beans setting.

Once done, allow pressure to release naturally, or use the quick release.

Change to saute/medium heat, and mash beans with a potato masher, adding in sea salt and additional stock if needed to mash.

Continue cooking, scraping the bottom and mashing up any beans that are still whole.

Taste and adjust salt as needed prior to serving.
Recipe Notes
Stovetop Directions: After soaking, cover with the chicken stock as directed in a large stock pot with a lid, AND add 1 cup extra water or stock. Simmer on the stove for 1 hour, adding a pinch of baking soda if the beans do not start to soften after 30 minutes. Mash beans as directed.
Our water is hard, and I find that the beans/chili setting on the Instant Pot isn't quite long enough to make the beans soft. If you find the beans are not soft after the initial cooking under pressure, simply set to manual-10 minutes.
You can also add a pinch of baking soda if you have trouble getting your beans to soften, but I usually just choose to use a longer cooking time.
Net Carbs: 32 g net carbs per half cup, but because these are low glycemic, some people may be able to remain in ketosis while eating occasional beans.  
Nutrition Facts
Easy Homemade Refried Beans (Instant Pot)
Amount Per Serving (1 half cup)
Calories 294
Calories from Fat 63
% Daily Value*
Fat 7g11%
Cholesterol 18mg6%
Sodium 1101mg46%
Potassium 921mg26%
Carbohydrates 40g13%
Protein 15g30%
Vitamin A 195IU4%
Vitamin C 6.4mg8%
Calcium 72mg7%
Iron 3.2mg18%
* Percent Daily Values are based on a 2000 calorie diet.

Uses for Refried Beans
We have a strong Taco Tuesday tradition going on here, and refried beans often make an appearance spread into corn tortillas with cheese, as part of burrito bowls, layered into tacos, eaten out of a bowl with rice and guacamole, and as my new favorite, in Sopes – little corn cakes filled with your favorite Mexican toppings.
5 Delicious Keto FatBombs
Sign up to get my 5 Best Keto Fatbomb Recipes sent right to your inbox! Plus a bonus pizza recipe :)
Please follow and like us: