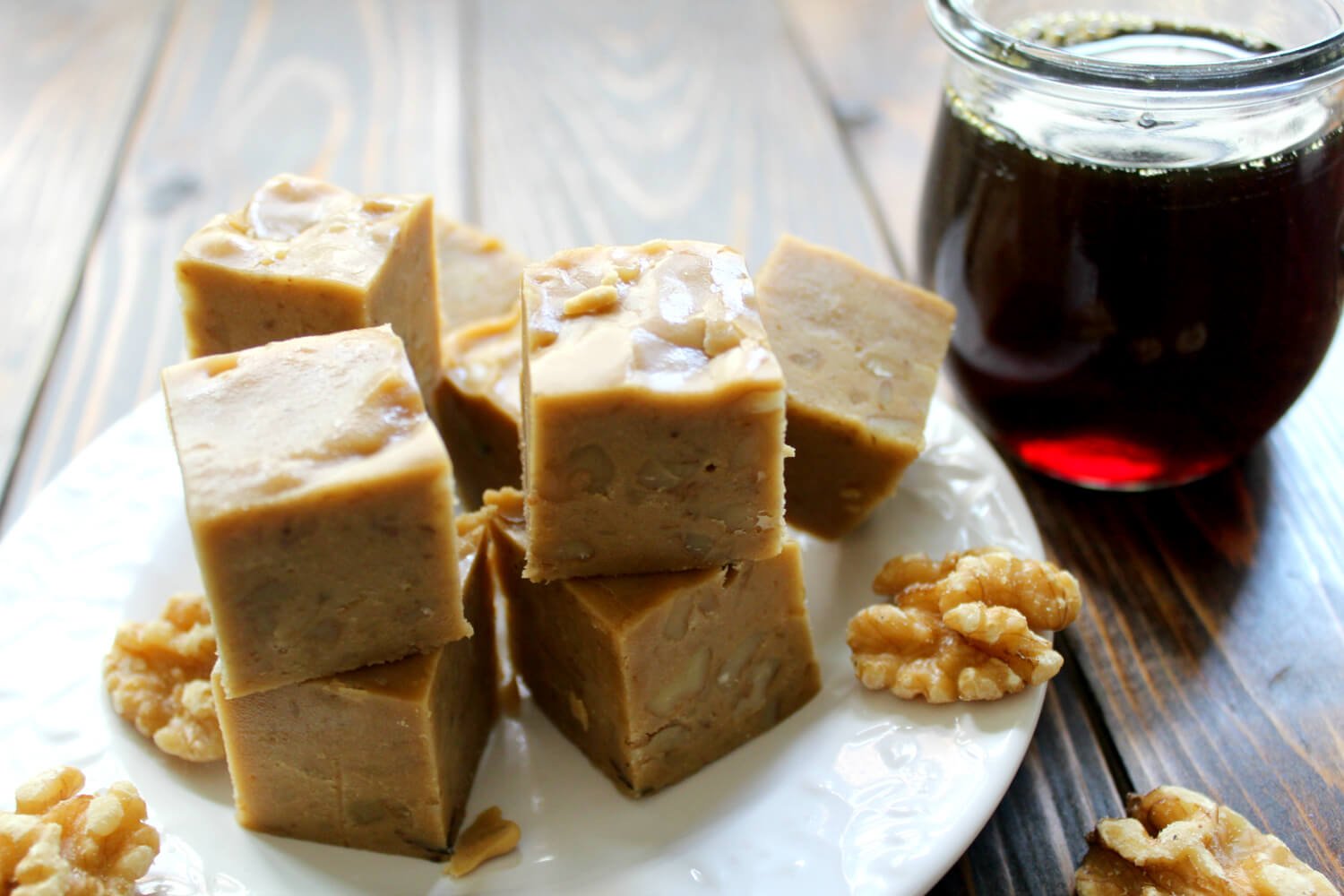 The most delicious, decadent, wintery treat out there, maple fudge is only sweetened with pure maple syrup, the richness comes from real heavy cream, and the walnuts provide crunch and counteract the sweetness of this amazing fudge as well.
⇢ If you're new to candy making, or want to see about substituting ingredients, check out the overview post with lots of hows and whys of Gourmet Candy Making Without Corn Syrup.
Equipment Used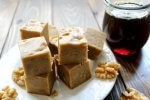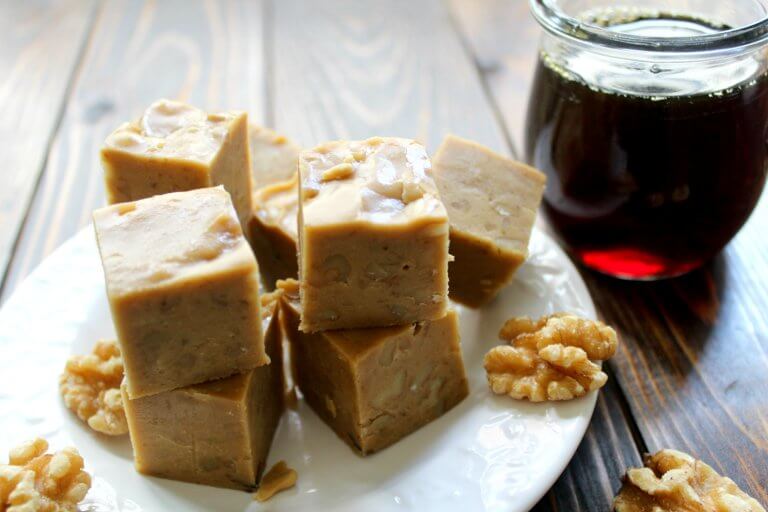 Real Maple-Walnut Fudge
Print
Instructions
In the pot of your Instant Pot, or in a stock pot for use on the stovetop (choose a large one, it will bubble up in later steps), combine maple syrup and sea salt.

Clip on candy thermometer so that the bulb is in the syrup but not touching the bottom of the pot, and turn the Instant Pot on to Saute- Medium. Alternatively, heat pan on the stovetop over medium heat.

Heat syrup to 220* F without stirring.

As the syrup heats, warm the cream on the stove until hot. Remove from heat once it starts to simmer.

Once the syrup is at 220* F, after heating for about 5-7 minutes, gently pour in the hot cream. Do not stir the cream in, it will distribute evenly as the mixture boils. .

Heat syrup-cream mixture to soft ball stage (240* F). Do not stir at all during this time.

As the maple mixture heats, set up the bowl of your stand mixer, or place a glass bowl on a cooling rack and place butter in the bowl. Line a loaf pan with parchment paper, and press the parchment into the corners. Alternatively, you can use a silicone loaf pan with no need to line it.

Once sugar mixture has reached soft ball stage, without stirring, pour into the mixer bowl that has the butter in it. Do not scrape the pan during this step, only pour what easily comes out.

Allow to cool for 10 minutes, or until the edges of the maple mixture start to firm up

Using the paddle attachment of your stand mixer, mix stir with a sturdy wooden spoon until fudge starts to thicken, about 10 minutes with the mixer or 20 minutes by hand.

If using walnuts, add walnuts about half way through mixing.

As soon as it is spreadable consistency, pour and smooth into the prepared loaf pan.

If you stir too long, or don't have the loaf pan prepared ahead of time, the fudge will solidify in the bowl and you can either enjoy crumbly fudge, or you can again re-heat it to melty and try again with the last step.

Cool completely, then transfer to the refrigerator for an additional 4 hours before cutting into cubes.
Nutrition Facts
Real Maple-Walnut Fudge
Amount Per Serving (1 serving)
Calories 226
Calories from Fat 108
% Daily Value*
Fat 12g18%
Cholesterol 26mg9%
Sodium 64mg3%
Potassium 133mg4%
Carbohydrates 28g9%
Protein 1g2%
Vitamin A 285IU6%
Vitamin C 0.2mg0%
Calcium 61mg6%
Iron 0.3mg2%
* Percent Daily Values are based on a 2000 calorie diet.
❤️❤️❤️❤️❤️This recipe is from our new ebook Candy Making Without Corn Syrup!  You can purchase it here.❤️❤️❤️❤️❤️

Please follow and like us: