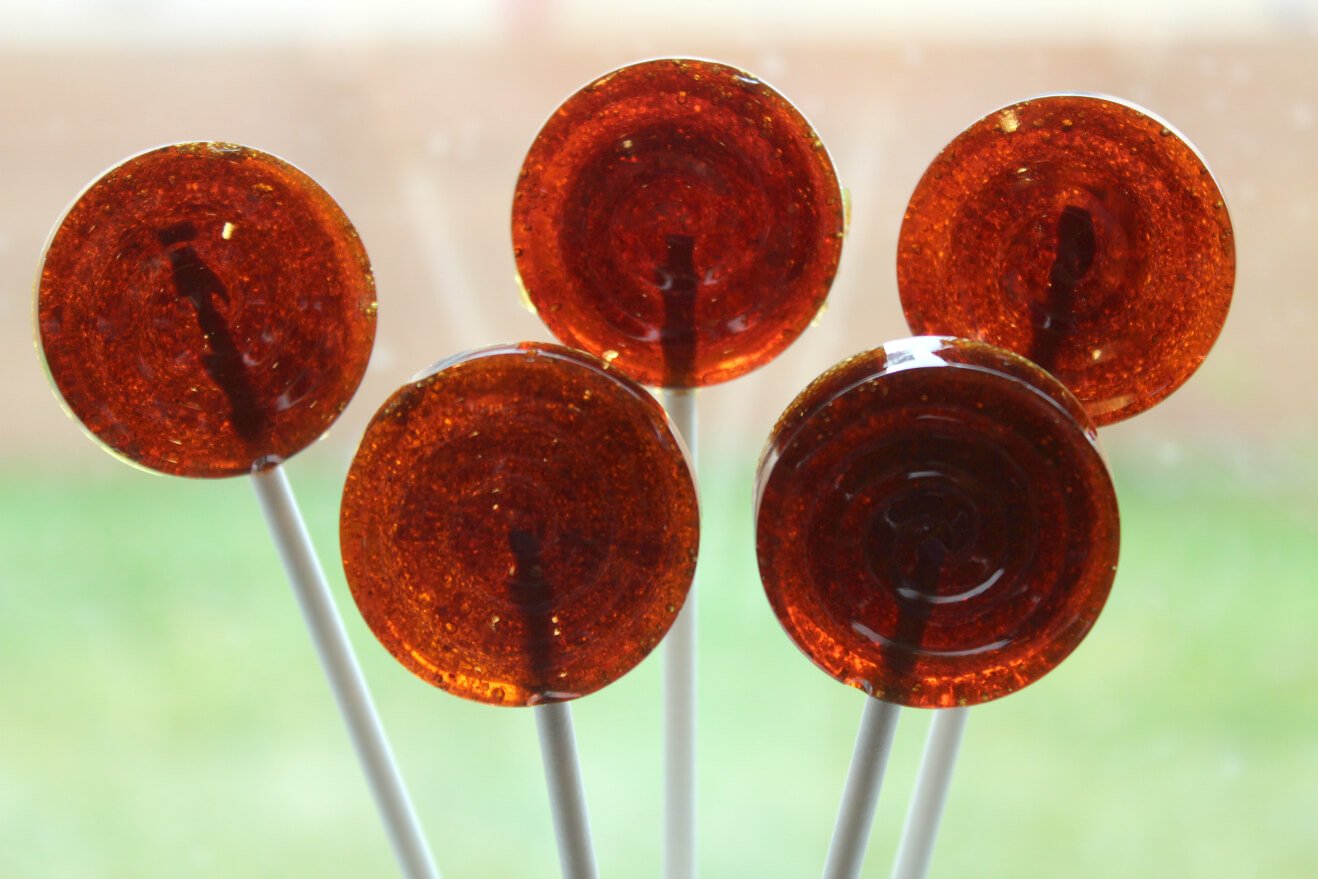 Honey-Cinnamon lollipops are a fun treat and use the same ingredients as our favorite cold remedy.  The honey and cinnamon combination has been used for centuries to combat an oncoming runny nose or other minor respiratory illnesses.  In addition to its health-boosting properties, these lollipops are simple to make, suitable for those on the GAPS Diet, and absolutely delicious!
These lollipops taste of crisp fall afternoons and are warming for cold winter days as well.  Because honey doesn't set up quite as well as sugar, be sure to keep these pops in the fridge on parchment paper.  I line a small container with parchment, then layer the lollipops between layers of parchment for easy storage.
Cinnamon
There doesn't seem to be a cooking ingredient that does not come with some form of controversy, and cinnamon is no exception.  Cinnamon comes in two main types, Ceylon and Cassia.    
Cassia cinnamon is high in coumarin, which has been linked with liver damage when consumed in high doses.  Cassia, unfortunately, is less expensive to produce and still provides the same cinnamon flavor, so has become common on grocery store shelves.
Ceylon cinnamon is more sweet and mild tasting than Cassia cinnamon, and has very low levels of coumarin.  If taking cinnamon medicinally, it is highly recommended to seek out the Ceylon variety. You can find Ceylon Cinnamon here. 
Ceylon cinnamon is also thought to have more health benefits, including antimicrobial properties, lowering blood glucose, lowering blood cholesterol, wound healing, helping treat alzheimer's disease, healing the liver, and more properties.
Cinnamon and honey is a common home remedy for an oncoming cold, sore throat, or respiratory illness and works best when Ceylon cinnamon, or 'true cinnamon' is used.
Cayenne Pepper
Ground cayenne is used in our Honey-Cinnamon Lollipops to give it a kick (which is completely optional!). Cayenne provides a nice contrast to the sweet-fruity flavor of honey as well as sinus-clearing and inflammation-reducing properties.  Capsaicin is the part of peppers that gives it the spice, and cayenne is rich in this compound. 
Cayenne is used medicinally for:
Pain

Metabolism

Cancer

Ulcers

Runny noses

Much more!
When choosing cayenne pepper, choose ground cayenne and purchase a small amount at a time, as a little goes a long way.  Cayenne is important to buy organic, as peppers are often sprayed with pesticides.  You can find organic ground cayenne here. 
Notes:
Learn the secrets to candy making without corn syrup here.
No, honey does not become toxic when you cook it. Read about that claim and the rebuttal here.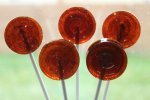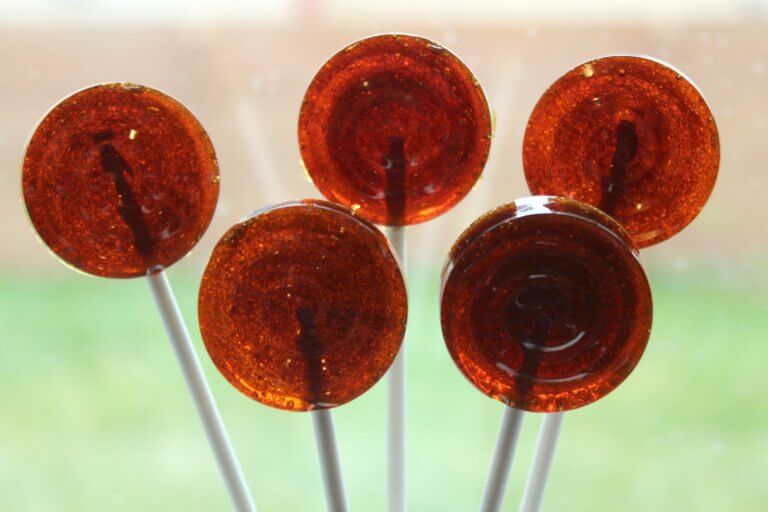 Natural Honey-Cinnamon Lollipops
Delicious little lollipops taste like fall and only include 2 simple ingredients!
Print
Instructions
In the pot of your Instant Pot, or in a sauce pan for use on the stovetop (choose a medium one, it will bubble up), combine honey, cinnamon, and optional cayenne with a whisk.

Remove whisk, clip on candy thermometer so that the bulb is in the honey mixture but not touching the bottom of the pot, and turn the Instant Pot on to Saute- Medium. Alternatively, heat pan on the stovetop over medium heat.

Heat to hard crack stage (300* F). Do not stir at all during this time.

As the sugar mixture heats, place lollipop sticks in candy molds (

these are the molds that I used

), or line them up on a parchment-lined cookie sheet, or a silicone baking dish (no parchment needed on the silicone).

Once at the correct temperature, working quickly, carefully pour hot honey mixture into the lollipop molds, or over the top inch of the lollipop sticks on parchement.

Allow to set for 10 minutes, then twist the sticks to make sure they are coated completely with the honey mixture.

Continue to allow to set for 2-3 hours.

After candy is set, remove from molds or from parchment paper, and store between sheets of parchment in the fridge. These lollipops can sit out on display for hours (like at a party) but should be stored longer than that in the fridge.
Nutrition Facts
Natural Honey-Cinnamon Lollipops
Amount Per Serving (1 lollipop)
Calories 43
% Daily Value*
Potassium 7mg0%
Carbohydrates 11g4%
Vitamin C 0.1mg0%
Calcium 1mg0%
Iron 0.1mg1%
* Percent Daily Values are based on a 2000 calorie diet.
References: 
Cinnamon:
https://pubchem.ncbi.nlm.nih.gov/compound/coumarin#section=Top
https://www.cinnamonvogue.com/Types_of_Cinnamon_1.html
https://www.ncbi.nlm.nih.gov/pmc/articles/PMC3854496/
Cayenne:
https://www.ncbi.nlm.nih.gov/pmc/articles/PMC3462993/
https://www.ncbi.nlm.nih.gov/pubmed/24211679
https://www.ncbi.nlm.nih.gov/pmc/articles/PMC4971034/
5 Delicious Keto FatBombs
Sign up to get my 5 Best Keto Fatbomb Recipes sent right to your inbox! Plus a bonus pizza recipe :)
Please follow and like us: