As the school year starts, this play-dough is a great activity to welcome tired and excited children home in the early afternoon.
The lavendar essential oil in the dough provides aromatherapy to relax, the epsom salt not only preserves the playdoh but it also provides much needed magnesium and sulfur that are absorbed gently through the skin and help the body process stress and toxins (more info here).
Organic flour is used (sorry, I don't have a gluten free version, I've never had trouble with my children putting this in their mouths so I haven't experimented with gluten free) to avoid exposure to GMOs.  Coconut oil and cream of tartar give the playdoh a wonderful elasticity and smooth feel that is less crumbly than regular playdoh.
I chose to leave out the food coloring here, as I didn't feel it was necessary, but if you want to add a few drops as it cooks, I won't object.
If you are asked to bring in play-doh for the whole class, teachers always love homemade because it lasts longer and crumbles less.  Don't be surprised to find yourself or other adults playing with this as well- the texture, scent, and natural ingredients draw everyone to play and evaporate stress.
Organic Calming Playdough Recipe
Makes about 4 cups, plenty for 3-4 children
4 cups organic white flour
1.5 cup epsom salt, found in the pharmacy section near the hydrogen peroxide and rubbing alcohol or here online (sea salt can be substituted)
4 cups water
4 tablespoons coconut oil
4 TBS cream of tartar (found inexpensively in the bulk sections of health food stores usually)
5-10 drops essential oil of your choice, lavendar is relaxing, peppermint is clarifying and awakening (find online here)
Mix all ingredients in a large sauce pan.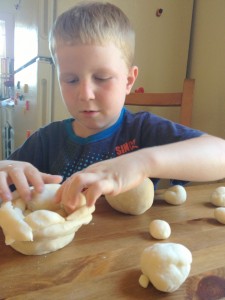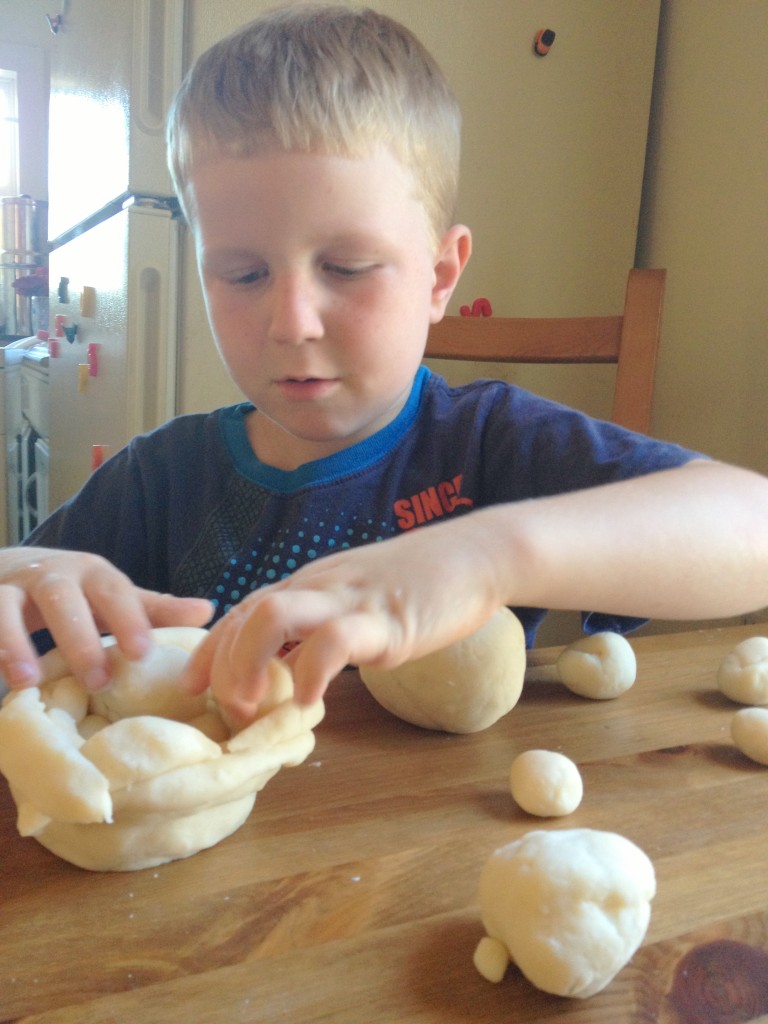 Cook over low/med heat while stirring every few minutes with a spatula, really making sure to scrape the bottom and allow the goopy playdoh to get to the bottom and get cooked.
It's done when it all stops being goopy and starts being doughy. Allow to cool and then knead to get it completely smooth.
Allow children to play with butter knives, garlic presses, cookie cutters, and little plastic animals are fun too.
Store in an air tight container, lasts for months or longer!

Gluten/Grain Free Option
Another fun activity is to mix water and baking soda (I buy mine in bulk – see online here) to a paste/dough and then let the kids add in vinegar and watch it fizz while they play.  I usually do this when my table really needs to be scrubbed, it's mildly abrasive and cleans off the table really well in the process.
This activity isn't as calming as the play-doh, and the baking soda might be too harsh for the most sensative skin, but it's a fun gluten free sensory activity for those who need something gluten free.
Edit  – June 2014 –
I've gotten a few comments about this play dough not working – you have to cook it, it starts out quite soupy.  I took step by step pictures today when I made it.  This time I used Calming The Child essential oil, you can find it here.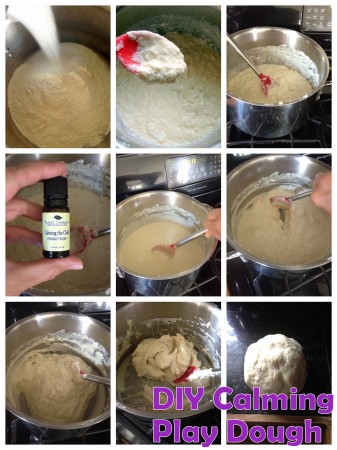 5 Delicious Keto FatBombs
Sign up to get my 5 Best Keto Fatbomb Recipes sent right to your inbox! Plus a bonus pizza recipe :)
Please follow and like us: