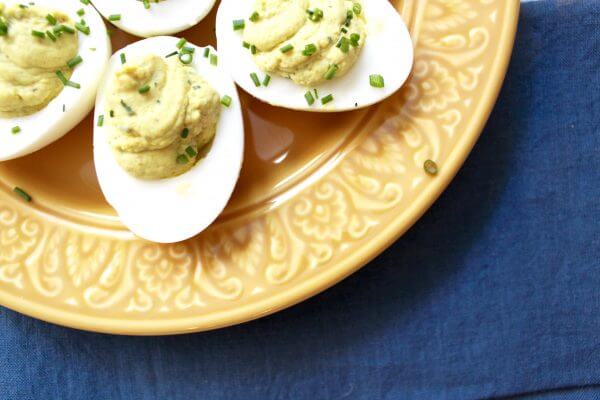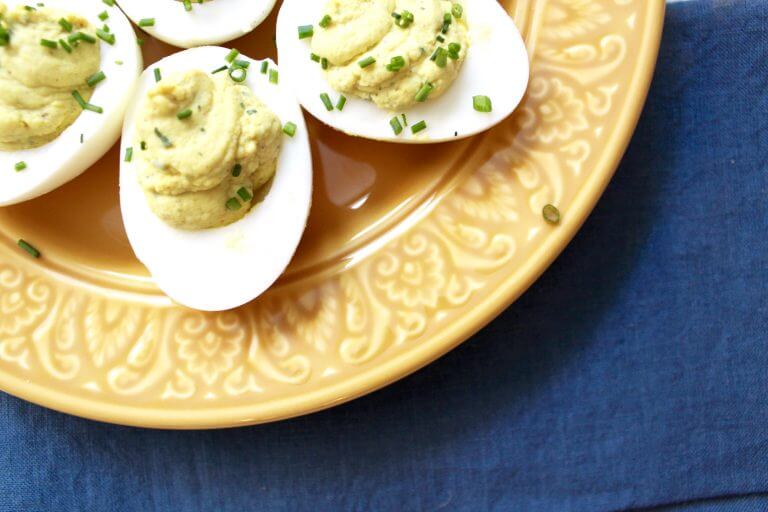 Deviled eggs are a luxurious take on the humble egg.  And they are a snap to make, if only you can get hard boiled eggs to peel.  Enter the Instant Pot… In the Instant Pot we steam the eggs under pressure for only 5 minutes, then plunge into cold water.  And the results are easy-to-peel evenly-cooked eggs every time, without having to babysit the stove.
These Ranch-flavored Deviled Eggs are made with homemade ranch dressing and a little prepared mustard, then garnished with freshly snipped chives if you choose.  Bacon bits would also be a delicious garnish for these pretty little bites.
If you don't have an instant pot, just hard-cook your eggs any way that you choose.


Hard Cooked 'Boiled' Eggs in the Instant Pot
Making hard-cooked eggs in your
Instant Pot
is as easy as can be.
Print
Ingredients
6

eggs

or as many as you choose (more will not increase cooking time)

1

cup

filtered water

or the amount your Instant Pot recommends as the minimum to bring to pressure.
Instructions
Pour 1 cup water in the bottom of the Instant Pot.

Set trivet in the Instant Pot.

Place eggs carefully on the trivet, using a steamer basket if you are cooking more than will easily fit.

Set Instant Pot to Manual --> 6 Minutes

Allow Instant Pot to come to pressure and cook.

When timer goes off, quick release the Instant Pot (set to vent).

Fill a bowl that will hold all your eggs with cold water. I like to do this in the sink so I can easily drain and re-fill with cold water again to quickly cool the eggs. This keeps the eggs from getting the greenish tinge to the outside of the yolk.

Once you can release the lid, open and use tongs or a ladle to plunge hot eggs into cold water.

After 5 minutes, pour off most of the water and add more cold water to continue cooling.

Your eggs are now ready to peel! Gently tap on the counter or a cutting board, and peel the shell off under a little running water.
Ranch Deviled Eggs (Whole 30, GAPS, Paleo)
Recipe Type
:
Side, Appetizer
Cuisine:
Whole 30, GAPS, Paleo
Author:
Prep time:
Total time:
Once the hard-cooked eggs are made, these come together in a snap.
Ingredients
6 Hard-Cooked Eggs (see above)
1/4 cup Homemade Ranch Dressing ([url href="https://healthhomeandhappiness.com/creamy-homemade-ranch-dressing-with-dried-chives.html" target="_blank"]recipe[/url])
1-2 tablespoons prepared yellow or brown mustard
Optional: Fresh chives and/or crumbled bacon to garnish
Instructions
Slice hard-cooked eggs in half lengthwise.
Pop out the yolks by gently applying pressure to the outside of the egg white where the yolk is.
Place yolks in a small bowl or sandwich-size zip-top bag.
Add homemade ranch dressing to the yolks.
If using a bowl, mash yolks with a fork. If using a zip-top bag, press out air, close, and then mash yolks with your hands (this is a great activity for kids).
Add mustard as needed to get the consistency of pudding.
Use a tea spoon to spoon yolk mixture into the indents in the egg whites. If you are using a zip-top bag, cut off the corner of the bag (just a small triangle- about 1/3 inch from the tip) and pipe into the egg whites.
Snip chives finely with scissors over the deviled eggs to garnish, and/or sprinkle with crumbled bacon.

5 Delicious Keto FatBombs
Sign up to get my 5 Best Keto Fatbomb Recipes sent right to your inbox! Plus a bonus pizza recipe :)
Please follow and like us: