Pet owners have been duped by the billion-dollar pet food, well-intentioned veterinarians, and advertising disguised as educational content.  Homemade kitten food is easy and inexpensive to make, and gives your kitten perfect nutrition that he or she will love and thrive on.  A good start with quality kitten food is what your kitten needs to grow into a healthy strong cat with a long life.
There is nothing commercial pet food provides that you can't make in your own kitchen other than a high price markup, depressingly inferior ingredients, disease-causing fillers, and a fancy label.
Here's an easy, cheap way to get cats the nutrients they need. Like so much in human nutrition, feeding cats is actually very simple once you take out the dogma. See the 2 rules for feeding cats below, and when you follow those rules, you're on your way to good pet health at a fraction of the price.
Take a look at the bigger picture (how cats eat in the wild) and stop trying to apply human nutrition myths to our pets, your pet will get the food it needs to live a long healthy life.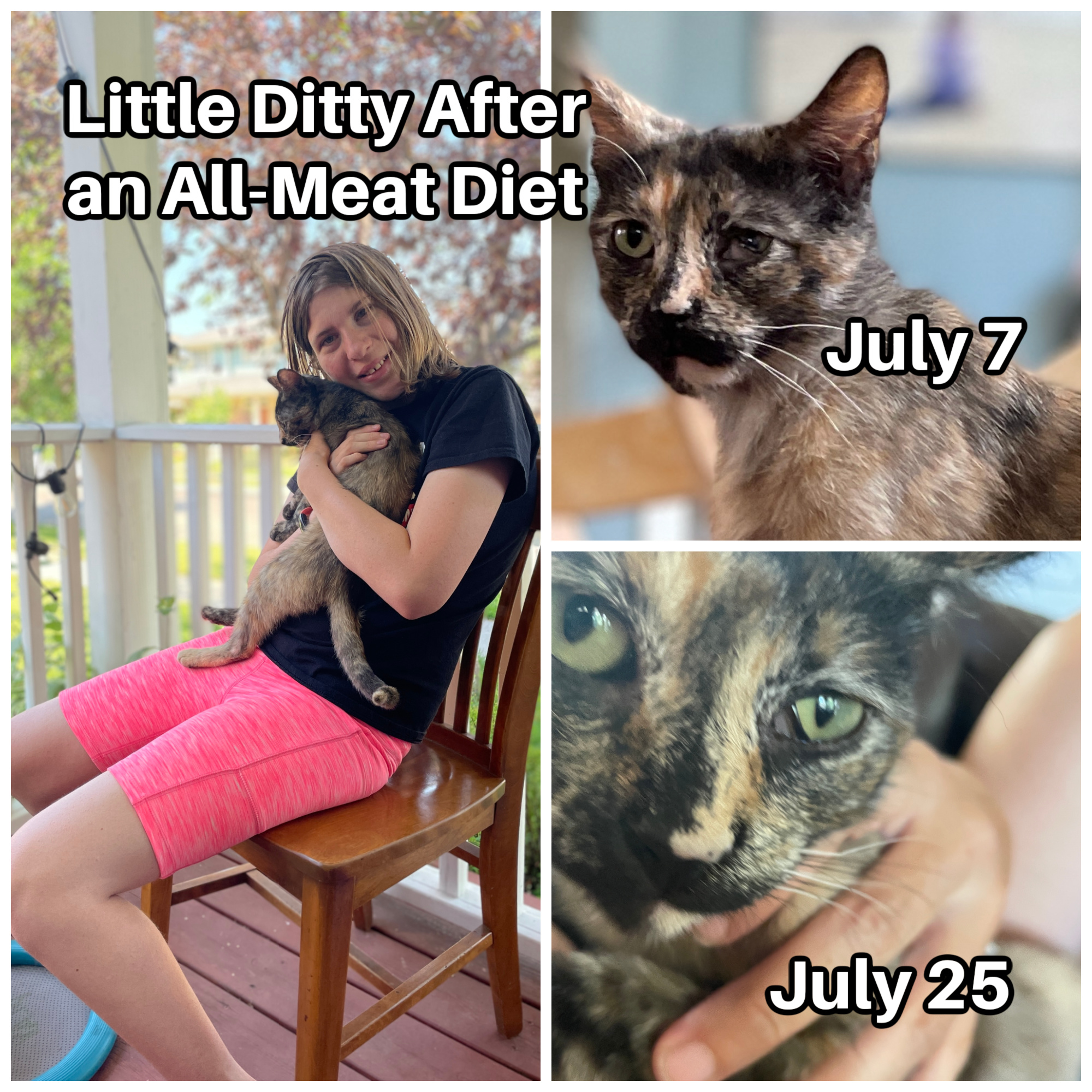 Hannah got a cat! We got a rescue from the animal shelter earlier this month. Her name is 'Little Ditty' (as in about Jack and Diane) and she's so sweet and a good hunter too! She was from a hoarding situation, and the only health issue she had was her 3rd eyelid on one of her eyes was stuck. The shelter's vet thought it was from a previous infection, and told us it would be permanent but not an issue. Amazingly after a couple weeks of switching to Raw Cat Food (all meat- recipe here) the eye issue almost gone and sometimes completely gone! Meat heals, ya'all!
Raw food rules for Cats
There are two main rules for feeding cats. When you follow these, you're working with the cat's natural nutritional patterns.
Feed your cat nose-to-tail animals that are smaller than they are (what they could realistically catch in the wild).  This includes bones, muscles, and organs – especially the heart.Be careful about giving cats too much liver – they can get vitamin A toxicity from liver.  This recipe has a good amount – you want it to replicate what they would get if they were hunting in the wild: Muscle meat and liver/heart/kidney.  If you can find small animals (ie chickens rather than beef) that is a more natural diet for a cat!
After seeing so much success with switching our cat Bob to a raw food diet for kidney disease, friends and family and readers have been asking me about a recipe for kittens and healthy cats.
The only change to the Feline Kidney Care Raw Food recipe is that I used bone-in chicken in place of the beef, as it contains the healthy fats from the skin as well as bone bone that cats need to grow and maintain bone health.  Cats with kidney disease need to limit their phospherous, but cats without kidney disease should NOT limit phosphorous and should include bones in the diet.
Is this recipe enough taurine? I wasn't sure, since taurine in the chicken heart may degrade when it's frozen, and my chicken hearts come frozen.  Since taurine is so essential to cats, I sprinkle powdered taurine, 1 pinch, on each container of his food (2 days' worth).
Feeding cats vs dogs
Cats are carnivores, dogs are scavengers. If you feed your dog raw already, you may know that it's a simple process.  For cats, there are more delicate needs to take into consideration.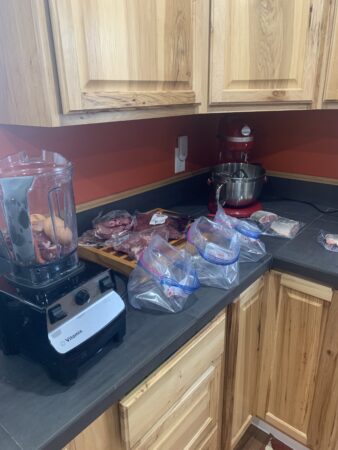 Because this recipe requires thawing multiple kinds of meat, I do meal prep for the cat – I make up 4 bags with the organ meats in it at a time, and then freeze each bag, adding the chicken, water, and egg as I make each batch.
Then I make 1 recipe at a time, and freeze into tablespoon fulls (shown below) to introduce the dietary change to the cat, or in 1/4 cup portions as the cat's whole diet.
Find the ingredients for homemade kitten food: US Wellness Meats has them most of the time.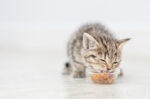 Chicken and Salmon-Based Raw Kitten and Cat Food Recipe
This is the cat food recipe that I made for my sister-in-law's kittens. It is based off the raw kidney care cat food that our cat Bob is thriving on, but includes needed bones in place of the extra egg shell.
Print
Ingredients
50

grams

chicken liver

raw

50

grams

beef kidney

raw

2

cups

water

more as needed to puree

1

whole raw egg

including shell

100

grams

chicken heart

raw

700

grams

bone-in skin-on chicken wings

raw, cats need to be eating some bone in their diet for phosphorous and calcium

100

grams

raw salmon

bones kept in, cats need to be eating some bone.

1

teaspoon

taurine supplement

powdered form. Taurine is essential for cats, and lack of it can lead to cardiac death.
Instructions
Pulse to grind all ingredients in a high-powered blender or meat grinder. Leave raw!

Divide into how much the cat will consume in 2-3 days and refrigerate. Freeze the rest, in small portions for easy serving.
Recipe Notes
This works best to puree all the organ meats (heart, kidney, etc) into the water, and then pulse this mixture into the chicken.  If you have a Vitamix this should work just fine (just pulse and allow to rest if it sounds like it's over working). If desired, a meat grinder can also be used. It should be relatively easy to grind up raw (never cooked) chicken wing bones and skin  
Divide out into containers and thaw 2-3 days' worth at a time. 
Nutrition facts most likely are lower in calcium than are really in the recipe, as they assume the bones and shell are not consumed. 
Nutrition Facts
Chicken and Salmon-Based Raw Kitten and Cat Food Recipe
Amount Per Serving (100 g)
Calories 66
Calories from Fat 36
% Daily Value*
Fat 4g6%
Cholesterol 49mg16%
Sodium 64mg3%
Potassium 51mg1%
Carbohydrates 1g0%
Protein 6g12%
Vitamin A 335IU7%
Vitamin C 1mg1%
Calcium 5mg1%
Iron 1mg6%
* Percent Daily Values are based on a 2000 calorie diet.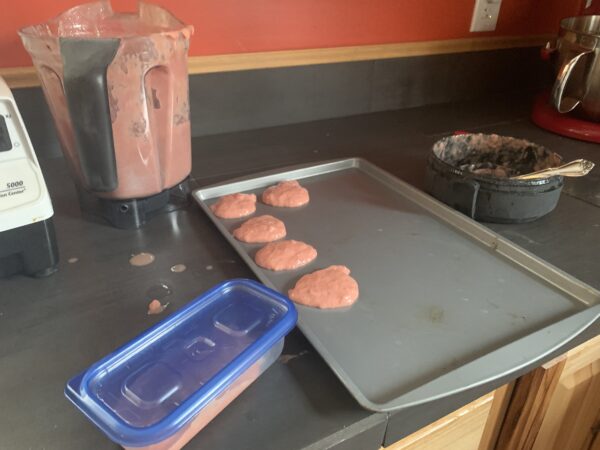 Changing from Commercial to Homemade Cat Food
If your cat has been on commercial cat food for most of its life, his digestive enzymes and digestive system has most likely acclimated to this unnatural diet. Slowly transition over to raw food, 1 teaspoon at a time, over the course of a month.
You will want to follow the advice of your veterinary professional, but for many this will look like: 
Day 1-5: Mix 1 teaspoon of raw food (freeze food in 1-teaspoon blobs to make this easy) into whatever your cat normally eats.
Day 5-10: Increase the raw food by double.
Day 10-15: Feed your cat half raw, half what they were eating before.
Day 15 on: You may be able to switch to all raw food as your cat has had time for their digestive system to catch up. If your cat is fussy, continue the slow transition.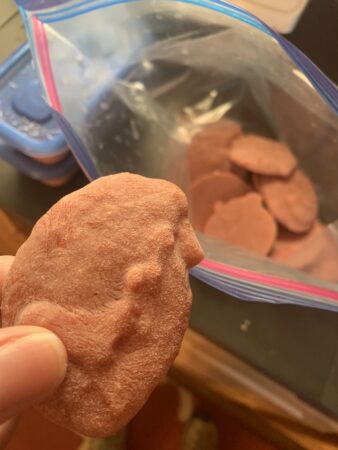 Is commercial cat food necessary for cats?
We keep dry food as recommended by our vet available at all times to our cat. He greatly prefers the wet food, and most weeks doesn't even touch the dry food. Still, I don't want to have to worry that I'm not giving him enough, so I do have a feeder for Bob that always has dry food in it.
I don't think that a little dry food here and there is bad for cats, but I would always want to have raw meat, including organ meats, as the main part of their diet.
Please follow and like us: