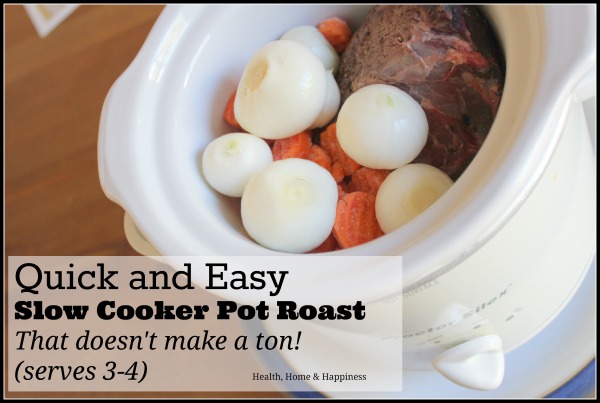 I love this slow cooker potroast, sometimes instead of pearl onions I use quartered yellow onions, though we all love the individual 'baby' size onions the best.  I fix this in the 1-1/2 quart slow cooker when I don't want leftovers, and I like to brown two halves of a larger chuck roast at once, and stick one in the freezer for an easy meal at a later date.
This meal is suitable for the Gut and Psychology Syndrome (GAPS), Paleo, gluten free, dairy free, and grain free diets.
Ingredients:
1-1/2 lbs beef roast (find grassfed beef here)
1/2 teaspoon sea salt and black pepper, each (find sea salt and black pepper here)
6-7 pearl onions, peeled, or one yellow onion, peeled and quartered
1/2 lb carrots, crinkle cut here (fun!)
1 cup tomato sauce (additive free tomato sauce found here)
Equipment:
Stainless steel or cast iron skillet for browning the roast
Directions:
If using a larger roast, cut into pieces about 1-1/2 lbs each.  The following recipe is for an approx 1-1/2 lb roast.
Sprinkle entire roast with sea salt and pepper.
Over medium high heat, brown roast(s) for 5 minutes on each side, a total of 15-20 minutes, or until roast is nice and brown on the outside.
Place roast in slow cooker. If you made extra, place extra browned roast in a zip-top bag once cooled enough to touch, and stick in the freezer (see more grain free freezer cooking tips here)
Top with carrots, onions, and tomato sauce.
Cover and turn on low for 8-10 hours or high 4-6 hours.
Serve, spooning juices over the top on each plate.
Enjoy!
(concerned about lead in crock pots? Check out this link here to learn more about a mom who tested them)