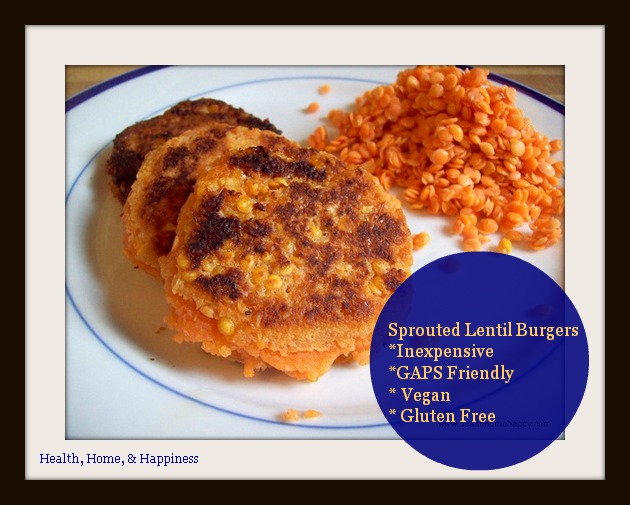 In an effort to eat healthily less expensively, I have been experimenting with lentils lately. Lentils are a versatile source of both carbohydrate and protein, and when sprouted they are easy on the digestive system and also provide vitamin C. For those on grain free diets, these grain free veggie burgers provide a welcome source of carbohydrate, and for vegans and vegetarians they provide needed protein. Using coconut oil or palm oil for the fat, these sprouted lentil patties are completely vegan (which is something different coming from my kitchen!).
The pictured homemade sprouted lentil burgers used delicate pink lentils, which sprout in just one day.  I have also made them with more hardy brown/green lentils, which can be sprouted longer – I let brown/green lentils sprout for 2 full days.  Pink lentils tend to disintegrate if sprouted for more than a day. We have been enjoying these homemade veggie burgers often in the past couple days, the ginger/garlic combination is something different and fun. Sprouting is also great fun, especially in the winter months. It's like gardening, but the fruits of your labors are eaten in just hours or days!
Sprouted Lentil Veggie Burger Recipe
Serves 4-6
4 cups sprouted lentils, divided
3 cloves garlic, peeled
1 teaspoon sea salt
1 teaspoon grated horseradish
1 inch of ginger root, peeled
1/4 cup expellar pressed coconut oil, palm oil, or butter/ghee
2 tablespoons coconut oil, palm oil, or ghee for frying
In a skillet over medium heat, melt 2 tablespoons of the fat for frying. In a food processor, combine 1 cup sprouted lentils, 1/4 cup fat, garlic, salt, horseradish, and ginger. Puree until smooth. Add remaining lentils, pulse until coarsely chopped to retain some texture. Form into patties with your hands, and fry gently, flipping once golden brown. Repeat with the remaining patties.
Serve as a veggie burger, with the traditional burger toppings and wrapped in lettuce if grain free, or in a bun. We also enjoy dipping these in plain yogurt and serving with a mug of warm salted chicken stock to round out the meal.
To sprout lentils: Fill a glass mason jar 1/4 to 1/3 of the way full of clean, dry lentils. Cover with filtered water and allow to soak, overnight for green/brown lentils or for a couple hours for pink lentils. After soaking, rinse throughly, and allow to drain. I use a mesh sprouting lid that fits onto a wide mouth mason jar to sprout. Repeat rinsing a couple times every day until sprouted as desired. For more detailed sprouting pictures, see my How To Make Sprouted Flour post (just follow along through the sprouting part- no need to dehydrate these unless you want to). You can find what you need to start sprouting at Cultures for Health, through my Resources Page. This post is a part of Wheatless Wednesdays!
5 Delicious Keto FatBombs
Sign up to get my 5 Best Keto Fatbomb Recipes sent right to your inbox! Plus a bonus pizza recipe :)
Please follow and like us: