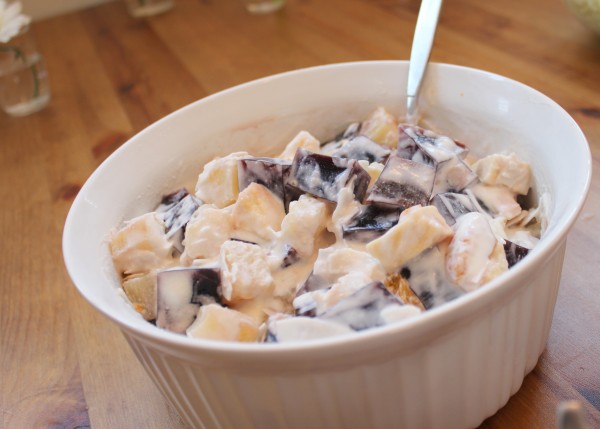 Homemade Jello Salad without refined sugar or corn syrup!
Sometimes I will see a dish on a buffet table and think, 'No way would I let my kids eat that… oh, wait… I can totally think of a way to make that using real ingredients! Let's try it!' and this is one of those recipes…
Ingredients:
1/2 Recipe Homemade marshmallows  (recipe)
1/2 cup of plain yogurt
1 cup full-fat coconut milk
1/2 cup of unsweetened shredded coconut
1 cup canned tangerines, mandarin, or fresh orange slices
14-ounce can of pineapple chunks or 2 cups of fresh pineapple, cubed
2 cups of tart cherry juice (no sugar added)
2-1/2 tablespoons gelatin (find grassfed gelatin here)
1/3 cup honey
You can see the recipe for homemade marshmallows, made with honey and gelatin here at Mommypotamus.  Once set, cut into small cubes.  These take a while to set, so do them while and the jello and then plan for a few hours for both to set up.  The marshmallows are amazing, but optional – the salad still is delicious with just the fruit, yogurt dressing, and jello. 
To make the jello, sprinkle gelatin over the juice, while the juice is cold (if you do this while it is hot, it will clump).
Allow gelatin to absorb the liquid for 5-10 minutes, and then heat over medium heat until completely transparent and gelatin is dissolved. Stir in honey. Pour into a bowl, or casserole dish (a loaf pan or 8×8 pan works well, size isn't important) and place in the fridge to set.
To make Jello Salad
Once jello is set, cut into bite-sized cubes and mix with yogurt, coconut milk, coconut, tangerines, pineapple, and marshmallows.
This is one recipe from my FREE e-book for January: 20 Healthy Soups and Salads.  Want it? Click here to have it sent to your email :)
Please follow and like us: