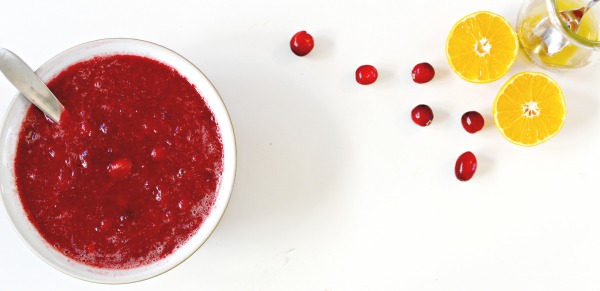 Bright, tangy, and sweet, cranberry sauce is my children's favorite part of Thanksgiving dinner. While they're not picky, most traditional Thanksgiving fare really isn't their favorite.    But when everything can be covered in cranberry sauce, the big day is redeemed in their eyes.
I love this slow cooker cranberry sauce because it can free up stovetop space for other dishes during a day of cooking. The slow cooker can even be moved to a different room (mine has ended up on the porch before!) to save on countertop space. And if the turkey takes longer than expected, just turn the slow cooker to 'warm' and this cranberry sauce will be ready whenever you are.
Change up the sweetener as desired- maple syrup is delicious in this, but we used honey here to make this GAPS legal.  You can also add in some subtle flavors if you're feeling creative- a bit of grated fresh ginger, sprinkle of cinnamon, even a splash of red wine all go well in this sauce.
Finally, if you're feeding a crowd or want to make sure there is enough leftover cranberry sauce to complement every last bite of turkey, feel free to double this recipe to accommodate.  Cooking time will be at the longer end of the range, but overall doubling the recipe won't change much.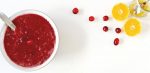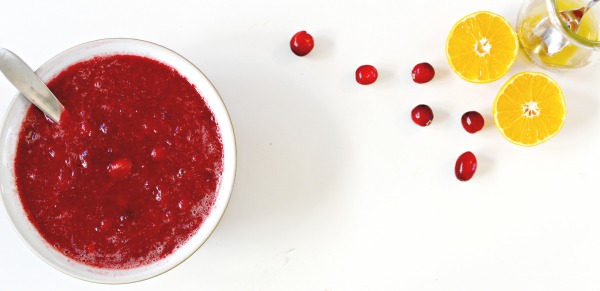 Whole-Berry Cranberry Sauce in the Slow Cooker (GAPS, Paleo)
Sweet, tangy, bright, and easy this whole-berry cranberry sauce just might steal the show at your next holiday meal!
Print
Instructions
Turn slow cooker on to high.

Add cranberries, orange juice, and honey.

Add in gelatin as you stir, mixing until gelatin clumps are broken up.

Cover and cook on high 3-4 hours or low 6-8 hours.

When it's done, cranberries will have burst on their own.

Break up whole berries with the back of a wooden spoon, or puree with an immersion blender for a more smooth cranberry sauce.

Serve warm or chilled, cranberry sauce will thicken as it cools.

Store any leftovers covered in the fridge.
Recipe Notes
This is an exception to the 'make sure your slow cooker is 3/4 full' rule. In most cases we need to have the slow cooker mostly full in order for it to cook evenly, but this cranberry sauce cooks just fine when it takes up just the bottom few inches.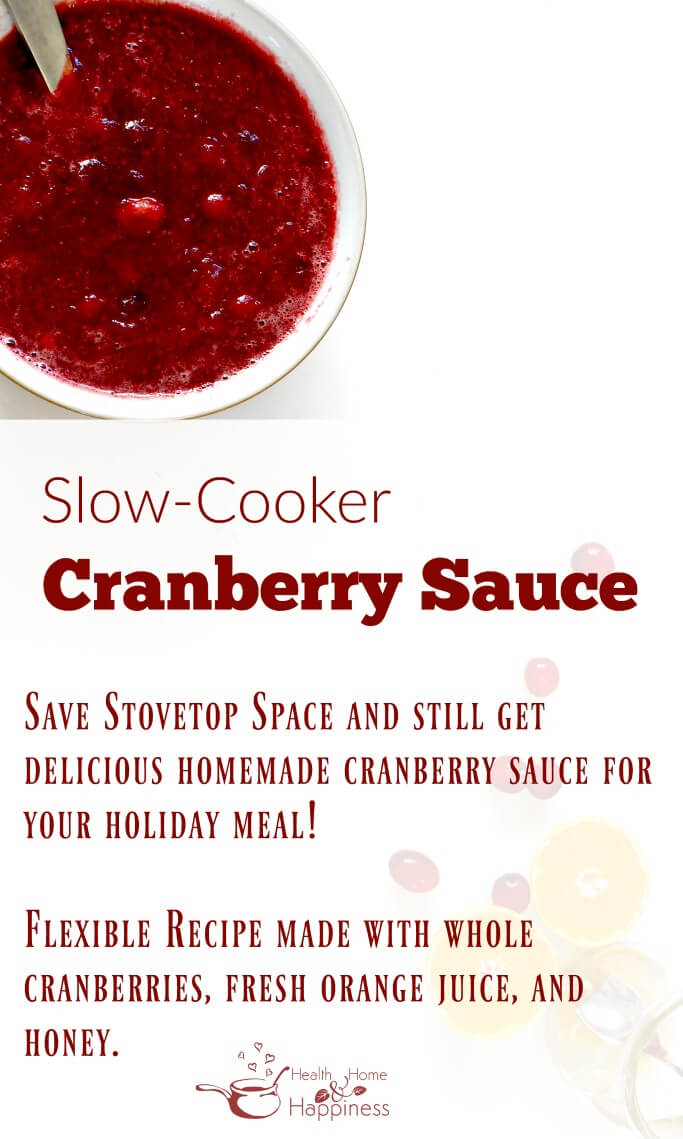 Grain-Free Holiday Desserts, Breakfasts, and Side Dishes
Candied Butternut Squash, Zesty Lime Custard, Honey-Sweetened Pecan Pie, Slow Cooker Cranberry Sauce, and 10 more holiday recipes that you'll love for the way they taste and the way they make you feel.
Please follow and like us: