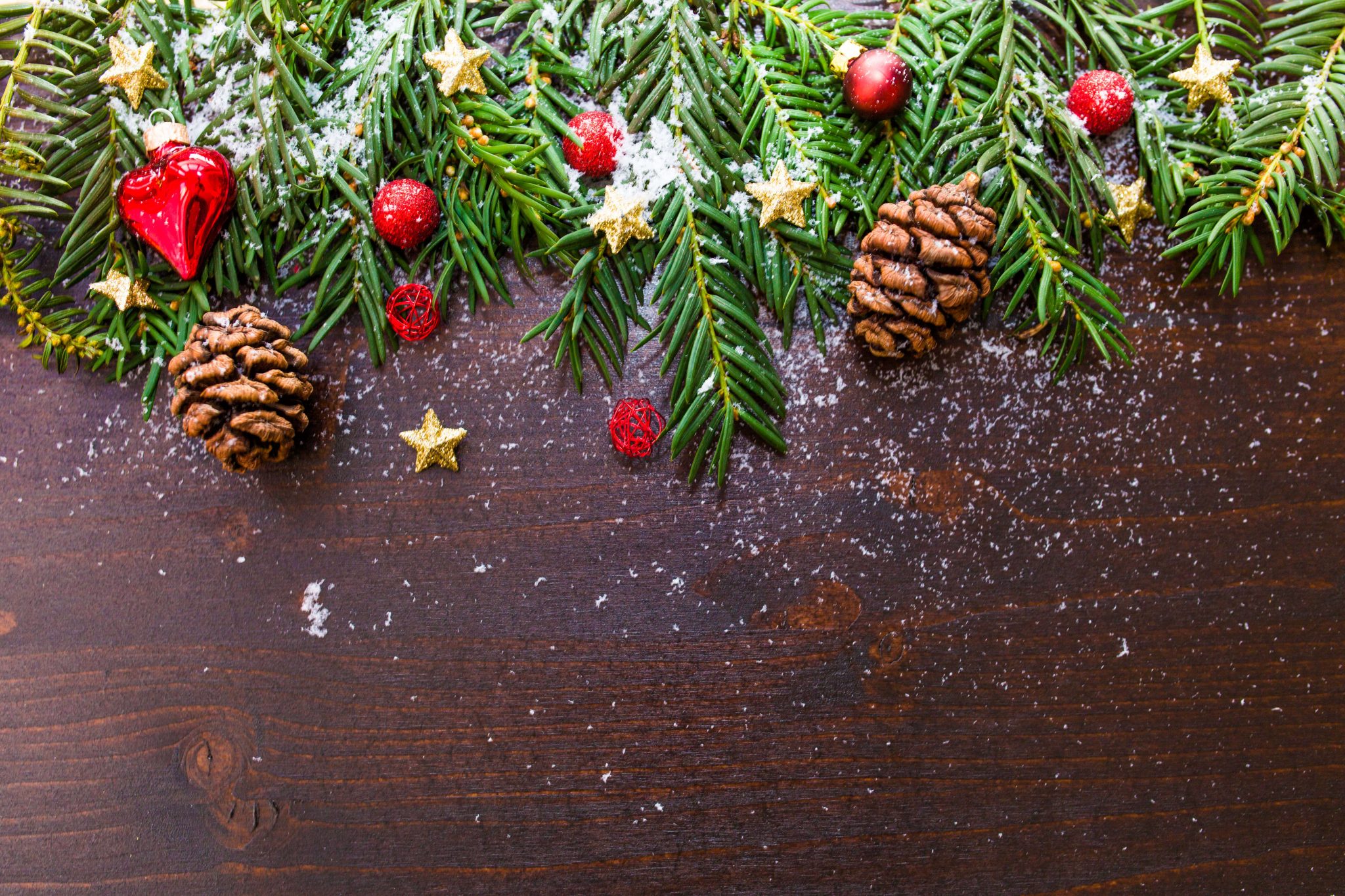 We all love to give gifts. Thankfully, our culture is starting to recognize the harm that unrestrained materialism is having. So many of us are striving to be better stewards of what we have, yet we still love to bless others with thoughtful gifts that will bring them joy and show that we care. As I learn more about how toxins affect us, I know I want my gifts to be toxin free and healthy. Yet I still want them to be used by even the most un-crunchy of friend, so they need to be user friendly and something not so foreign that it will sit up on a shelf before being donated to the local thrift store.
This list of toxin free holiday gifts is made with the goal of helping you chose healthy sustainable clutter free gifts that will being joy to both the recipient and the giver.
My kids are getting this year: 
I have two that have birthdays in the winter too, so I included those gifts here too.
Sleds to replace broken and torn up sleds that they have been using. This has been hard for me to hold onto, but they really like seeing something *big* under the tree, so I'm diligently waiting for Christmas. We like the flexible styrofoam type sleds best for durability.
Hats and mittens from Lands End. Not super exciting, but warm mittens and hats are a must, and by the end of December, usually someone's warm mittens or hat have gone missing.  If you're planning a snow trip – these are great mittens, and remember that mittens are not only easier for littles to put on, but they are warmer as well.
A magnadoodle– this low-tech 'computer' is perfect for my emerging writer and he's been using his siblings old broken one for the better part of this past year.
A Hotwheels Car Park for the preschooler, but really all 3 of mine love playing with hotwheels cars all the time.
An Elsa Doll for my girl who is still obsessed and pretend-plays Frozen throughout the day everyday all day.
Natural makeup for my pre-teen girl who is fascinated with YouTube makeup tutorials! She's getting natural makeup in very neutral colors to play with – mostly from Burt's Bees, but some other mineral makeup as well.
A Wii for my maturing right-hand little man.  We've avoided electronics for the most part to avoid the *drama* that can come with limiting them, but he's proven himself mature enough to handle them now. Refurbished, because that's my budget ;)
A wood burning (pyrography) kit for the above maturing young man that is fascinated with fire and is so creative.  A little bit of danger helps children learn limits under our supervision, I'm looking forward to see what he comes up with. I also got him some small wood rectangles to practice on, letter tips, a book to show him techniques, a box to keep it in (that he can decorate as well). I'm dividing this between his Nov bday and Christmas.
Winning Kids Gifts From Previous Years
Gorilla Gym that fits in their doorway: perfect for these long cold Montana winters!
Bikes: The olders outgrew their 18-inch bike and I'm going to move them up to 24″ Bikes (about average for age 10, which they are both the size of typical 10 year olds).
Red Wagon for the little guy. He's still using his toddler bike, and has a running bike for when he grows a couple more inches (I'm guessing about the time he's 3)
A craftsman tool box for my 6-year old, other family members will add in tools.
An 18-inch doll with a princess outfit for my 8-year-old.  After being a tomboy for years, I'm tickled that she loves everything 'princess' right now and I'm indulging in the joy of having a little girl this Christmas.
A simple wooden car for my 10-month-old.  We'll be honest, gift giving for babies is mostly for the parents. He loves his older brother's cars, though, and he'll enjoy playing along. This is nontoxic and well made to stand up for years of play.
Melissa and Doug Barn – my preschooler loves to open and close things, and adores all the animals we see as we travel around Montana. Now we're bringing them inside. Without the mess ;)
Huge Checkers Set for my board-game playing guy.  This mama loves checkers and chess (Candyland? Not so much…) so I'll be happy to play with him.  The big pieces are fun, and it all rolls up for easy travel.
Model truck (with snow plow!) for my boy, who shovels shovels shovels for me, and loves seeing how things are put together.
Pogo Stick!  This is a 'want' from watching the Brady Bunch, and I think it's pretty cool that they want to try.  A great in-the-garage activity for our long winters too.
Mini trampoline for the little.  Winters are long, this is a great way to burn energy and move lymph around as well. But the kids just care that it's fun.
200-Piece puzzle for family evenings on cold dark nights.  After the last time we tried a puzzle the preschool may or may have not taken off with some pieces. This time I added a roll-up puzzle mat for safekeeping too.
Personalized pillow cases. These are a favorite from a few years ago, but interests have changed. I love how easy they are to make, and how much the kids LOVE their special pillows.  I make a little pocket to keep the pillow firmly inside of the case– great for travel.
Kids' watches  Are kids losing the ability to tell time on a traditional watch? Get them an analog watch, they'll love it and learn to tell time as well.
A nice wallet (A $2 bill and a family picture or two makes this even more personal)
A small tape measure-  I'm somewhat sure this is their favorite gift ever. They LOVED these.
For Men:
I know most men are pretty hard to buy for. They have specific tastes, and tend to go out and buy what they need right when they need it. They don't get excited about clothing, nor do they use more than one wallet.  We want them to use and enjoy what we give them, and that is what this list is about!
Grassfed Smoked Sausage and Cheese Sampler: Grassfed animal products are not only sustainable, but they are full of the often lacking omega 3 fatty acids and vitamin K2 which is important for healthy teeth.  And they taste fantastic!
Something Wool: Do you knit at all? A simple beanie is loved by nearly every man I know. Made in superwash wool, it's super warm, breathable, flame resistant, and washable!  Beanies are the simplest thing to knit, and the circular knitting is easily portable, perfect for traveling.
A sweater is more of a project to tackle, but if you're up for it and your guy isn't a sweater-wearing kind of guy, check out the Hacky Sack Hoodie in Son of a Stitch and… That's what I'm making; it's essentially a hand made wool sweatshirt- something that non-sweater-wearing-men will rarely refuse.
Natural Soaps for Men:  Men might not be excited about natural soaps at first, but when they use them they'll be hooked! Guys like skin that's comfortable and healthy too- it's not 'manly' to itch from your personal care products!
Hobbies- Quality over Quantity: Think of your man's hobby, does it involve a fly pole? A set of wrenches? A gift that lasts a lifetime will be not only a pleasure to use, but also will… last a lifetime, eliminating waste and the need to repurchase. So upgrade a tool or two to Snap On brand, or buy a top-of-the-line piece of fly tying equipment.  Whatever it is, visit a specialty store, and even something small can make hobbies so much more fun when it's top quality.
This travel mug is an instant favorite. It keeps hot liquids hot, even in cold Montana weather.
For Women:
Something wool: Most women love good quality accessories. A scarf in a soft baby alpaca or cotton-wool blend is a quick knit and fun to give. What color does she like to accessorize with? You might get a chance to knit with a new color of yarn- purple, chartreuse, bright orange, or ruby red!
Cosmetics: Give the loving gift of healthy skin care and cosmetics to someone you love.  Did you know that our skin absorbs what's on it? Make sure it's something that you could eat.
Natural Soaps for Women: Luxury (and healthy) bar soaps are a treat to use, and they get used up- 100% clutter free!
Essential Oils: Essential Oils can be used for so many things, and even 'non granola' people love the scents and antibacterial properties.
For the Toddlers:
Safe Stuffed Toys: For the child who adores their stuffed toys, sleeps with them, and carries them everywhere, it's important to try and find ones that aren't stuffed with off-gassing polyester fiberfill but instead uses natural materials such as bamboo, wool, or even soy fibers.
Cut Rounds of Logs or building lumbar: An unconventional gift for children with a back yard, but sure to be loved by all young children! For balancing, jumping off of, stacking as large blocks, rolling, and rearranging- if you've got a chain saw and access to logs, this could be an inexpensive delight!
Play Silks: Silkies are fantastic open ended natural toys. They are perfect for building forts, wrapping dolls, becoming super hero capes, and butterfly wings.  For the creative baby, toddler, or preschooler, these are sure to be the favorite gift.  You can also make play silks easily at home, a fun project for an older sibling to do for a younger one especially.
Recycled High Quality Toys: Dump trucks from Green Toys are what my children are getting this year.  Green Toys has an assortment of recycled plastic toys. I know that plastic isn't inherently sustainable, but for little ones metal can be too sharp for 'accidentally' bumping into siblings or walls.  This made in the USA option isn't the same junky plastic that will break in a couple months.
A Tripp Trapp Chair: Pricey, and honestly a little more modern than my usual style. But these chairs are perfectly proportioned to children.  We have one for my 4-year-old with autism and associated poor balance; it's easy for her to climb in and out of and it makes meals so much more pleasant because she's comfortable.  My son loves it too, and I think nearly every child that comes and visits has to check out 'the red chair'.
Some more of 'my picks' from Amazon: Plan Toys are good quality; not made in China, the paint doesn't chip, and the toys are classic and last through multiple children.
Fruit and Vegetable play set, with a knife that can cut through the velcro attached fruit and veggies.  My kids love these, we've had them for over two years now and they're still a favorite.
Doll House Family. My children just got a doll house hand made by Grandpa, which they love! They are going to get a few dolls to go in it finally; so far it has held mostly animals and tractors.
Stacking ring is great for new sitters (5ish months) and up. They love the heft of wood, and the bright colors.
Lacing Beads are great for developing hand-eye coordination. My daughter loves these, since it's similar to sewing and knitting, which she sees me do. Age 2-5.
Green Toys Firetruck: Fun, classic, no batteries, no noise.  We got this toy for my son for his birthday earlier this month (and another for an un-birthday present for my daughter) and they love them! The fire trucks have been out in the snow, through the kitchen, and have rescued people and animals from the dollhouse.  Made in the USA out of recycled plastic.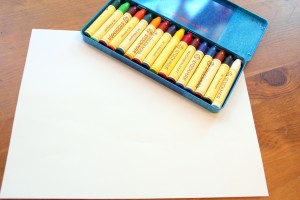 For Older Children, Tweens, and Teens:
My kids are getting more grown up, and with that is the fun possibility of getting them items that they will keep for the long term.
A craft cart contains all those fun scrapbook pages, coloring books, shape punchers, and markers.  This is a fun theme gift, with people who want to give her a gift she'll love all giving craft supplies.  Some suggestions to add: Shaped punches, scrapbook paper, high quality colored pencils, high quality crayons, more grown-up coloring books, activity workbooks.
A nice tool chest and tool box is a great gift for boys and girls- everyone will need tools when they're out on their own, and when you start now, you can slowly add high quality tools.  I suggest starting with a tool box, and presenting a nice chest for a major birthday (maybe 10 or 16).  Some starting tools: Hammer, screwdriver set, cordless tool set.
Sport and Hobby Equipment. Teens are just starting to really figure out who they want to be, and take interests that aren't just a copycat of their parents.  Quality jerseys, hats, or cleats, goggles, swim suits, and so on can bring new life to already set passions.  If a teen is into rocketry, model building, knitting, drawing, or so on- a specialty hobby store will be thrilled to help you come up with the perfect gift within your price range.

For Babies:
Babies don't need much, but they're oh-so-fun to buy for, aren't they? I like these gifts:
Haba car rattle/clutching toy (made with nontoxic finish)
Board books: Brown Bear, You are my I Love You, Little Blue Truck, LLama LLama.
Sophie teething toy This is like crack for babies- they love it, and the rubber is all natural.
A homemade crib-sized quilt is the best nap companion. Wool or organic cotton is natural, warm, and so gentle for baby.
Simple blocks – Hardwood blocks in classic shapes make for years of playing.
Help a mama out…
If you know of a young family drowning in toys, they may appreciate some of the more practical things for their child… And babies love playing with the wrapping paper and boxes the most anyway…
Clothes in a few sizes up.  Little babies often have an over abundance of clothes, and then as they turn to toddlers, they wear them out like crazy.  Purchase an outfit to save for later.
Safe baby soap, lotion, and baby oil along with an organic cotton wash cloth? The perfect gift to get any mom hooked on natural products for her baby.
For Families:
Classic games: Checkers, Chess, Chinese Checkers are all non-electronic family fun.  A nicer quality board makes playing so much more enjoyable, and it's likely to be left out because it looks so nice too!
Fireplace Starters:  For the family with a wood stove or fireplace, there's nothing nicer than being able to easily light it!  Wax and pine cone fire starters are decorative and amazingly functional. When we had a wood stove as our only source of heat I made some of these- it was nice not to have to fiddle with the fire on cold winter mornings or after returning from running errands all day.
Beeswax Candles:  Tapered candles for the dinner table, or a pillar to light above the hearth, beeswax candles are a beautiful healthy alternative to conventional candles.
Photographs: Are you a photographer? When they're all together and dressed up during a holiday party early in the season, take a friend's family picture, print, and frame in a simple wood frame, preferably one from a garage or thrift store. Personal, inexpensive, and impossible not to like!
Salt lamps: These warm lamps emit a yellow-orange soft light with a dimmer switch. They also clean the air naturally and silently.  They are perfect to brighten up a dark corner, or to use as a night light in a guest room, kid's room, or bathroom.
For hard-to-gift people
Some people seem to have everything, yet you want to honor them on a holiday with something special.
Fresh-Pressed Olive Oil is what a couple of these 'hard to gift' people in my life are getting. They use olive oil daily, and will love trying new flavors.  Simply note that this is a gift in the comments section when you sign up.
Salt lamps: These warm lamps emit a yellow-orange soft light with a dimmer switch. They also clean the air naturally and silently.  They are perfect to brighten up a dark corner, or to use as a night light in a guest room, kid's room, or bathroom.
Beeswax candles are so nice, and natural, and can give a beautiful feel to any room.
Small Gifts
For those times when you want to give something, like to teachers, coaches, or business acquaintances, but you don't know their tastes, you're on a very limited budget, or you just need a few gifts on hand for unexpected visits.
Assorted Tea and Tea Boxes or Mugs.  If you know someone loves mix-and-match mugs, or needs a mug to keep at work, a mug is a fantastic gift.  Fill it with an assortment of holiday, organic herbal, or fair-trade teas.  Tea boxes are another nice way to present a tea assortment and are great for the type of person who likes to have a uniform set of mugs.
Homemade Vanilla Extract: Vanilla extract is as simple as putting vanilla beans in alcohol, I use bourbon.  After the alcohol is throughly infused with vanilla, bottle in cute little glass bottles and give as gifts with a recipe featuring vanilla attached.
A festive bundle of pine boughs tied with a ribbon: Inexpensive, but thoughtful decor that can be composted or used as a fire starter after the season is over.
Beeswax tea lights:  Beeswax candles burn cleanly, have a soft honey scent, and give off a beautiful warm long lasting flame.  A healthy alternative to petroleum candles (paraffin) scented with chemical scents.
Bath Bombs are a great DIY gift idea. Kids can be involved in making them, and they're really no clutter for the recipient.  Wrap in cellophane bags and curl a ribbon to close for a cute gift-ready touch.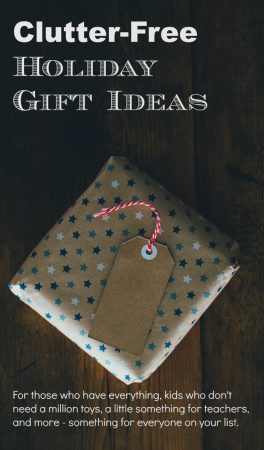 Please follow and like us: