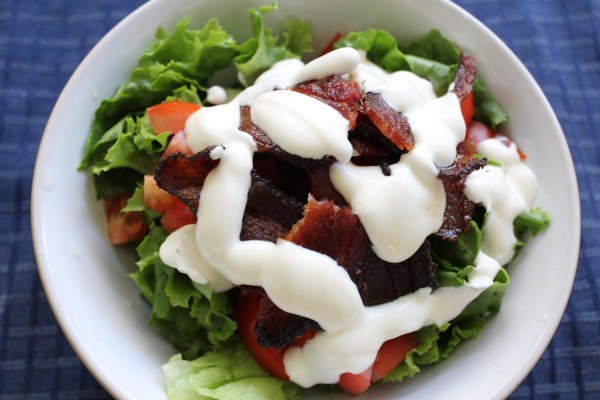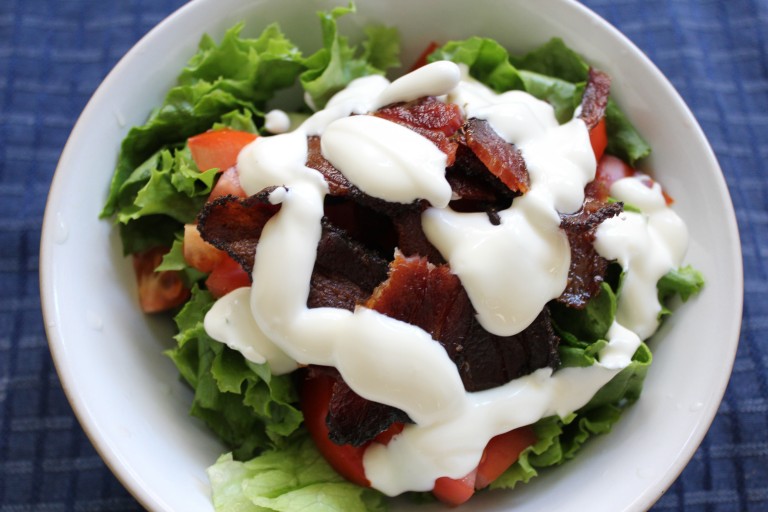 BLAT! Sounds like something your 2nd grade teacher might have made for science class.  But today it stands for Bacon, Lettuce, Avocado, and Tomato- in a salad form, with homemade ranch dressing.  When we're grain and gluten-free we can still have a filling BLT meal without the bread.  Cucumber is added too, for extra crunch and fresh flavor- I know you'll love it!
Bacon, Lettuce, Avocado and Tomato Salad
BLT Salad with Homemade dressing (Paleo, GAPS)
Recipe type:
Salad, main dish
Cuisine:
paleo, gaps diet, gluten free, homemade
Ingredients
1 head lettuce, washed and chopped
1-2 tomatoes, chopped
1 pound crispy bacon (find sugar-free bacon here)
1-2 avocados, sliced (optional)
1 cucumber, chopped (optional)
1 pepper, chopped (optional)
Directions
Bake bacon (directions here)
Combine vegetables and bacon in a large bowl and serve with salad dressing.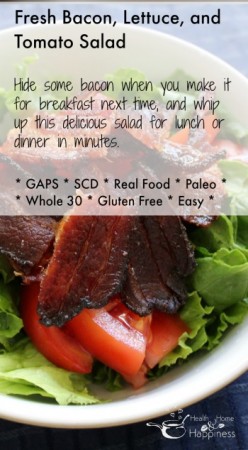 Grain-Free Holiday Desserts, Breakfasts, and Side Dishes
Candied Butternut Squash, Zesty Lime Custard, Honey-Sweetened Pecan Pie, Slow Cooker Cranberry Sauce, and 10 more holiday recipes that you'll love for the way they taste and the way they make you feel.