When time is short and my brain is scattered, rather than hit fast food, takeout, or induce more stress into my kitchen I swing into the crowded Costco parking lot, and then make my way to the back of the store for a $4.99 Costco Rotisserie Chicken.That chicken on its own is a fantastic meal that my children love. And then the entire gallon of broth of the picked-over bird makes its way into my fridge or onto my self in jars for later use.
Read: How to can broth
I know Costco Chicken isn't perfect.  Some people might be surprised at this, if you're burnt out, busy, or broke, eating a protein-rich meal of Costco chicken and then making tummy-soothing broth into low-cost soup might just help your health more than stressing out about a more expensive time-consuming dishes-making option. And it's for sure better on your wallet and health than most fast food, yet it is just as fast.
As long as you don't get distracted by all the fun things on the way to the back of the store and again up to the front, this chicken makes an easy, yummy, and acceptable meal for most diets. It is gluten-free, and really mostly all meat! And to feed a family of 5 for $5, and then make a whole gallon of broth for later use- it's a powerhouse compromise food that makes its way to my kitchen a few times a month.
This Costco Rotisserie Chicken Broth is Perfect In:
Soup Challenge for Health Boosting and Cost Saving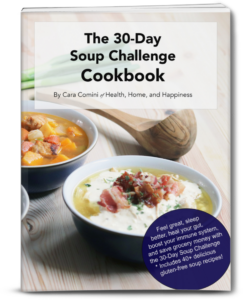 This recipe is in the 30-Day Soup Challenge Cookbook! Thousands have taken my yearly 30-Day Soup Challenge (sign up here) and have requested a cookbook to reference off the computer. We've gotcha covered!
Find over 40 delicious gluten-free (many keto friendly and many GAPS friendly) soups and boost your immune system, watch your skin glows, sleep better, and slash your grocery bill in the process- just by including homemade soup once a week for a month this fall or winter.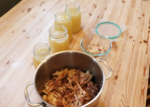 Costco Rotisserie Chicken Broth
Don't toss that bundle of bones! The bits of meat, skin, and bones in a picked over bird carcass (whether from Costco, home-roasted, or leftover from the Thanksgiving bird) are so so easy to turn into delicious broth.
Print
Ingredients
1

Roasted Chicken

Just the bits you didn't eat at first! Leaving a little meat on it, or picking it clean- it's up to you.

1

gallon

filtered water

However much water it takes to fill your pot mostly full is the right amount.

1

tablespoon

sea salt

optional, depending on your salt preferences
Instructions
Place anything from your chicken that you didn't eat (including the skin, bones, cartilage, and any remaining meat) in the bottom of your stock pot. You can add the jelly stuff (it's rich in protein and flavor!) from the bottom of the container as well.

Cover with filtered water, until all the chicken carcass is covered, but you're at least 3 inches from the top of the stock pot so it doesn't spill over.

Add optional salt, or taste after it is done and add salt then.

Heat on medium-high heat until a slow boil starts (some large bubbles coming up, but not quickly)

Once the broth is at a slow boil, reduce heat to a simmer and place a lid on the pot.

Simmer for 2-4 hours. If you do this in a slow cooker, cook on low all day.

Turn heat off and allow to cool enough that it is not dangerous to work with.

Taste and add salt if needed.

Strain broth into jars or other storage containers. Keeps 10 days in the fridge, 1 year in the freezer, or 1 year if canned (see instructions for this here)

Pick the remaining chicken off the bones to use if desired. This will be less flavorful than the original roasted chicken, but is a great addition to taco meat, or used in chicken salad!
Recipe Notes
You can keep the same bones and other bits from the chicken after straining off the broth to do a second batch of broth if you are feeling extra frugal! I like to just put all of it in a zip top bag in the freezer and repeat the process if I ever need broth and don't have fresh bones on hand. The second batch of broth will still be full of amino acids and good for you, but a bit less flavorful than the first batch. To boost the color and flavor of the broth, adding the clean skins of 1-2 onions to your cooking second-batch-broth (add right at the beginning) makes a big difference!
Why is Costco Rotisserie Chicken a Compromise Food?
Some people prioritize additive-free sustainably raised meat, which this is not.  Costco Rotisserie Chicken contains the following additives that may be questionable for some people: salt, sodium phosphate, modified food starch, potato dextrin, carrageenan, sugar, dextrose, spice extractives.
What is a better option?
Roasting your own whole organic pastured chicken, whether its raised yourself, or raised locally is the best option. Next, roasting your own chicken from organic grocery store chicken is another better option.  But really, to reduce stress and lower that grocery bill that so many are struggling with, I think that Costco chicken is JUST FINE :)
You can find pasture raised chicken HERE from ButcherBox! Be sure to check out the 'Deals' section for monthly savings to stock up on- I especially love their "ground beef blast' and 'ground pork blast', grassfed/finished meat for around $5/pound, shipped free to your door!
Please follow and like us: