In my house, Sunday mornings are for grocery runs, and Sunday late afternoons are for meal prep.  Grilled Garlic Green Beans are a favorite for meal prep. You can grill a whole bunch of them at once, along with other goodies like Chicken Pepper Poppers, steak, and more.
Once they've been taken on the smokey flavor of the grill, along with the rich flavor of garlic, they are delicious either reheated or cold!  I like eat them as is, or dress with a simple vinaigrette made with olive oil, apple cider vinegar, mustard, salt, and pepper.
 
Meal Prep
I love to cook, but not all day, every day. That's where meal prep comes in, and why I cook 2-3 pounds of green beans at a time!  At this time, the rhythm of our home dictates that we meal prep on Sunday evenings, and then again do a smaller prep Wednesday evenings.
If I'm doing a full batch of freezer cooking, I'll set aside an entire morning of afternoon, but for processing groceries I usually only spend about an hour or two.  As the weather warms up, I'm excited to move as much prep out onto the grill as possible!
You can see more about scheduling your meal prep time for maximum efficiency here.
When pre-cooking for the week I try to: 
Wash and slice any ripe fruit into containers for easy serving.
Have at least 2 vegetable dishes ready to go.
Make 2-3 proteins, or casseroles that include a protein and a vegetable.
Start a gallon of yogurt for easy breakfasts.
Cook some Instant Pot Stock if we're running low.
Whip up a sauce of some kind to add variety and easy flavor.
If on Keto, make a batch of fat bombs for easy fat (it's actually easy to eat too much protein on keto and this helps balance it out)
Grilled Green Beans
This week we saw green beans at Costco and they looked delicious! They're so simple to make as well, just rinse, drizzle olive oil over, and sprinkle with sea salt and crushed garlic if desired.
A grill basket keeps them from falling through the grate, and tongs toss the green beans easily so they cook evenly.
Best of all, cooking them outside keeps all the splatters OUT on the porch and saves you having to scrub down the stovetop.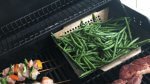 Easy Garlic-Olive Oil Grilled Green Beans
This 5-minute recipe is easy to make on the grill and serve as a side dish. This recipe makes 12 servings, adjust as needed.
Print
Instructions
In a colander, rinse the green beans well. Drain, but do not pat dry, we will use the water from rinsing to help them steam a little on the grill. Snip off ends if desired, I usually leave them on unless they are very tough. At this time you can leave them whole, or cut into halves or thirds if desired.

Place green beans in a large bowl and sprinkle with olive oil, sea salt, crushed garlic, and black pepper. Shake the bowl a little to distribute.

On pre-heated grill, dump bowl of green beans into the hot grill basket. Add any other food that you are cooking to the grill at this time as well.

Close the lid of the grill and cook green beans for 5 minutes, then toss with tongs, bringing the cooked beans from the bottom up to the top. Close the lid and continue cooking for 3 minutes, and toss again.

Continue tossing the green beans until they slightly soften and become a brighter shiny green.

Remove to a bowl or serving platter slightly before they are done, as they will continue cooking as they cool.

Enjoy!

To store, keep covered in the fridge and reheat as desired for 1 week.
Recipe Notes
Nutrition note: Some of the olive oil will drip out as they cook, but the nutrition facts do not reflect this.
Nutrition Facts
Easy Garlic-Olive Oil Grilled Green Beans
Amount Per Serving (1 g)
Calories 44
Calories from Fat 18
% Daily Value*
Fat 2g3%
Sodium 151mg6%
Carbohydrates 5g2%
Protein 1g2%
* Percent Daily Values are based on a 2000 calorie diet.
Please follow and like us: