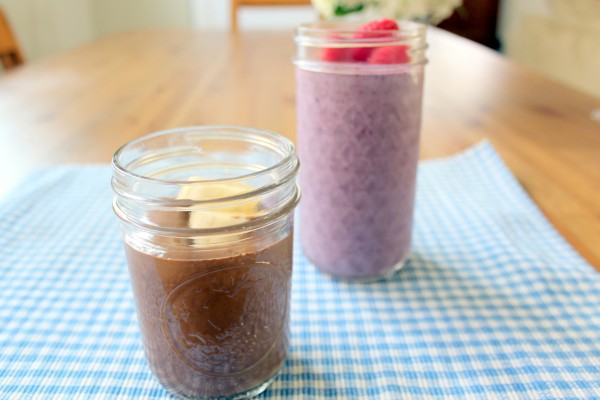 We have been enjoying nutrient-packed smoothies nearly every afternoon this summer.  While fruit is good and healthy and sweet, what makes my smoothies really nutrient dense and filling is the kefir or yogurt (probiotics, protein, calcium), egg yolks (essential fatty acids, protein), and coconut oil (medium chain fatty acids, gives good sensation of satiety).  These are all rich and creamy enough to be called milkshakes, yum!
All my smoothie recipes use bananas to sweeten; this works the best if bananas are really ripe with lots of spots before freezing.  Check the reduced for quick sale area of your produce section – you might be able to find them already ripe and ready for the freezer, and with their price discounted!  Don't be afraid to buy all the reduced priced bananas- the shop owner will be thankful. They reduced the price because they do want to get rid of them!
Unless otherwise noted, just combine everything in the blender all at once and blend.  These are just starting points; adjust to your family's tastes and preferences!
I add ice to my more rich smoothies to lighten them up a bit. This is just personal preference.
Kefir Cocoa Almond Butter Smoothie
This smoothie is very filling, I'll add in nutbutters when I'm using a smoothie as a meal.  The banana makes it sweet, the cocoa indulgent.
Strawberry Banana Ice Cream Smoothie
The egg yolks really make the smoothie taste like ice cream.  If you're using good pastured eggs with bright orange yolks, it will turn the smoothie peach-colored. If members of your family are squeamish about knowing there are raw egg yolks in the smoothie, you could just call it a 'peach smoothie' after the color, you know… ;)
1-1/2 cups kefir or yogurt (Buy Kefir or Yogurt here)
1/2 cup strawberries, frozen
1 frozen banana
2-3 egg yolks (raw) from pastured chickens
Piña Colada
Blend the kefir or yogurt together with the coconut oil first, this helps prevent 'coconut oil balls' from forming.  Add everything else and enjoy!
Plain Banana
This is what we have most days. Again, if we're squeamish about the raw egg yolk, just emphasize that it's banana. Bananas are yellow.
Blend the coconut oil and yogurt first to prevent clumping.
Want to make yogurt or kefir? Find what you need to get started here.
Part of Wheatless Wednesday and Real Food Wednesday and WFMW
5 Delicious Keto FatBombs
Sign up to get my 5 Best Keto Fatbomb Recipes sent right to your inbox! Plus a bonus pizza recipe :)