Add a little zing . . .
To your homemade chicken wings, pecan crusted grouper, or grilled veggie medley with this savory blend of salt, zesty lemon peel and freshly cracked black pepper. It's incredibly versatile, a thrifty to make use of leftover lemon peels, and super easy to make!
Note from Cara: This is a guest post from Heather who blogs at Mommypotamus! I love lemon pepper seasoning, though I never even considered that I could make it myself!  Two of the houses I've lived in have had lemon trees nearby, what a wonderful way to use the local abundance.  It figures that Heather would know how to make this herself – she's the DIY queen, I'm sure you've seen her beautiful and simple-for-the-busy-mama DIY projects (like delicious sounding solid perfume) on her blog.

Speaking of DIY – to help health-ify all of our spring cleaning frenzy, she has put her DIY Nontoxic Cleaning Recipes e-book on sale for the rest of the month!

Use code SPRING25 for 25% off the e-book!  Click here to check it out.
Need more ideas for using it in your kitchen?
Well, it's absolutely fabulous . . .
As a whole chicken rub
Wrapped up in salmon avocado rolls
Sprinkled over salads, sliced tomatoes and cucumbers
Stirred into dips
Tossed with green beans or cauliflower
But don't let me limit you – there are so many ways enjoy it. Except not on ice cream. Or chocolate. Or pie. Yeah, not pie.

Homemade Lemon Pepper Seasoning Recipe
Ingredients:
The zest from 4 large or 6 small organic lemons (about 5-6 loosely packed tablespoons)
1/4 cup ground black pepper (or whole peppercorns if you are using fresh lemon)
1/4 cup sea salt, optional
Equipment:
Microplane zester/grater
Coffee grinder/ spice grinder or a mortar and pestle
Step 1: Preheat your oven on the lowest possible setting (about 170-200F)
Step 2: Using a zesting tool or a vegetable peeler, remove the yellow zest from the outside of the lemon.
Take care not to grate into the bitter white pith.

Step 3: Pour peppercorns into a clean coffee grinder/spice grinder and pulse until the pepper should be coarsely ground.
If you're using a mortar and pestle, crush the peppercorns as you normally would.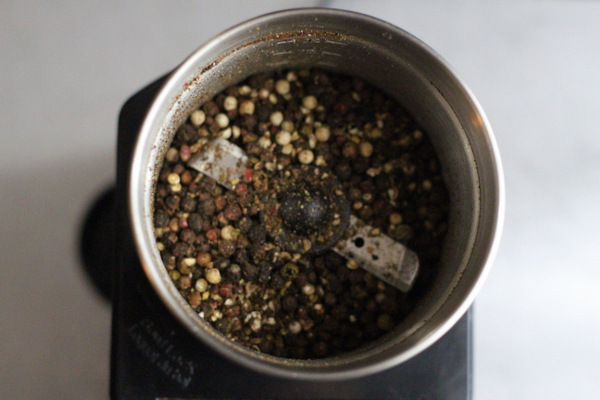 Step 4: In a small bowl, combine crushed peppercorns and lemon zest.

Step 5: Use a utensil to mash the cracked pepper and zest together.
This will release oils from the lemon that infuse the pepper with flavor.

Step 6: Spread mixture evenly on a baking sheet and bake on low until the mixture is dry.
Turn every 20-30 minutes to ensure even drying. My mixture took about one hour to dry completely.

Step 7: Place dried mixture in a coffee grinder and pulse until you reach the level of coarseness you prefer.

Step 8: Add Salt
Some cooks prefer to skip this step so that they have more control over the amount of salt used in each dish. Whatever works for you!

Step 9: Place blend in an airtight container and store for up to 6 months.

Enjoy!