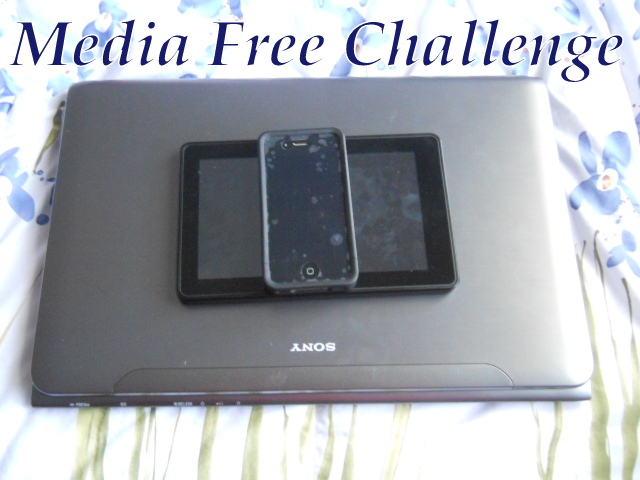 Who else feels a little too caught up with electronics, screens, Facebook, Pinterest, online shopping, and yes, even blogs?  
I am, and I'm going to resume a tradition we had in our family last year.  On Sundays, media is off, unplugged, and put away if possible.    One day of screen free time recharges our batteries, and pushes us to think more creatively, connect with people we might not ordinarily connect with, and teaches our children moderation with technology.
Though I work online, I find that I'm actually more productive with work when I take a regularly scheduled break from the computer and internet.
Kickoff Idea:
Wrap up a couple board games and/or craft projects, a nature book of the local plants and animals, and a paper noting what your family rules for Media Free Day are going to be.  This way everyone has something to look forward to, and the objective clearly explained. This could be a Christmas gift, or just something to put together quickly tomorrow before starting Media Free Day this weekend.
How to do the Media Free Challenge:
Decide what your rules are ahead of time. It's easier to keep a challenge when potential loopholes have been thought out beforehand.
Do this as a family, or just by yourself. There will be benefits either way. We are doing this as a family.
Decide what is included in 'media free' – if you are a student that needs the computer for homework, you might just turn off the internet (unplug the modem) one day a week.  If you like the challenge of being completely media free, go without your phone, computer, TV, tablets, Kindle, ipod, Xbox, etc.  I do keep the radio on.
Physically put away everything you can. Unplug desktop computers, and even stash the surge protectors in a closet along with smartphones, tablets, and laptops.  My TV is small so I used to put that away if it was an issue.  Bigger TVs can be covered with a quilt to remind us not to turn them on.
What? My phone? I decided a while back that I didn't like feeling tied to my phone, so I often leave it at home. I take it with me if the weather is bad, I think I might get lost, or my children are being watched by someone new.  So for me, turning it off for a full day isn't that big of a deal.  If there is an emergency, you can ask others (yes! Talk to a stranger!) to use theirs.  If you're nervous, just toss it in the car but keep it off unless you really need something. Failing to plan ahead and write down directions doesn't count.  That said, if you want to keep your phone on you can still join the challenge ~smile~ but I'd recommend turning it off especially if it's a smartphone.
Choose a day and time that works for you.  I'm not a sports watcher, so Sunday is easy for me.  If Sunday football is a family tradition, you may want to choose Saturday.  I have us be media free the entire day until half an hour after the kids go to sleep, then I check email to see if there is anything urgent. Parents of toddlers who watch TV in the morning may want to allow them to watch TV until mom and dad have had their coffee, then start media free time after coffee.
Decide what you'll do at other people's houses. I tend to not stress about what happens at other people's houses, but if you find your children scattering to neighbor's houses to play Xbox, you may want to set some guidelines here.
Warn your friends :) Share this post on Facebook and practice saying, "oh, my phone was off, I usually turn it off on Sundays."
Being constantly on call with cell phones and email makes us  feel important, but does it make the ones we're with feel important?
Some activity ideas:
Think of what you did when you were your children's age, and show them how cool it was!  Pillow forts, puddle stomping, looking for frogs.
Old fashioned games!  Scrabble, Jenga, Mad Gab, Pictionary, etc. (click here for non electronic games)
Talk a walk around your neighborhood and just say hi to your neighbors who are outside, introducing yourself if you haven't.
Take a friend's dog for a walk if you don't have one of your own.
Work on a craft or handyman project that you've been meaning to get done. No going to the internet to help- print out instructions beforehand or visit the library and look it up in a book if you need help.
Play sports with your kids.  Frisbee golf, soccer, and basketball are favorites here.
Catch up on chores, errands, and cleaning.  Not exciting, but without the distraction of screens, this is a great bonding time for families – talk while you work, and take extra time to show eager preschoolers how to help.
Read books made of paper, not from an electronic device.  Read aloud, or take time to read on your own.
Learn about your natural surroundings and collect samples (click here to find a local field guide book)
Set up time to see friends of families, and then do something with them (without the text saying 'i'm on my way' – we used to be able to just make plans and stick with them pre-technology, this isn't a bad thing to practice)
 After The Challenge Day
When you take a break from technology great things happen. You connect better with family, really taking the time to listen and teach and love.  You get lots of things on your to-do list done, technology is a major time suck! And you get to do enjoyable hobbies that you had started thinking you didn't have time for.
The best part is that after the challenge day (and I recommend you do it every week), you won't feel the pull to technology as much. Refreshing Facebook and Gmail won't be so compulsive, since you've recently been reminded of how much more enjoyable the here and now is right in your own home and neighborhood.
Can you help each other out? Leave a comment with your favorite non-media activity, either by yourself or something you do with friends or family. Include children's ages if applicable.
Please follow and like us: