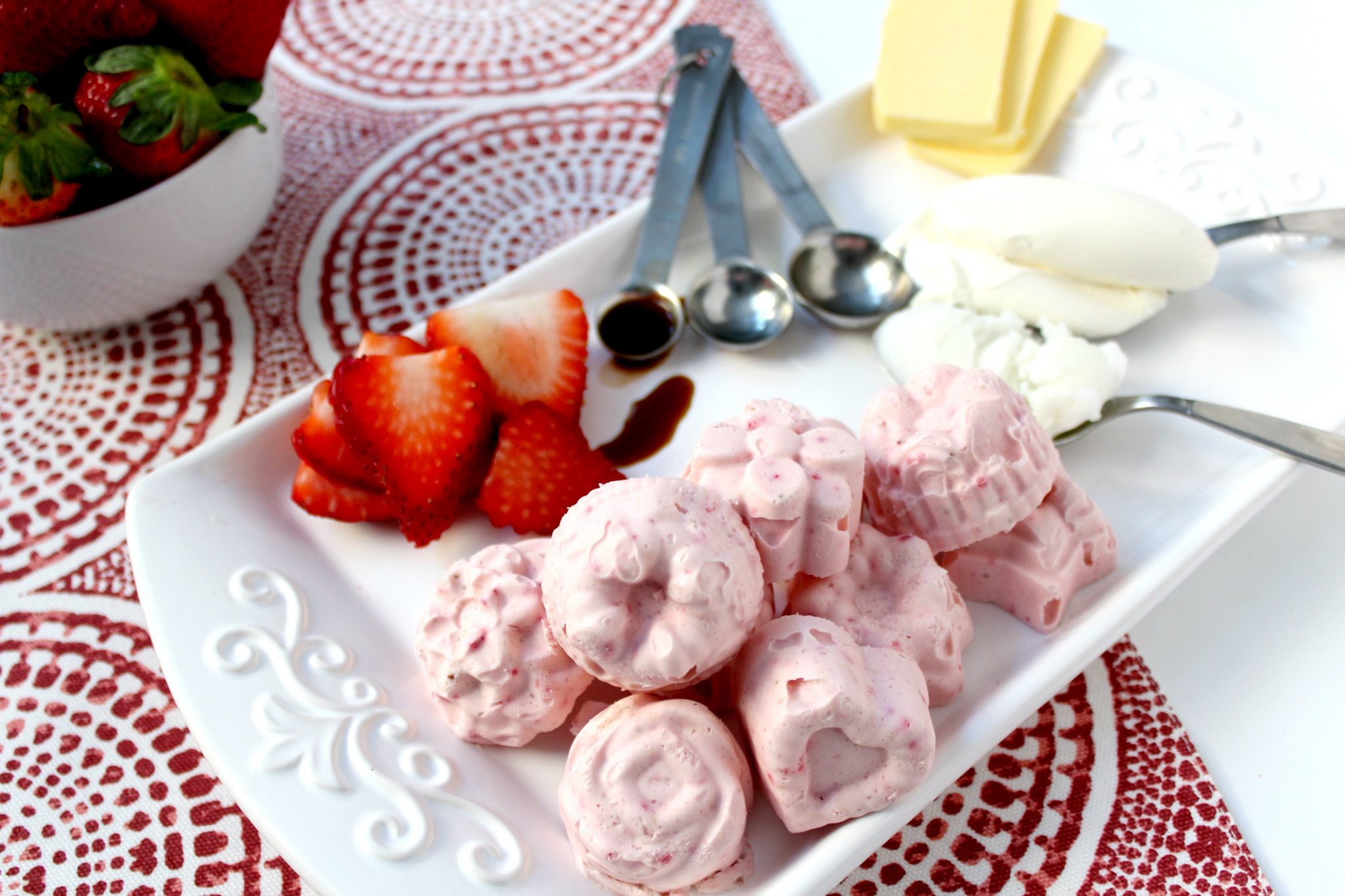 As we talked about with our recipe for the Nutbutter Cup Fat Bombs, increasing fat intake is a part of many healing diets.  These delicious strawberry cheesecake fat bombs can be made easily at home, and if you use dripped yogurt in place of the cream cheese they are GAPS legal and rich in probiotics.
Read more: Why You Need Fat Bombs
Strawberry Cheesecake Probiotic Fat Bombs (Low carb, keto, GAPS)
Yummy strawberry cheesecake bites are easy to make and use bright fresh strawberries for a low carb/high fat treat.
Cuisine:
Keto, LCHF, GAPS Diet, SCD, Primal
Ingredients
6 ounces (3/4 of a cup) full fat cream cheese or homemade yogurt cheese, dripped (directions here)
2.5 ounces (5 tablespoons) butter, softened
6 strawberries
¼ teaspoon vanilla extract
1-1/2 ounce (3 tablespoons) melted coconut oil (I like this coconut oil)
3 packets Stevia (optional) (I like this kind)
⅛ teaspoons sea salt (I like this kind)
Pretty flower candy mold to make shapes (optional) (find here)
Directions
In a food processor combine all ingredients and puree until smooth.
Use a rubber spatula to spread strawberry mixture into candy mold.
If not using candy mold, spread evenly into a parchment-lined loaf pan.
Freeze for 1 hour, and then cut into 12 pieces if using a loaf pan. Continue freezing until solid, another 1-2 hours.
Pop out of candy mold or loaf pan and store in a covered container in the freezer.
For best taste, allow to thaw 15 minutes before eating.
Notes
Using a food scale to measure weight rather than volume of ingredients can save time and dirty dishes, and makes it easy to calculate exact nutrition data if needed.
This is the food scale that I use.
Nutrition data uses packaged cream cheese as homemade yogurt cheese will vary based on the kind of milk used and other factors.
Nutrition Information
Serving size:
1
Calories:
110
Fat:
11 g
Saturated fat:
8 g
Trans fat:
0 g
Carbohydrates:
1 g
Sugar:
1 g
Sodium:
86 mg
Fiber:
0 g
Protein:
1 g
Cholesterol:
13 mg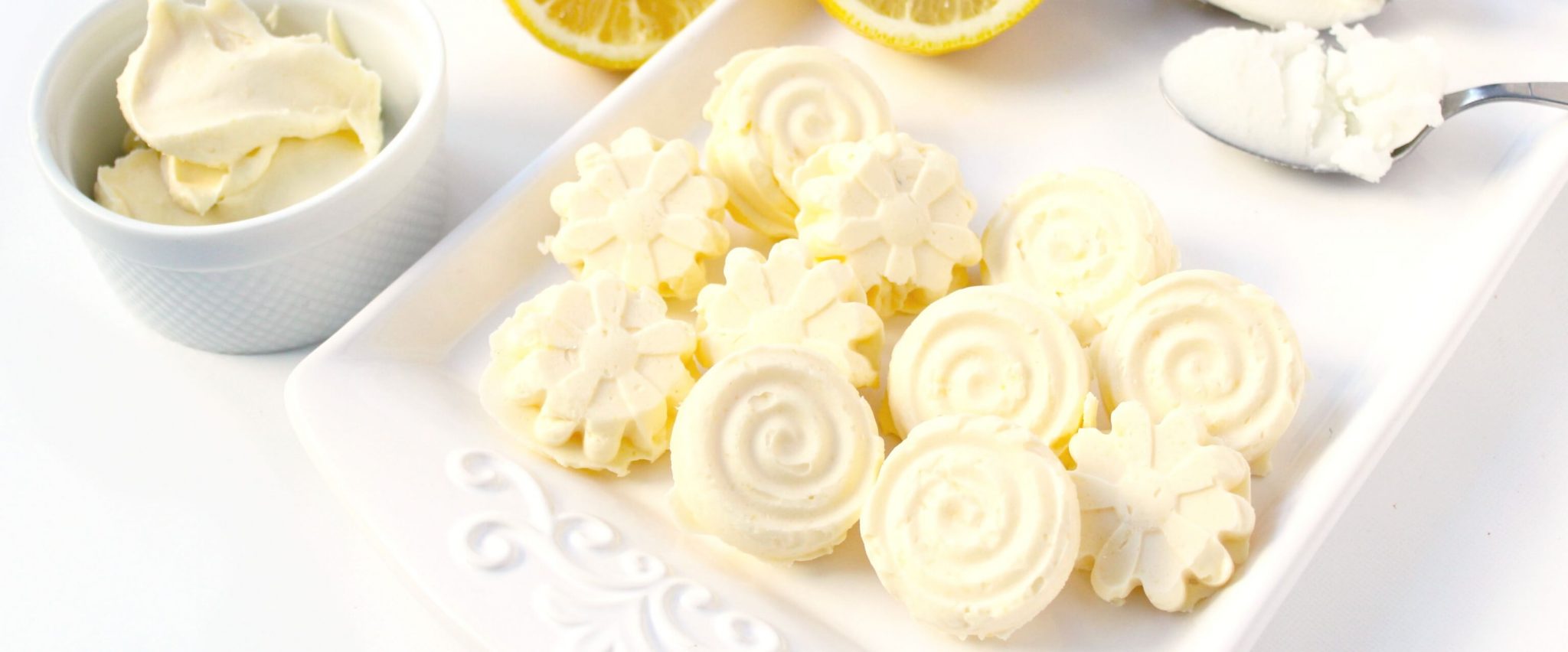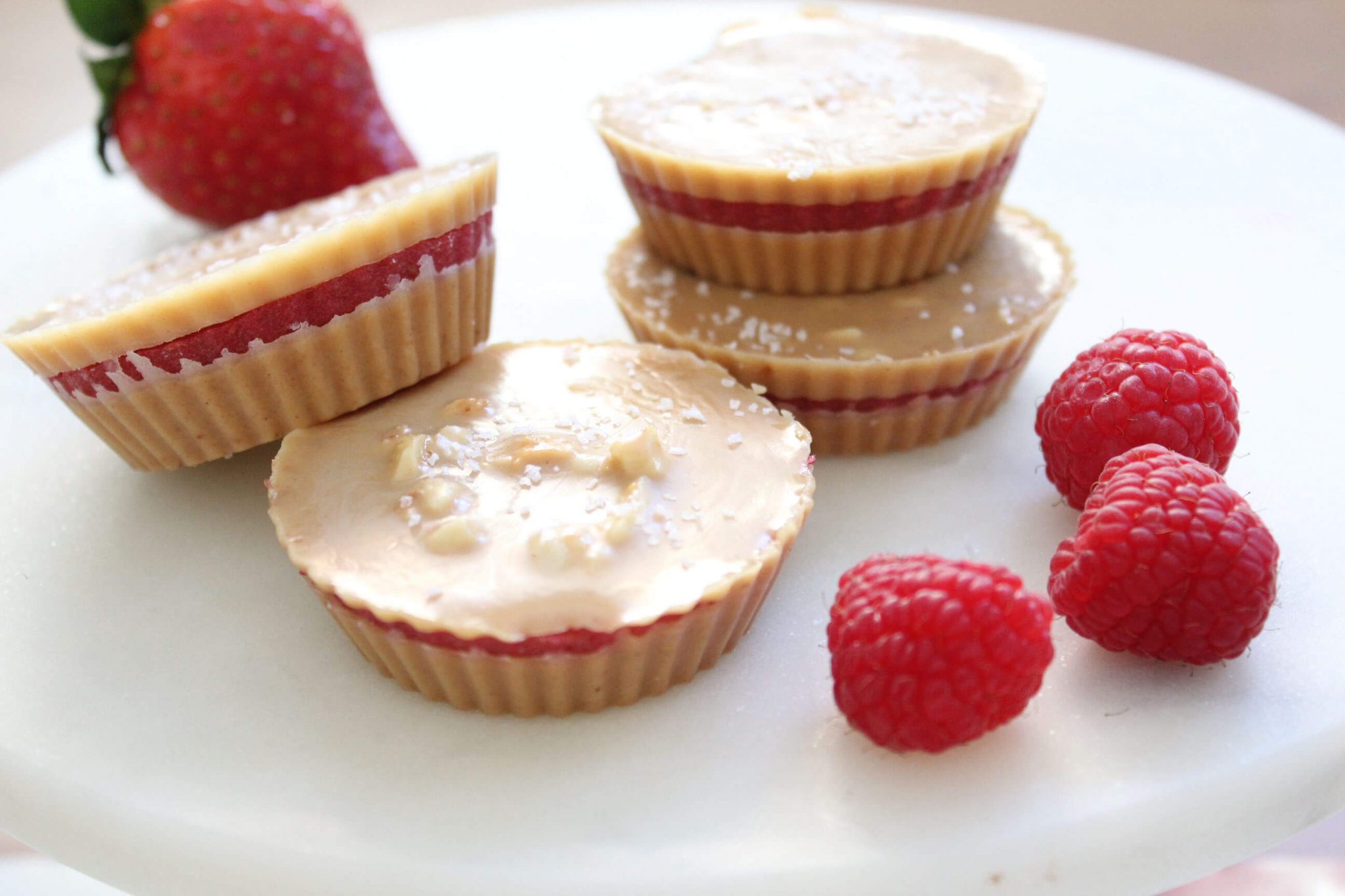 Classic Peanutbutter and Jelly Fat Bombs with Gut-Healing Gelatin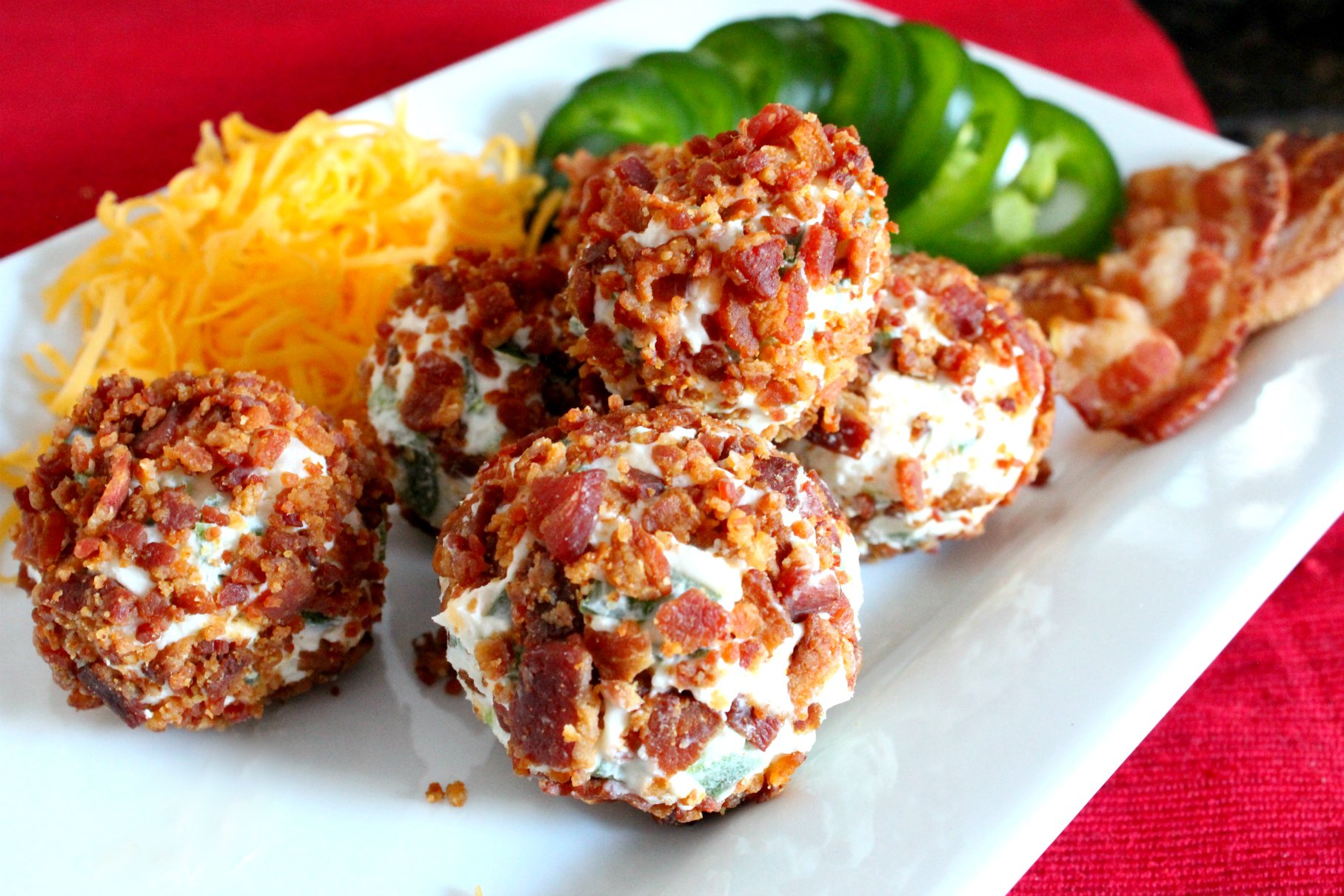 Savory Bacon-Jalapeno Fat Bombs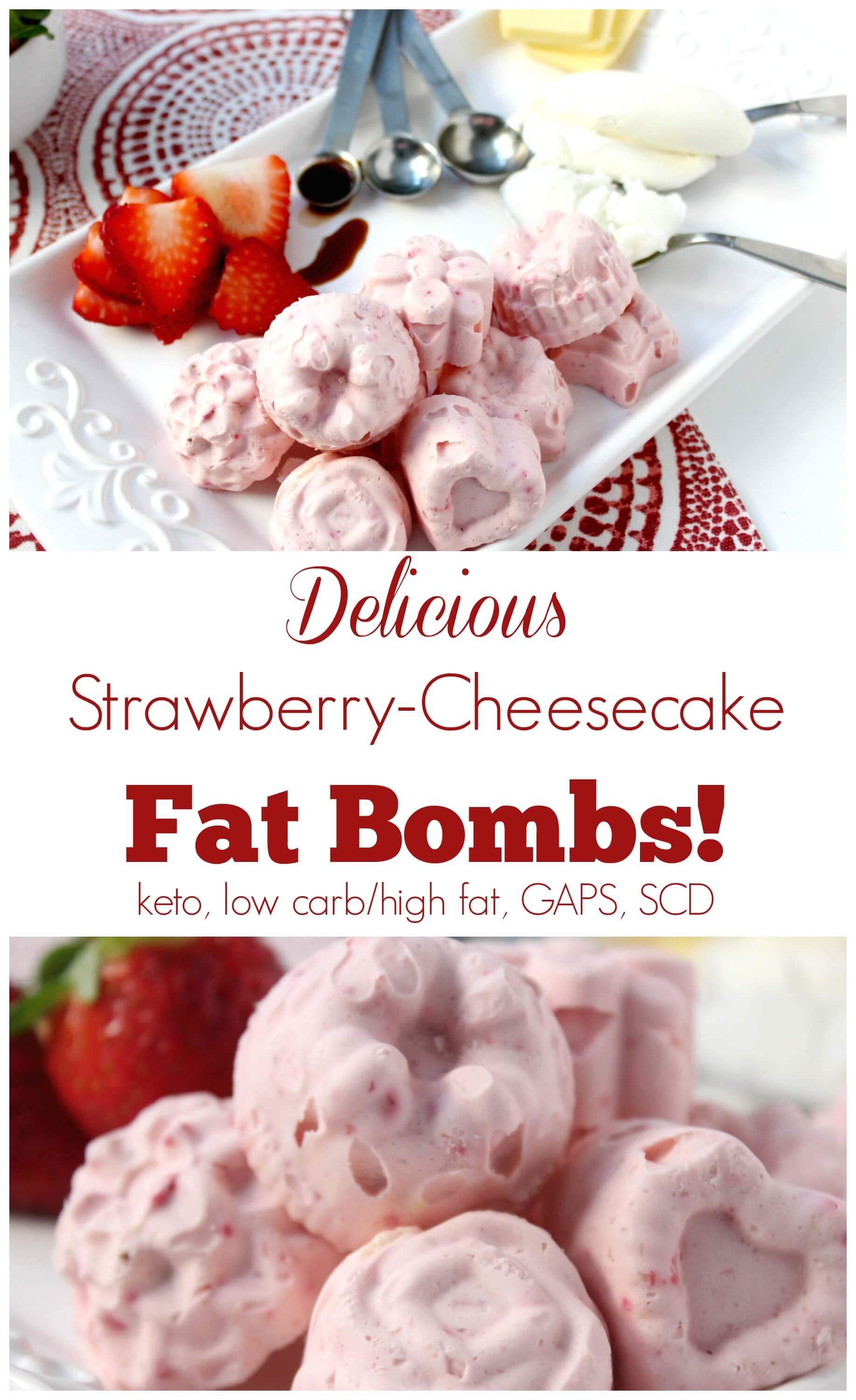 21 Easy and Delicious Grain-Free Meals
Curious about eating grain-free? I want to show you how easy and delicious it can be!
Try our best-selling meal plans... for free!
Just enter your information and I'll email it to you right away.