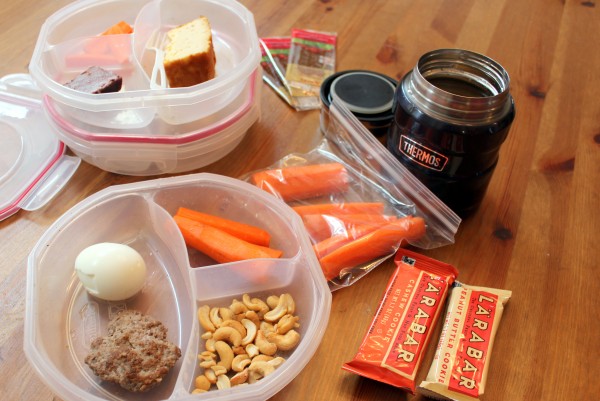 For the many families who started GAPS or Paleo eating after the first, Monday is the day that many children head back to school. Even if you don't plan on being strict while at school (it's hard – we had to homeschool while we did strict GAPS), it would be hard on the system to switch back to a bread-based lunch of
Because cutting grains and sugar from the diet helps keep the body from craving carbs and sugar, you will be happy to see your children enjoy protein-based lunches with meat, eggs, almond flour bread, and soup.
Variety in the veggies ideal. We haven't been grocery shopping today, so carrots it is…
I have a case of Epic Bars on the way as well. These are really nutrient-dense for bars. My kids don't like them as much as I do, but I love them.
Containers used:
Thermos (I've found that cheap thermos aren't worth purchasing)
Compostable flatware (oddly this holds up in the dishwasher)
Nalgene bottles for water
Lunch 1:
Beef patty
Hard boiled egg
Carrot sticks
Cashews
Lunch 2:
Almond flour bread, sweetened with honey (I added 1/4 cup honey to this recipe)
Carrot sticks
Lara Bar
Lunch 3:
Cauliflower and red-pepper soup with coconut milk
Carrot sticks
Cashews