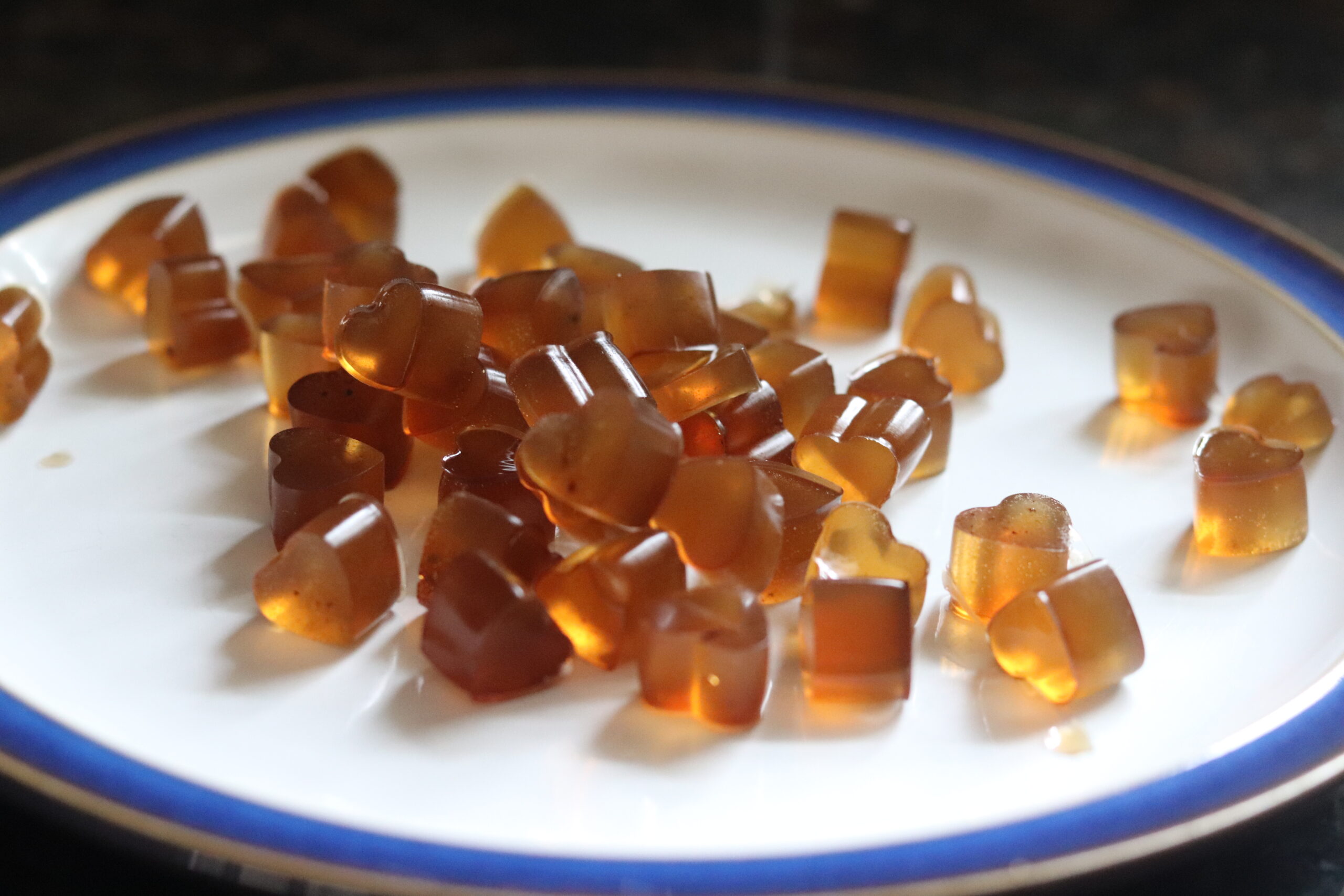 Broth in gelatin treat form is a great first food for little eaters! This nutrient-rich broth is store-bought, making it easy to whip up dozens of broth bites for your little one in just minutes. Of course you can make your own broth, but if time saving is what you're looking for, I highly recommend Kettle and Fire for their broths and pre-made soups using homemade methods and grassfed organic ingredients.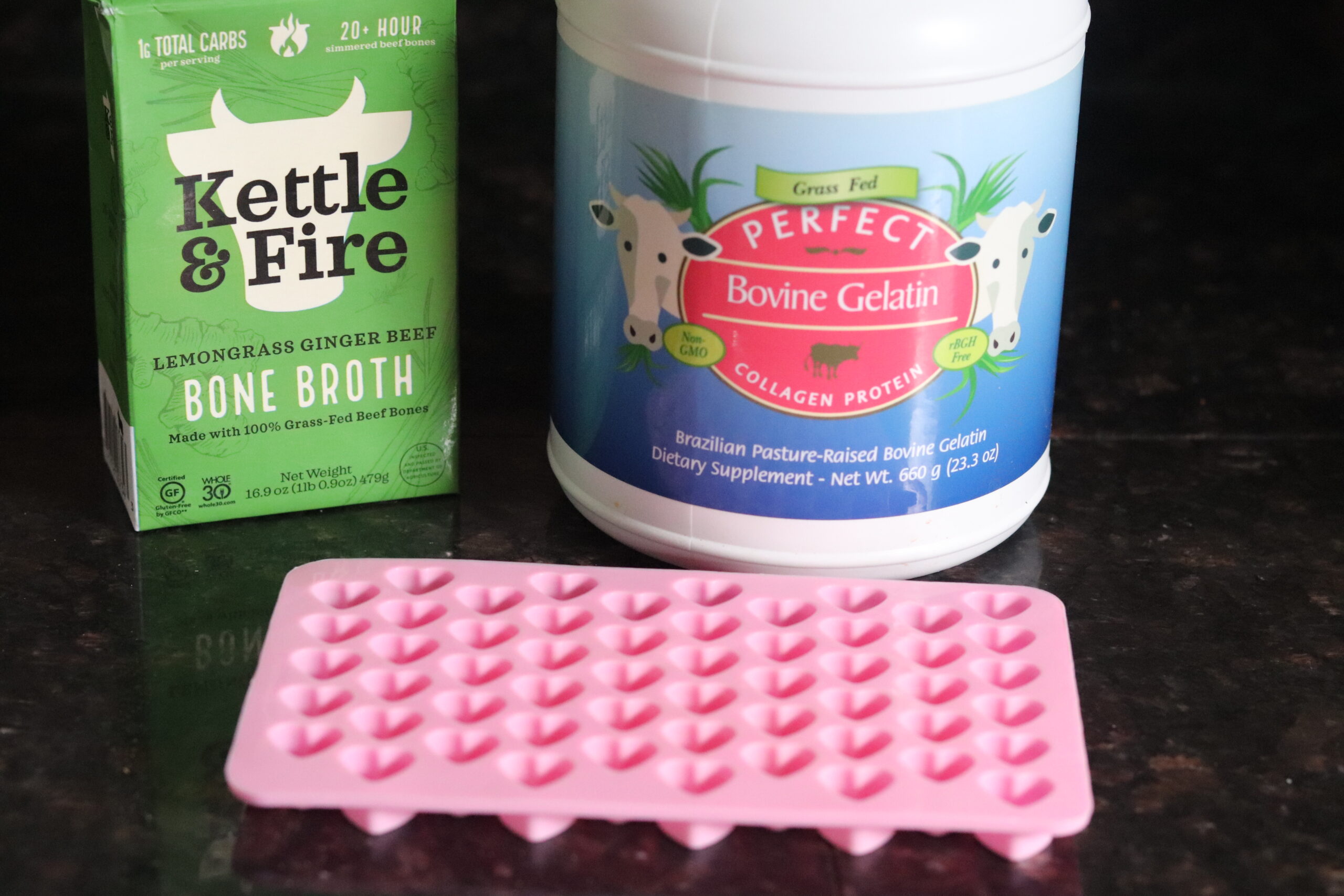 Ingredients used:
Broth, rich in protein and easy to absorb, meat broth or broth-based soup is a fantastic food for baby! Yes, these are savory and salty, not sweet. Yes, I'm essentially making little baby aspic. Don't knock it til you've tried it!
I used Kettle and Fire for this because it's been in the 90s and I didn't want to heat up the kitchen to make broth myself. Also, baby food uses just a tiny bit of food since they're so little, so one package of soup (or broth) goes a long way!
You can make your own broth of course, or even use baby-friendly soups to make these treats.  Just use the same amount of liquid (2 cups) and then add the gelatin. If your broth gels really well you probably will want to cut the gelatin in half. If you find your gummies are too hard for your baby, you can re-heat them to melt, and then add in more water and then cool again. Gelatin is very forgiving!
Gelatin, also rich in protein and easy to absorb! Gelatin comes from the connective tissue of grassfed cattle. I buy Organic Beef Gelatin, and it's good for you, unlike the sweet stuff sold at the store in boxes or cups. One tub will last you many many delicious recipes!
Other recipes that use gelatin: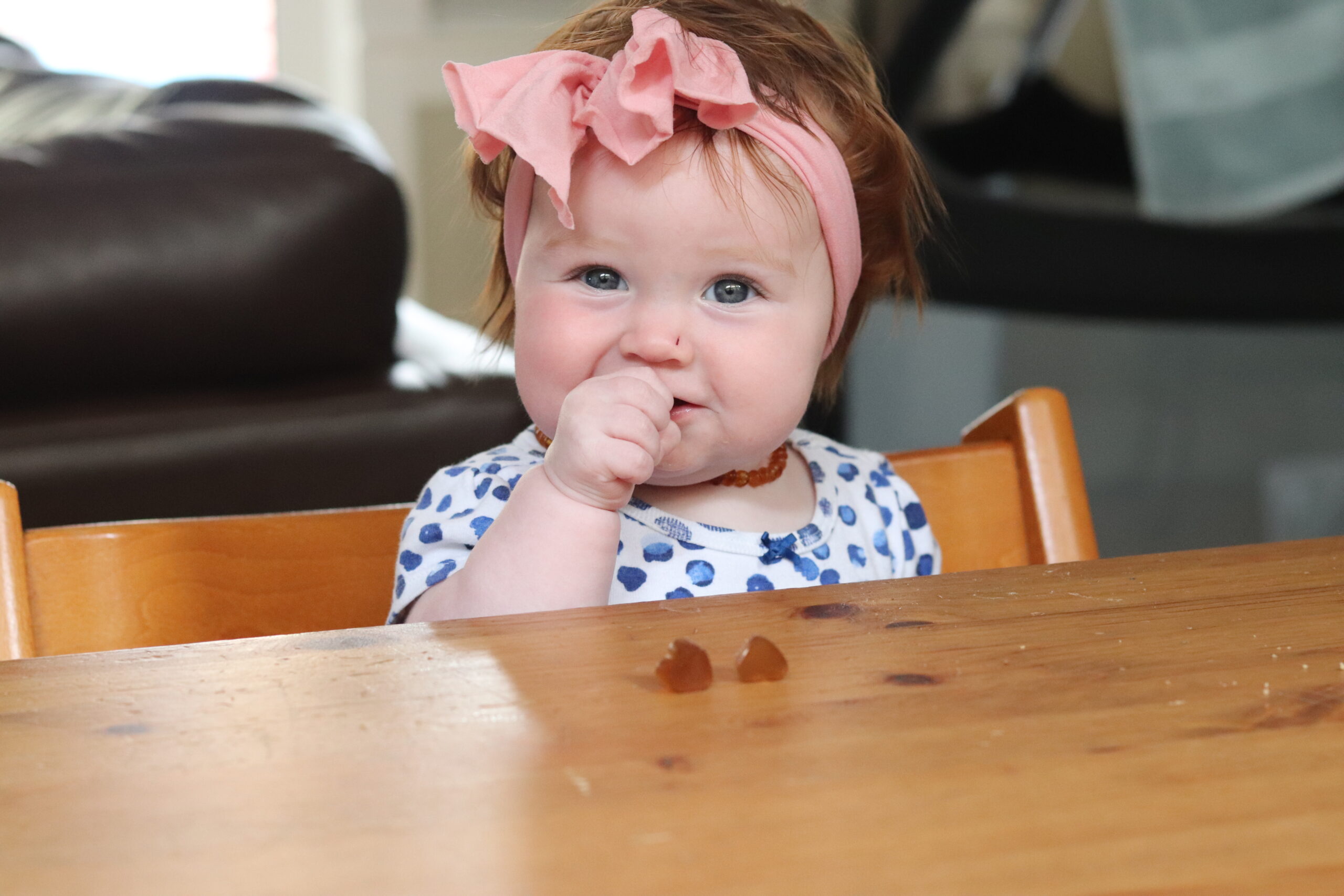 These little treats for babies may seem odd to you (aspic anyone?!), but she really loves them! We do baby-led weaning, where I offer her small chunks of different foods and let her choose what she wants to eat, and she always goes for the meat first! Smart girl :)
She doesn't know what sugar is yet, and her gut flora and body will thrive off of this.
Baby led weaning and potential choking:
If these gummies are too firm, you'll want to melt them back down over medium-low heat and add water. You want to be able to break apart the treat in your mouth without using your teeth to ensure they aren't choking hazards for your little one. Since the gelatin content in broth can vary, you may get different results than I do.  This recipe is written using broth from Kettle and Fire, homemade broth probably only needs half the amount of gelatin in it since it's so gelatin-rich already!
If in doubt, add more liquid!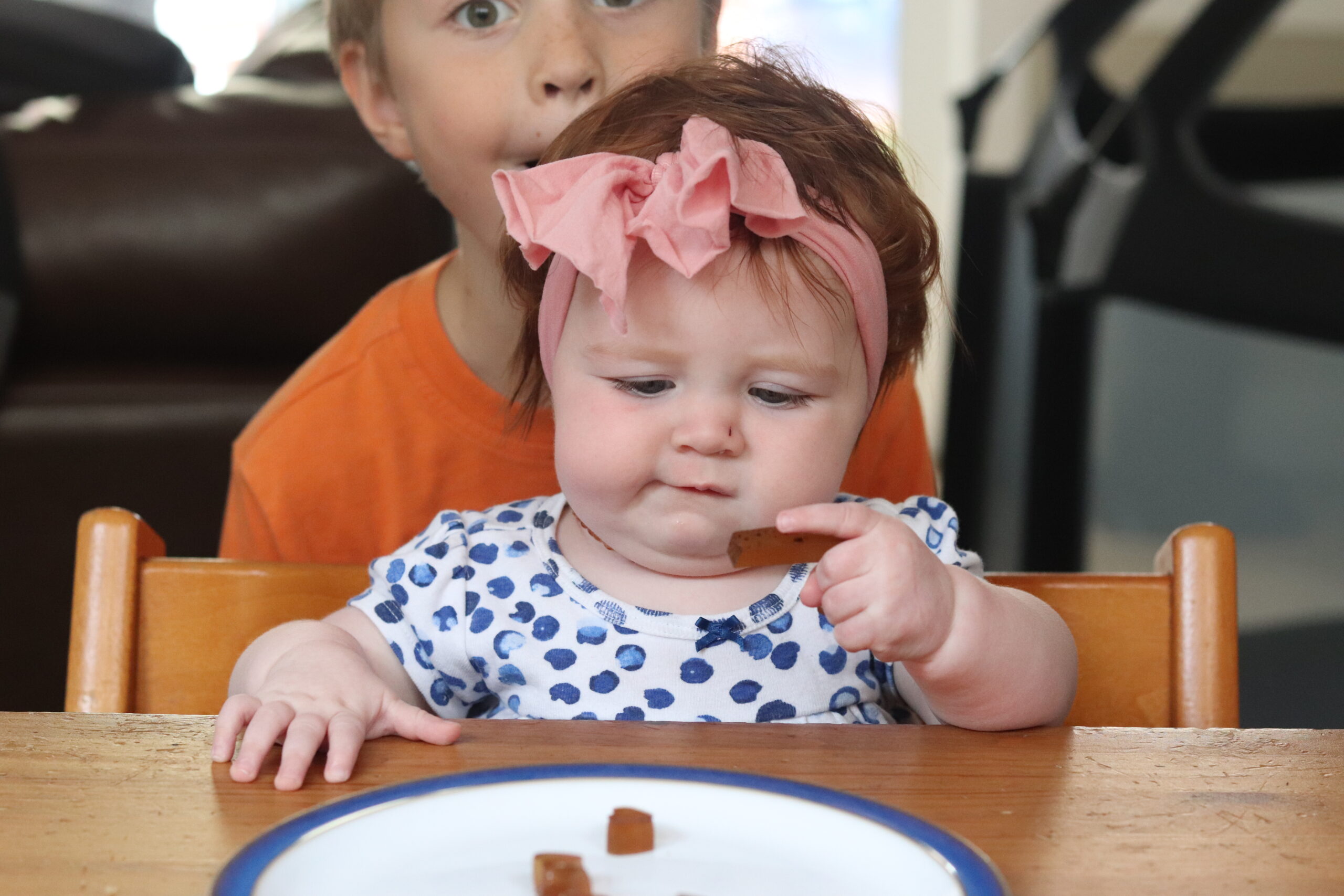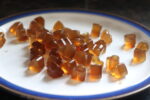 Baby and Toddler Gelatin Broth Bites
These broth bites are a perfect finger food that provides loads of nutrients for your little one! Broth is rich in vitamins, minerals, and amino acids, but it can be messy to feed to babies and toddlers! These broth bites are perfect for hot days and easy clean up.
Print
Ingredients
2

cups

Broth

One package of Kettle and Fire Broth is 2 cups

4

tablespoons

gelatin

Recommend Perfect Supplements or Great Lakes brand
Instructions
In a cold saucepan or glass microwave-safe dish if using the microwave, use a fork to mix room temperature or cold broth into the gelatin until it's evenly mixed with minimal clumps of gelatin. *This works better with cold liquid, gelatin clumps in hot or warm liquid*

Allow to sit for at least 5 minutes, until the gelatin absorbs and thickens the broth mixture.

Once liquid has been absorbed, you can now heat to melt it. If using a saucepan, heat uncovered over medium-low heat, stirring every couple minutes, for about 5 minutes. If microwaving, microwave on high for 2 minutes, stirring at the 1-minute mark. Mixture is ready when it is again clear.

Pour into silicone molds if desired, or a glass dish. Chill, uncovered, in the fridge or freezer for 4 or 1 hour respectively.

Once set, pop out and keep in an air-tight container in the freezer, moving a few to the fridge each day or thawing until soft prior to serving. Bites that were made in a glass dish rather than silicone molds can be cut into small cubes or rectangles for easy grasping. Remember: These should be soft and easily break apart in your mouth without chewing- see notes on choking above. They aren't the typical gummy-bear texture.
Nutrition Facts
Baby and Toddler Gelatin Broth Bites
Amount Per Serving (5 small gummies)
Calories 6
Calories from Fat 9
% Daily Value*
Fat 1g2%
Sodium 97mg4%
Potassium 1mg0%
Carbohydrates 1g0%
Protein 1g2%
Vitamin A 50IU1%
Calcium 1mg0%
Iron 1mg6%
* Percent Daily Values are based on a 2000 calorie diet.
Related articles: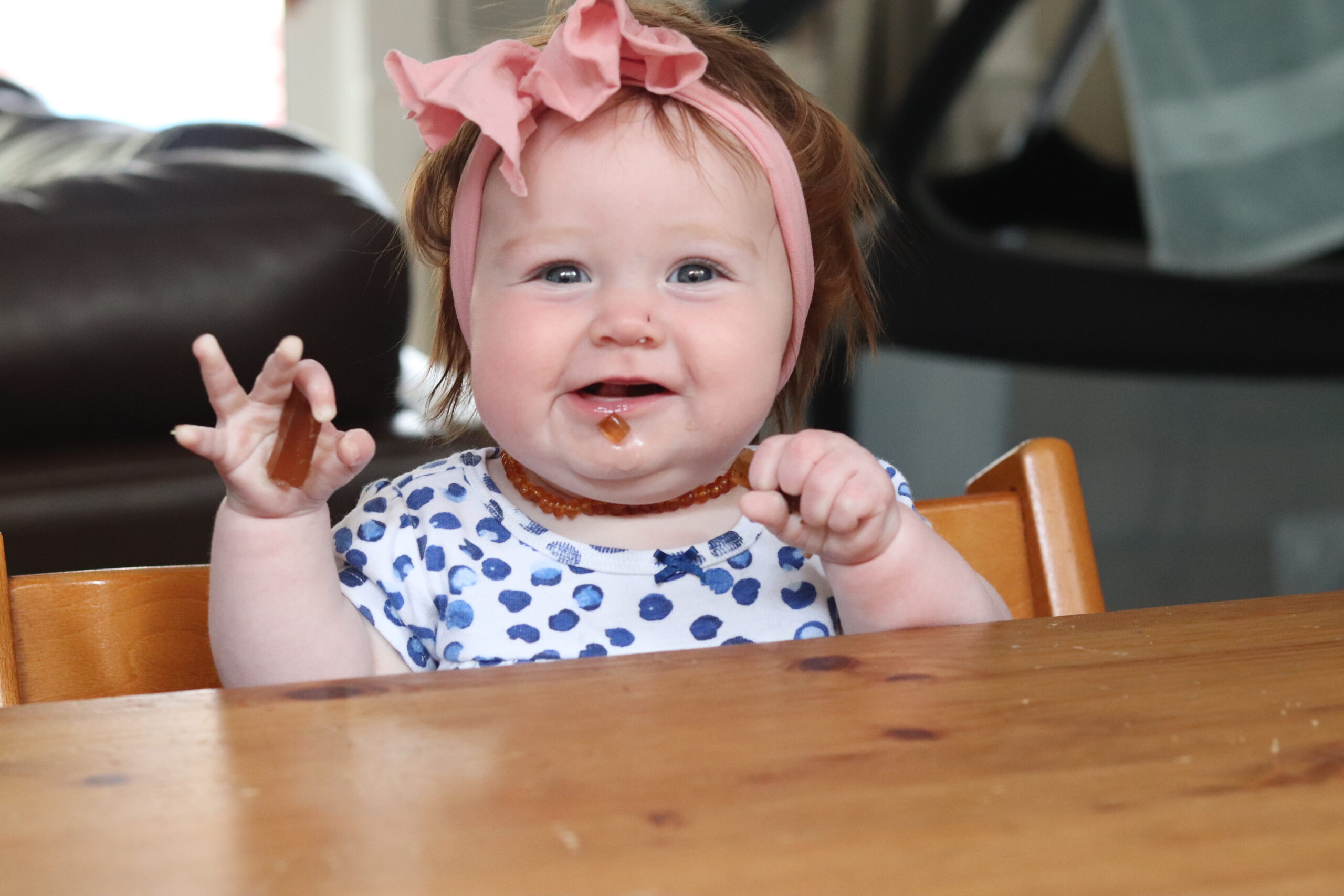 Please follow and like us: