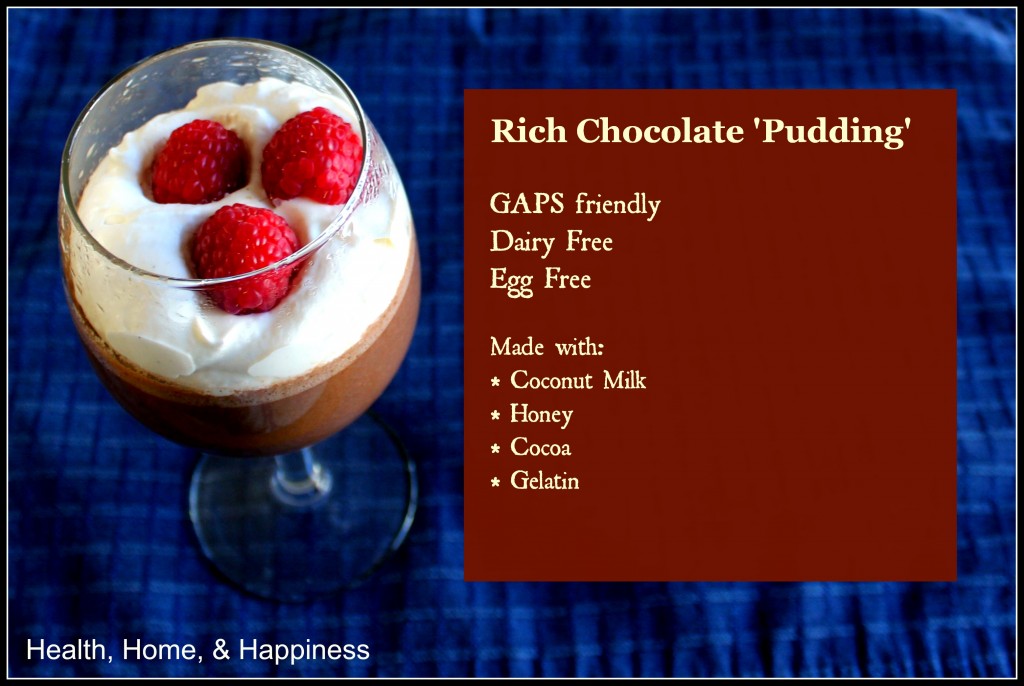 Tasty, nourishing things come from late night chocolate cravings with no chocolate other than cocoa powder in the house. The coconut milk not only makes this chocolate pudding dairy free, but also provides a great source for nourishing medium chain fatty acids that are absorbed directly into the blood stream for quick nourishment, and often stops cravings of sweet foods because it is so satisfying.  The gelatin, especially if made from grassfed beef as listed below, is full of essential amino acids and is helpful for repairing the gut lining.  The gelatin also allows a creamy pudding that is egg free- and I know many of you are looking for egg free recipes.
Chocolate Gelatin Pudding
2 cans coconut milk (purchase here, yes, I use canned, and yes added guar gum is one of the cheats I do on GAPS)
1/3 cup honey or maple syrup (maple syrup is not GAPS legal) (buy honey here)
1/2 cup cocoa powder (*Dr. Natasha allows cocoa once digestive symptoms have passed)
2-1/2 tablespoons gelatin (purchase here)
1/2 teaspoon real vanilla, optional
1/4 teaspoon sea salt (purchase salt here)
Instructions:
In a medium sauce pan over medium heat, heat coconut milk.  Once coconut milk is hot, stir in other ingredients and continue stirring until gelatin is dissolved.  Pour into 8 ramekins, cover, and chill. Once chilled top with whipped cream if desired.
Whipping cream (optional, obviously not dairy free)
1 pint heavy cream
2 tablespoons sweetner of choice (honey, maple syrup, rapadura- honey is the only GAPS legal sweetener)
Instructions: Whip cream until light and fluffy, add in sweetener and beat until just mixed. Store covered in the fridge.
5 Delicious Keto FatBombs
Sign up to get my 5 Best Keto Fatbomb Recipes sent right to your inbox! Plus a bonus pizza recipe :)
Please follow and like us: