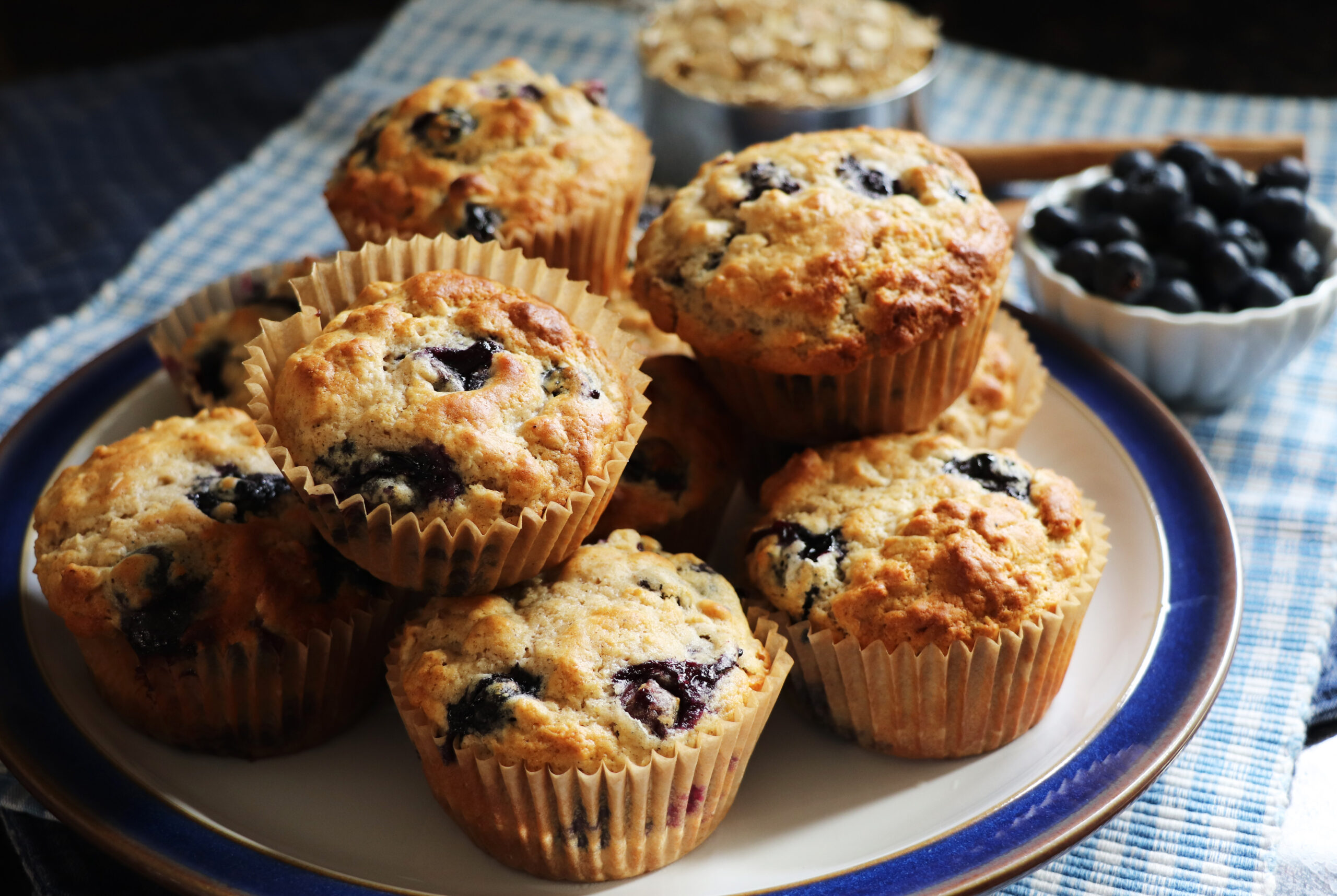 Blueberry muffins are a classic recipe that delight breakfast-eaters over and over again.  A good blueberry muffin recipe comes together with ingredients you probably already have on hand, and quickly produces a family-favorite breakfast.  This blueberry muffin recipe is made all in one bowl to save dishes.
It is important to follow the directions as written so you get a delicious hearty muffin that is tender and delicious. Over mixing gluten-containing flours, or not mixing the butter and sugar together well enough results in less than optimal results.
Simple Classic Blueberry Muffins
Blueberry muffins are a staple that every beginning baker wants to know how to cook. I'm currently teaching my young bakers how to make classic recipes. We're using wheat flour (folic acid free) and reducing the sugar, but still making 'not weird' versions of classic recipes.
As my children get older*, I realize that they will be eventually leaving my house. And I'd like them to develop a love for a lower-sugar, real-butter versions of 'regular' recipes rather than have their first taste of banana bread be soaked in corn syrup and Crisco, or develop a taste for brownies that are made with rancid oils and waxy chocolate.
This recipe is this mom's way of saying, "I know you're not going to always eat how I eat, but here, let me show you how GOOD blueberry muffins made with real cinnamon and butter and loads of blueberry flavor tastes.
*My daughter is on keto for medical reasons and she remains on the keto diet. She is happy to help make and share these recipes, even though she cannot eat them right now.
Other recipes in this series: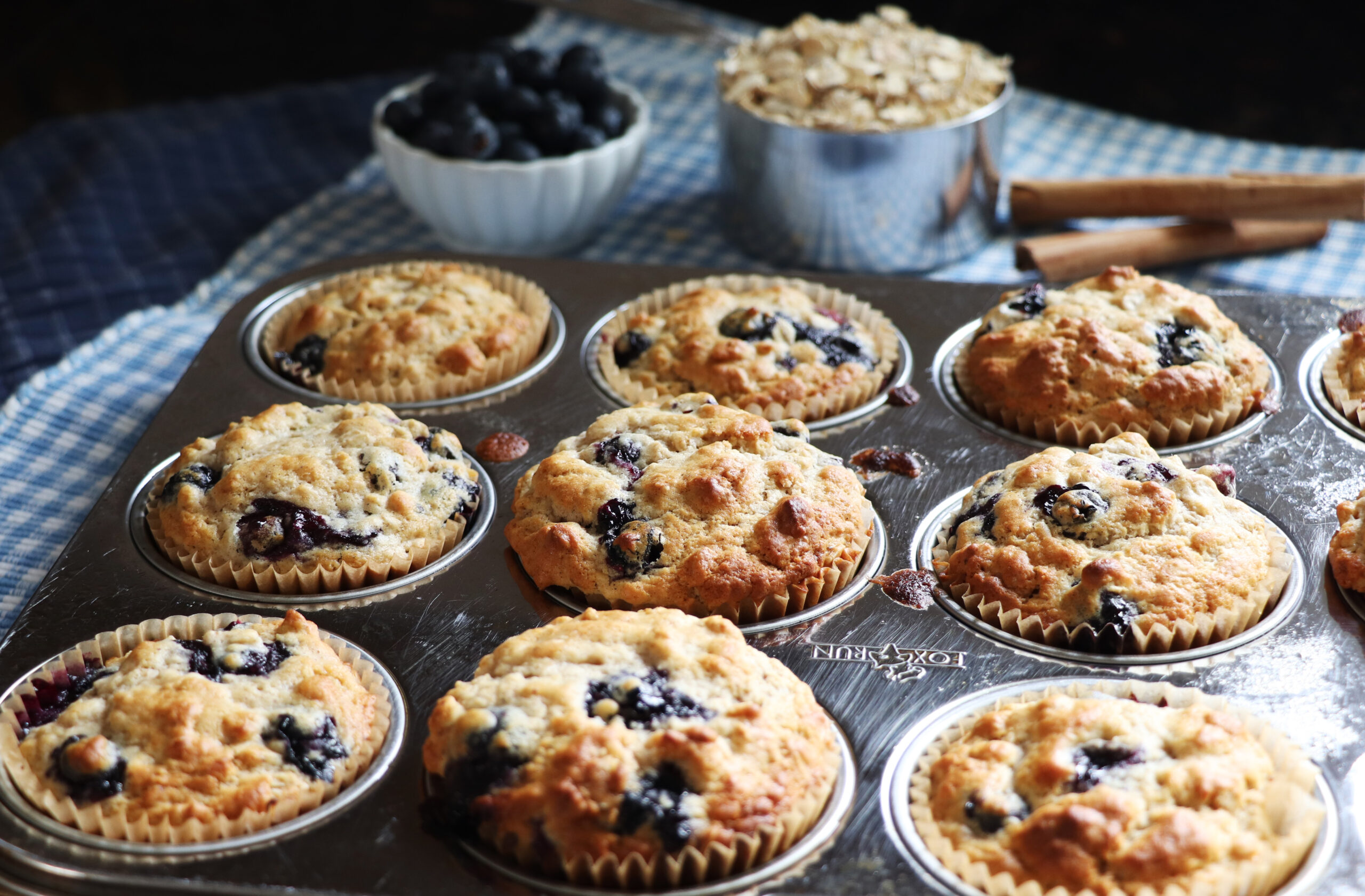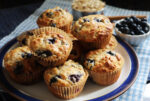 Classic Blueberry Muffins
These blueberry muffins are perfect- not too sweet, hearty because they are made with oats, and easy to whip up on a weekend morning.   While I usually post recipes for the GAPS and Keto diets, I do still enjoy baking for friends and family with wheat flour. This is part of a baking series as I show my children how to bake classic recipes from scratch - most of these recipes are adapted from Joy of Cooking.  When adapting recipes, typically  I reduce the sugar and change the directions so that both the wet and dry ingredients are done in the same bowl to save dishes. 
We always use folic-acid-free flour. 
Print
Ingredients
4

tablespoons

butter

Soft 1/2 stick = 4 tablespoons

1/4

cup

sugar

white or brown; firmly packed if brown

1/2

teaspoon

vanilla

1/2

teaspoon

sea salt

1

egg

1⅓

cup

all purpose flour

Pamela's or Namaste Gluten-Free Flour Mix can be used to make gluten free

1

cup

oats

rolled oats or quick oats

1/2

teaspoon

cinnamon

optional

1

tablespoon

baking powder

1

cup

whole milk

use half cream for more rich muffins. Alternative milks can be used (almond, coconut, etc)

1

cup

fresh or frozen blueberries

frozen blueberries will slightly dye the batter, use fresh if you wish to have the stark contrast between batter and blueberries.

Cooking spray

I use MCT oil in a self-spray pump or avocado oil cooking spray
Instructions
Preheat oven to 425° F. Line 12 muffin cups with parchment paper liners and spray with cooking spray or grease well with butter.

In a stand mixer with a paddle (triangle) attachment, or a mixing bowl with a fork, beat butter until light and fluffy. Scrape sides if needed. Add in sugar, vanilla, and salt and beat again until light and fluffy.

Add in the egg to the butter mixture and again beat until light and fluffy, using a spatula to scrape the sides and bottom as needed.

Stop the mixer and add flour, oats, cinnamon, and baking powder. Mix slowly until almost combined. Do not over mix or your muffins will be tough.

Add in milk and gently mix. Once the milk is almost all mixed add in blueberries and mix by hand to prevent crushing the blueberries with the mixer attachment.

Evenly distribute batter among muffin cups, filling 3/4 full. Bake for 25-30 minutes (may be slightly more if using frozen) or until a knife inserted into the center comes out clean.

Allow muffins to cool slightly before transferring to a cooling rack to cool the rest of the way.
Recipe Notes
Muffins are best enjoyed within hours of baking, but nobody at my house complains about eating leftovers!
Nutrition Facts
Classic Blueberry Muffins
Amount Per Serving (1 muffin)
Calories 152
Calories from Fat 45
% Daily Value*
Fat 5g8%
Cholesterol 26mg9%
Sodium 146mg6%
Potassium 182mg5%
Carbohydrates 23g8%
Protein 4g8%
Vitamin A 176IU4%
Vitamin C 1mg1%
Calcium 75mg8%
Iron 1mg6%
* Percent Daily Values are based on a 2000 calorie diet.
Need a blueberry recipe that is lower carb or without grains? We've gotcha covered!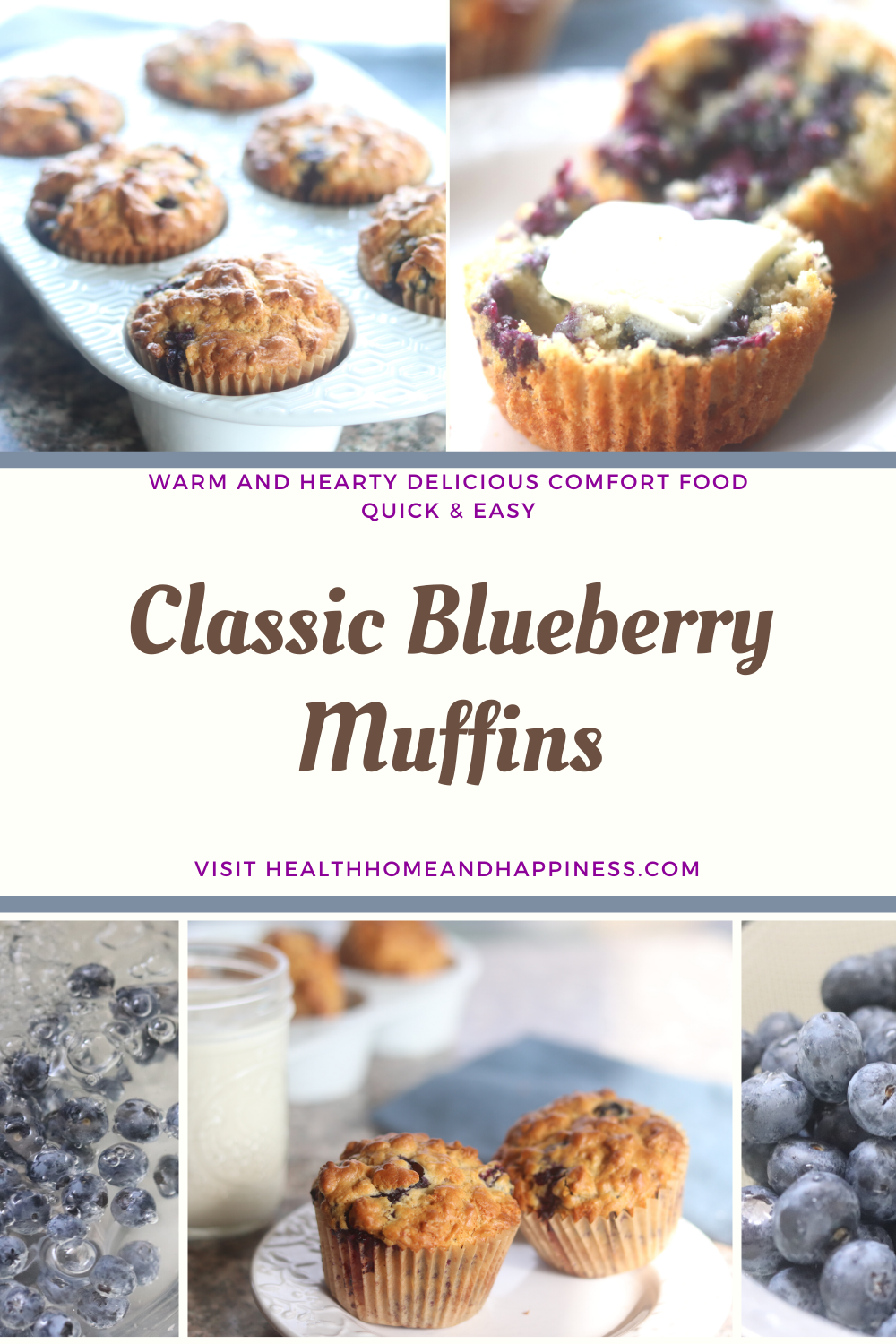 Please follow and like us: