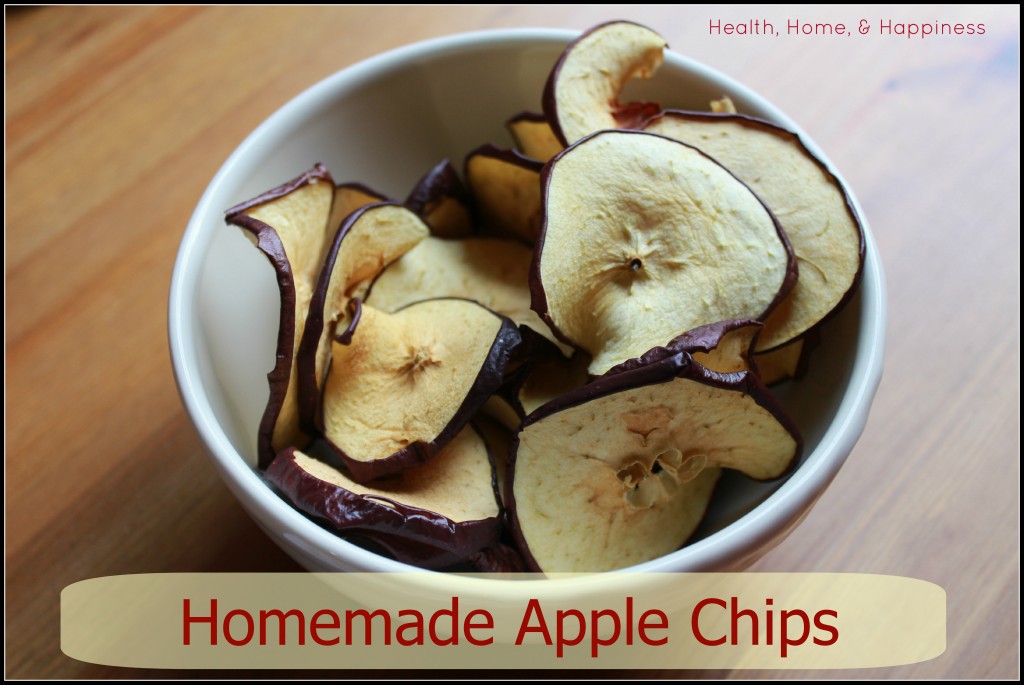 When Courtney from The Polvika Family visited this past winter she made apple chips. She didn't cut out the core before setting them to dry, which is genius   This saves tons of time, and the seeds just drop out while you're cutting or as they dry.  Now I always make my apple chips like this. We like to buy the less expensive organic red delicious from Costco for drying. They're kind of mushy for eating fresh, but they're wonderful dried and cost less than other apples.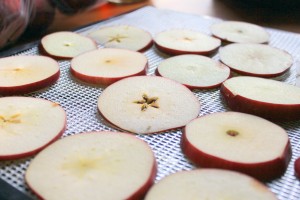 Dried Apple Chips
2-3 apples per dehydrator tray
Juice of 1 lemon, optional
1 teaspoon cinnamon, optional
Rinse apples, thinly slice crosswise with a butcher knife.  Lay out on dehydrator trays and sprinkle lemon juice over the top to prevent browning. Sprinkle with cinnamon if desired.  Dry on low overnight, or until crispy.  We like separate them out into snack bag sized portions for easy additions to school lunches right from the dehydrator tray.
Need a reminder to buy fruit and keep the dehydrator in use? Check out my Grain Free Meal Plans– where I provide weekly shopping lists, daily recipes, and preparation reminders so you don't forget about simple easy delicious snacks like this! Click here!
See more dehydrator recipes at the Dehydrator Recipe Roundup here!
We use the 5-tray Excalibur dehydrator, but pretty much any kind would work for this recipe.  Click here to see the one we use.
This month's ebook!
Sign up to get the 20 Cool Treats sent to your email right away!