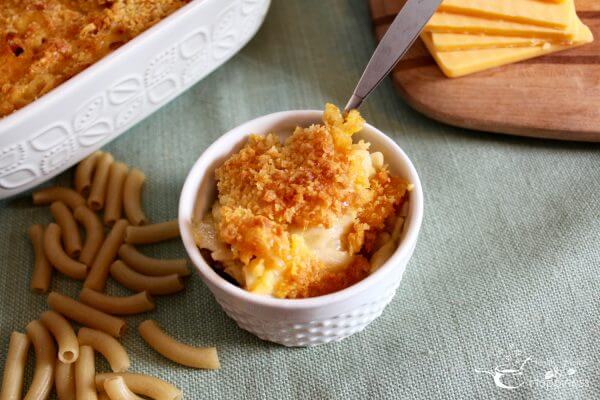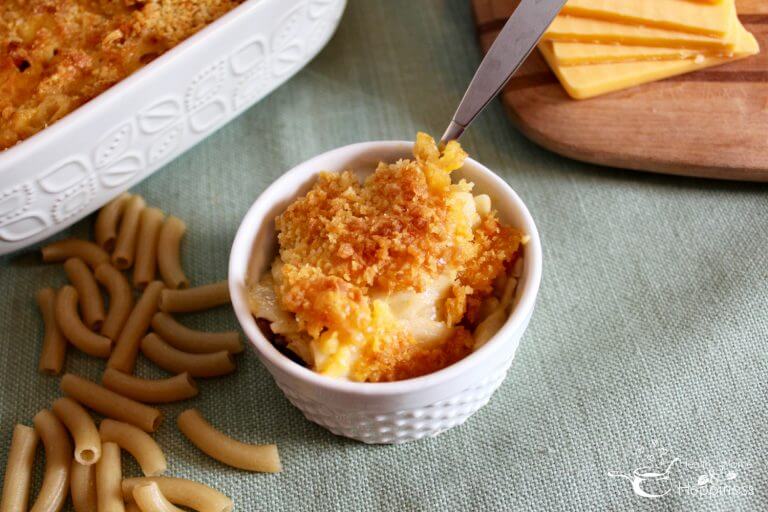 It was 18 minutes from the time I walked in the kitchen to the time that this creamy home-cooked deliciousness was scooped out into bowls.  We always cool piping hot macaroni and cheese with frozen peas, a tradition I carried into my home from my childhood.
Add an additional 5 minutes under the broiler for a crispy breadcrumb top- still completely doable for a fast meal.
This macaroni and cheese is made in the Instant Pot for a quick one-dish meal.
I love this Instant Pot Mac n Cheese for a few reasons:
It's fast and contained. No more pasta water boiling over onto the stovetop.
It's truly a one-dish meal.  You don't even need to dirty a colander!
Because you measure the liquid that cooks the pasta exactly, you can replace some of it with chicken stock and it'll be absorbed into the pasta.
You control the ingredients. Use the quality and type of cheese that you prefer, your own milk.
It is inexpensive.  As my children have grown, we do occasionally get Annie's Gluten Free Mac n Cheese, but we end up using 2 full boxes and having no leftovers.  This recipe makes enough for dinner tonight, and a couple thermoses full for lunch tomorrow.
Mac n Cheese is a favorite that can be completely nourishing while still being fast, easy, and inexpensive.  We set the Instant Pot to cook for 4 minutes, but it does take time to come to pressure and for the pressure to release, so allow about 15 minutes to cook the pasta, even though I only listed 4 minutes of cook time.

Quick Gluten-Free Mac n Cheese in the Instant Pot
The
Instant Pot
makes this an easy and delicious one-dish meal. Recipe has been tested with gluten-free elbow macaroni, different types may take more or less time in the pressure cooker. If you experiment with it, please leave a comment- I'd love to know how it turned out!
Directions
Mix macaroni, chicken stock, water, sea salt, mustard, and butter in the instant pot.
Set Instant Pot to manual, 4 minutes.
Quick release after timer goes off.
Set to sauté/low.
Stir in milk.
Stir in cheese ¼ at a time.
Turn off heat and serve!
Optional breadcrumb topping: Transfer after adding all the cheese to a 1.5 to 2-quart broiler-safe dish. Top with ¼ cup breadcrumbs and broil on high for 5 minutes, or until crumbs start to brown.
Note: The top picture uses rice pasta, yellow cheddar cheese, and bread crumbs. The video shows quinoa pasta and white cheddar.

21 Easy and Delicious Grain-Free Meals
Curious about eating grain-free? I want to show you how easy and delicious it can be!
Try our best-selling meal plans... for free!
Just enter your information and I'll email it to you right away.