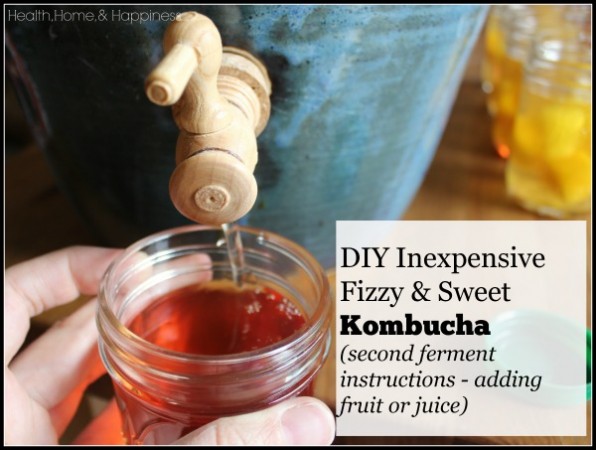 Kombucha from the store is a delicious treat, I was wondering if I could make something *just as good* at home. I can! And the good news is that it is super easy, costs very little per batch, and after you buy (or make) the SCOBY, it's made with what you most likely have on hand anyway.
To see how I'm making continuous brew kombucha, check out this post. This post is talking about the second ferment, the first ferment is with the sweet tea and kombucha SCOBY, this second ferment adds a bit more sugar through fresh or dried fruit, fruit juice, or honey.  It's also bottled with an air tight seal, to produce the carbonation.
Here are the three easy steps to make fizzy sweet kombucha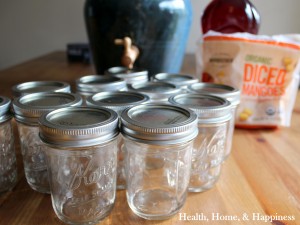 1.  Get out and wash (just 'kitchen clean' is fine- no need to sterilize) the desired number of mason jars.  You can do them in whatever size you want, I used 8 ounce (found here) because kombucha is a probiotic treat, not something that I feel I need to ingest in high quantities.
Choose what sweetener you are going to use to flavor your kombucha.  I used half frozen mangos here, half 100% juice cranberry-apple. Both are delicious, I like the mango a little better though.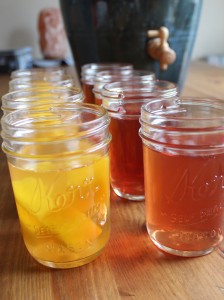 2.  Add a piece of fruit (I added a few) or fill your cups 1/8th or so full with juice.  Add kombucha (made with the continuous brew method, or single batch method) to 1/2 inch or so below the top of the jar to allow head space.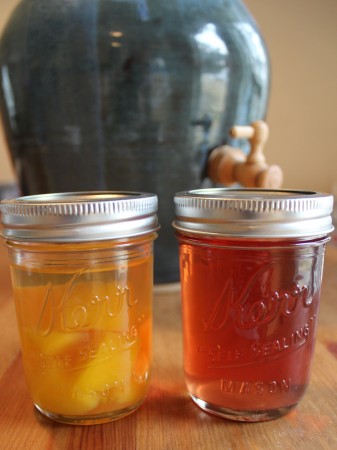 3.  Place regular canning lids on, or any lid (many people re-use kombucha bottles from the store) that gets an air tight seal. *note: these are not heat sealed, they're just screwed on tight*  Allow to sit 24-72 hours, or until you hear a pop when you break the seal from the carbonation. This will take less time when it's warmer, more time when it's cooler.  Transfer to the fridge and enjoy right out of the jar within a week or so to prevent the carbonation to continue building and creating a kombucha explosion.
After removing kombucha from your continuous brew, you'll want to replace the lost volume with an equal amount of sweet tea again, to continue the process.
Easy, isn't it? I'm looking forward to trying a bunch of different flavors each time we do this!
Learn how to heal leaky gut
60-page ebook of all my best GAPS Diet (Gut and Psychology Syndrome) articles all in one place.