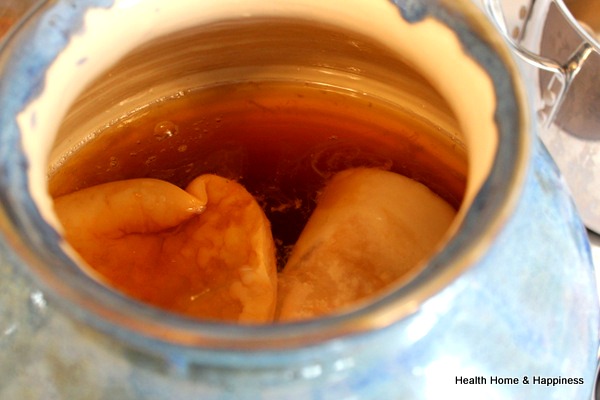 Have you heard about continuous brew kombucha? It's a great way to not only keep kombucha on hand and always ready, but also to get the benefits of even more strains of microorganisims than single-brew Kombucha contains. See my kombucha setup on youtube, starting at 10:51 in this video.
How would it have more beneficial bacteria?
Because additional sweet tea is added at a frequent basis to the kombucha, there are different parts of the sugars in different stages of fermentation, which means that different microbes are active at all times to complete the fermentation process.
How can continuous kombucha be done on GAPS?
I had a great conversation with Hannah of Kombucha Kamp, who is not only knowledgeable in fermentation from a home-cook standpoint, but also she knows tons about the microbiology and science behind it as well!
Hannah confirmed what I learned myself when I was on GAPS. I wasn't willing to risk any non-GAPS sugars sneaking in and ruining the diet, even with single brew kombucha, so I did use honey as the kombucha sweetener while we were on GAPS. My kombucha thrived, and I was constantly trying to pass off SCOBYs to friends.
Before trying continuous brew with honey, I wanted to make sure all the effort wouldn't go to waste. Hannah let me know that the kombucha SCOBY is adaptable, as I found it to be with single brew, and would quickly and effortlessly adapt to honey rather than traditionally used sugar or rapadura as the sweetener!
What about raw honey?
I broke yet another rule, and used raw honey. I buy minimally processed honey from trusted sources, and more often than not, this is raw.  I did add it to my hot tea, so likely all the enzymes were killed in that process, but still, you don't need to be as cautious as some books claim you need to be with fermented food. The microorganisims in the starter culture (SCOBY in this case) are pretty hearty and adaptable.
Tell me more about continuous brew!
Continuous brew is super cool! I just started my first batch, so I'm going to keep it going for a while until my SCOBY is replicating and I'm getting a good carbonated second fermentation from it, then I'll be sure to post detailed instructions and recipes.
For now, you can see the kit I got here – I got the pretty hand made artisan vessel with the wooden spout, which I absolutely love on my counter top.  I also got a heat strip, I'll use that during the winter months and put it away in the summer.  I'm really looking forward to having probiotic-rich kombucha on tap at home, and experimenting with second fermentation, which I haven't done before.
You can learn a lot more on Kombucha Kamp's website here, Hannah is an amazing source of information!
21 Easy and Delicious Grain-Free Meals
Curious about eating grain-free? I want to show you how easy and delicious it can be!
Try our best-selling meal plans... for free!
Just enter your information and I'll email it to you right away.