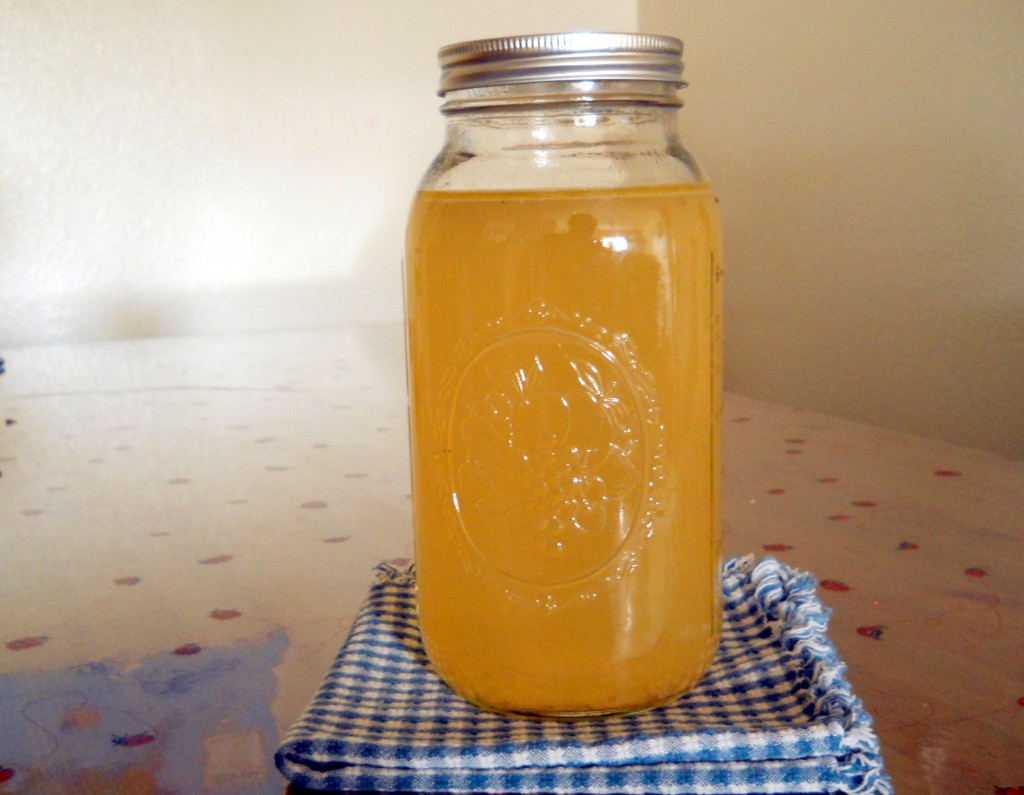 Chicken stock is said to have many health benefits, including being full of calcium (I tried explaining this to the pediatrician a few months back… didn't go well. I sometimes forget that not everyone is as excited about real foods as I am) and other good things that are pulled out of the bones.  Above is a post-broth chicken bone. After I cook a whole chicken and pull off the meat as our homemade organic lunchmeat, I put everything else back in the pot that I cooked the chicken in.  In goes the skin, bones, gristle, doesn't it look nice? Then I add a tablespoon or so of apple cider vinegar and fill the pot to within a couple inches of the top with filtered water.  I used to do all this in the crockpot, but I bought a nice big 8 quart stockpot
 a while ago and have been boiling the chicken/cooking the stock in there since.  I usually leave the water that I boiled the chicken in to use for the stock.
Chicken stock Recipe:
Ingredients
Cooked chicken
2 tablespoons apple cider vinegar
Optional: 2 tablespoons thyme, 6 cloves garlic, 1 onion, 1 inch of ginger root, vegetable scraps such as the ends of onions and carrots, core of the cabbage, leaves from celery, etc
Directions:
Using your fingers, remove all the meat from the chicken. Reserve drippings, skin, and bones. Using a large stock pot, place bones, drippings, and skin in. Break large bones to allow the nutritious marrow to get into the stock. Fill pot ¾ full with filtered water and add the apple cider vinegar and any optional herbs and vegetables. Cook on medium-high until bubbling, then reduce heat to low and allow to simmer, covered, at least 8 hours. When done, allow to cool then pour stock through a strainer and transfer to mason jars to store in the fridge. To strain, I use a mesh strainer over a pitcher-style 4-cup measuring cup. This makes transferring the stock to the mason jars easier; I do one jar at a time, cleaning out the strainer as needed during the process. The fat will rise to the top of the jars in the fridge, which can be included in soups or used as a fat for cooking. Pick any more meat off the bones that you can after the chicken stock has been removed. Discard the remaining bones/skin in the pot.
See how easy it crumbles when I pinch it? Calcium was taken out of the bone and put into the broth for us to drink and use in soups.
See, this is easy.