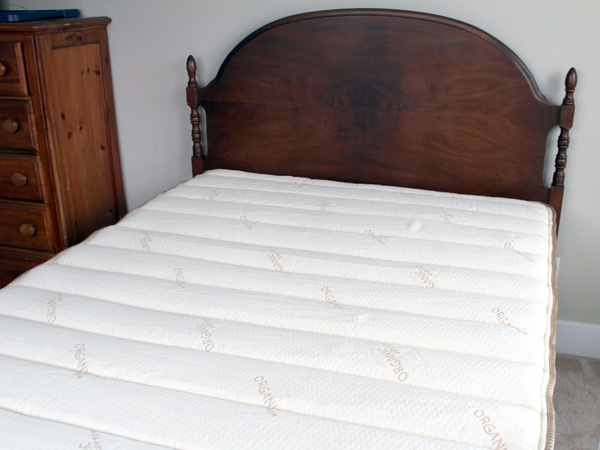 *** EDIT: This mattress now has a synthetic layer. For a mattress that is 100% latex for a similar price as of April 2017, click here ***
What if I told you there was a change you could make that greatly reduces the toxins that your children inhale for 12 hours a day that they would never complain about, that you wouldn't have to do anything different in your day-to-day life, and it doesn't make any more work for anyone in your house?
What would that change be?
Changing your sleeping surface to a natural alternative.
Conventional mattresses are pretty toxic things, and a natural alternative is even more important because you spend so much time in close proximity to them.  If you're putting in the work to eat clean, ingest water that is clear of chemicals, and use nontoxic cleaning products, don't you think that it would also be a good idea to avoid inhaling toxins as you sleep?
Mattress chemicals have been linked to  SIDS (and another), allergies, asthma, autism, fertility problems and chemicals are even found in breastmilk and cord blood, showing the necessity of switching everyone over to a natural mattress, not just vulnerable infants. 
Have you switched to natural mattresses yet?  They're a big investment, but one that's more than worth making. I just purchased one more, this time from Amazon (this is the one I got).
In perspective, if you save $20/week (coffee runs, misc clothing purchases at Target that aren't needed, even just keeping the thermostat a few degrees lower)  you'll be able to replace one of your mattresses with a natural alternative in less than a year.  Also, the cost of a mattress, assuming daily use for 10 years (they should last longer than this though), is just 24 cents/day for a queen, 13 cents/day for a twin.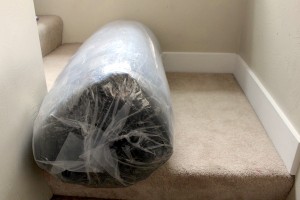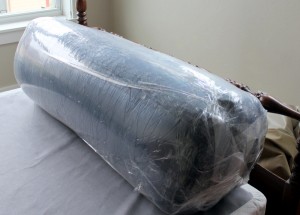 Our mattress, how it came via UPS
How do you choose a natural mattress?
My favorite mattress is the wool and innerspring mattress, I got one for my daughter's crib mattress, and it was super comfortable, held up well, and smelled like sweet wool (I love how wool smells). That mattress was purchased about 10 years (! time has flown!) ago.  The wool innerspring mattresses are the most expensive kind, so as I've bought them for bigger beds, I've switched to natural foam.
Natural foam mattresses are the less expensive alternative to conventional toxic mattresses. I haven't felt it was necessary to buy organic foam, just natural latex with a cotton cover has been fine for me.  Natural foam comes in two types, Dunlop or Talalay.
Dunlop foam is made by melting and spinning the rubber sap into a froth, and then pouring into a mold. Some particles from the process settle to the bottom, making the bottom more firm.  Dunlop foam is more firm, heavy, and less expensive.  You can also purchase softer mattress toppers (see here) to help soften your bed.
Talalay foam is poured into a mold, flash frozen, and 'baked' to set. It is a softer less dense foam, and is uniform throughout.  This process is also a little more expensive.  Watch for some synthetic foam additives when choosing talalay foam, it's added sometimes.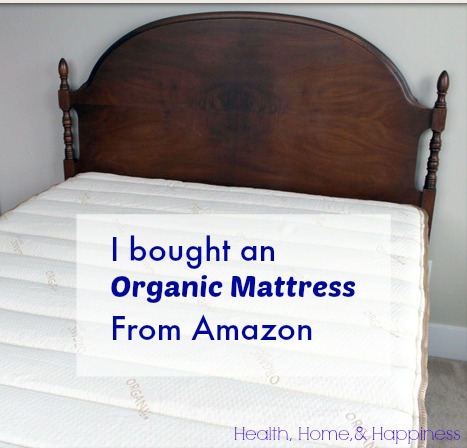 Review:
I just purchased  a Roma Natural Latex Mattress, and it's very comfortable!  I had purchased a natural latex mattress from Sam's Club a few years ago that was super firm and needed a topper on it to be comfortable. This Roma Natural Latex mattress arrived vacuum sealed and rolled up in multiple layers of plastic. It was heavy, but easy enough to roll/flip end-over-end up the stairs and onto the bed. It came out of the packaging easily and was set up within minutes with no smell from the manufacturing process.  I highly recommend this mattress.
I purchased it here, from Amazon, which seemed like an overly simple way to make such a purchase, but it worked out fantastically!
I also recommend a natural pack-n-play mattress if you use one of those for your kids.
Edit: I'm uploading a picture of the tag- there isn't any soy foam in this version of the mattress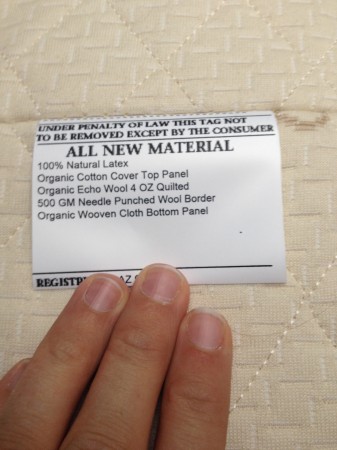 Grain-Free Holiday Desserts, Breakfasts, and Side Dishes
Candied Butternut Squash, Zesty Lime Custard, Honey-Sweetened Pecan Pie, Slow Cooker Cranberry Sauce, and 10 more holiday recipes that you'll love for the way they taste and the way they make you feel.