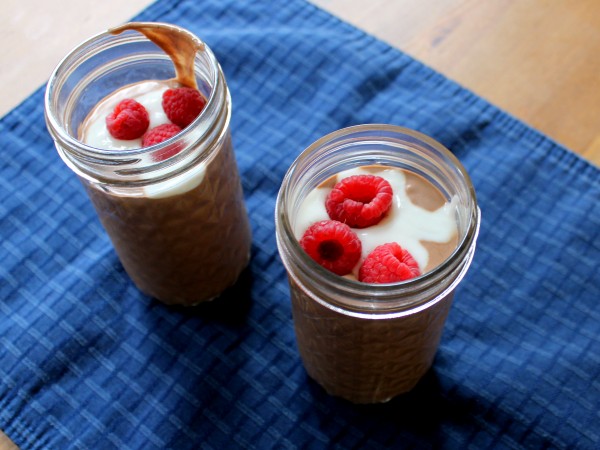 My kids call these milkshakes, and I don't correct them. Sweetened only with banana, these smoothies are a fast breakfast, lunch, or nutritious snack (though we don't snack) that keep you going for hours!  The topping is just plain yogurt and fresh raspberries. We love raspberries, and purchase small baskets of them instead of candy or cookies as treats.
Recipe, serves 3:
1 cup full fat yogurt + more for garnish (see how to make yogurt here)
1/4 cup peanutbutter or other nutbutter (buy sprouted nutbutters here)
2 tablespoons unsweetened cocoa (buy cocoa here)
2 extra ripe bananas, frozen
1/2 cup full fat coconut milk (buy full fat coconut milk here)
2 tablespoons diatomaceous earth (optional)
9 fresh raspberries
Blend all ingredients other than the raspberries and yogurt for garnish, adding yogurt or milk if needed to thin. Pour into cups and top with plain yogurt and a couple fresh raspberries. Pour any extra into popsicle molds for a treat later!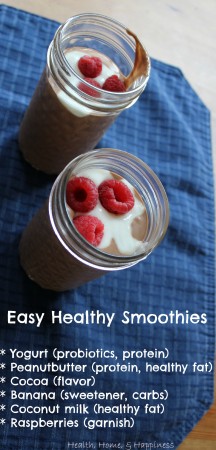 Free Ebook this month only: 20 Grain-Free Breakfast Recipes
20 Delicious Breakfast Recipes suitable for GAPS and Paleo diets!