Cookies are fun for all ages, and are something that we miss if we're switching away from gluten or grains!  These fun little treats are relatively nutrient dense, while being easy to pack in lunch boxes and take along on road trips.  They are fun to make up with the kids, the Cowboy Cookies can really have just about any mix-in added :)  The key to any cookie, especially grain free cookies, is to prevent them from overbaking so they're still soft and gooey in the middle.
Grain Free Cowboy Cookies
Makes 2-3 dozen
2 1/2 cups Blanched Almond Flour
2 tablespoons coconut flour
1/2 teaspoon Celtic Sea Salt
1/2 cup coconut oil or butter
2 eggs
1 tablespoon vanilla extract
1/2 cup honey
1/2 cup chopped pecans
1/4 cup shredded coconut
¼ cup raisins or other dried fruit, chopped
Cream oil, honey, and coconut oil or butter. Add in remaining ingredients and mix well
Drop 1/2 inch size balls about 2 inches apart on a parchment lined baking sheet
Bake at 350 degrees for 7-10 minutes.
Cool and serve.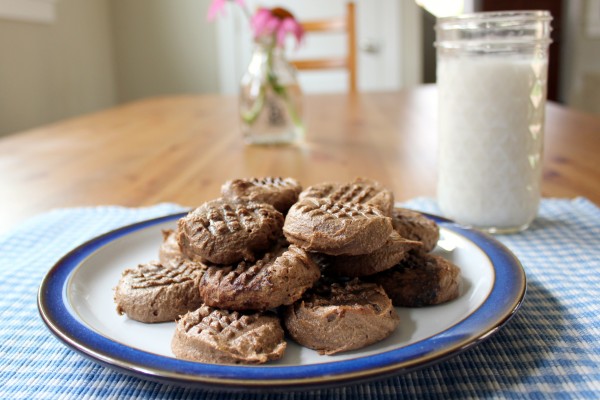 Grain Free Chocolate Peanutbutter Cookies
Makes 2 dozen
1 cup natural peanut butter, salt added (add 1/2 teaspoon salt if unsalted)
1/4 cup coconut oil
2 tablespoons coconut flour
1/4 cup honey
4 eggs
1/4 cup unsweetened cocoa
Directions: Combine all ingredients until throughly mixed. Use a teaspoon to spoon dough onto parchment lined cookie sheet. To make cris-cross decorations with a fork, dip fork prongs in water, and press into cookies, twice, 90 degrees apart. Bake at 375* for 10-12 minutes, do not overbake.
5 Delicious Keto FatBombs
Sign up to get my 5 Best Keto Fatbomb Recipes sent right to your inbox! Plus a bonus pizza recipe :)