This hamburger (ground beef) casserole is delicious, hearty, warming, and easy to put together! It is made simply with ground beef, mushrooms, garlic, parsley, sea salt, bacon, cream cheese, cheddar cheese and eggs.  The cream cheese/egg combination replace non-keto-friendly canned soup.  Eggs hold the casserole together, negating the need for breadcrumbs or a cornstarch-thickened sauce.  Casseroles, or 'hot dish' as my family from Minnesota calls them, either evoke feelings of love or uneasiness.
If you have feelings of love for casseroles but don't have feelings of love for canned soups, breadcrumbs, and other highly processed high-carb additions, you're sure to love this recipe!  All the classic casserole flavor (yes, leftovers are better the next day!) without sacrificing your health goals.
Substitutions and Food Allergy Notes
Meat substitution: We use elk in this casserole often.  You can also substitute a combination of any other ground meat; turkey, chicken, pork, lamb, for some or all of the beef. This recipe is flexible! Substitute 1:1 ie 2 pounds of ground turkey can replace the 2 pounds of ground beef.
GAPS Diet: Dripped Yogurt Cheese should be used in place of the cream cheese for very strict GAPS. However, if you have been on GAPS for a while and are tolerating dairy well, many of us purchase cultured cream cheese from the store and use that. It's not 100% perfect for very strict GAPS, but it will be sufficient for many and will greatly save your prep time!
Carnivore diet: Mushrooms are a grey area on the carnivore diet. Omit if you want to. This casserole made with meat, cream cheese, eggs, cheddar cheese, bacon, and sea salt is also delicious!
Egg allergy: I have made this recipe using gelatin in the place of eggs in this recipe. The results aren't perfect, but the gelatin does help the casserole hold together, which is the purpose of the eggs here.  To use gelatin in place of the egg, mix 2 tablespoons gelatin (find here) and 1/2 cup cold water with a fork or whisk.  Allow gelatin to absorb liquid for 5 minutes, and then combine with the softened cream cheese mixture.
Dairy allergy: This recipe is dairy-heavy, in general when a recipe contains this much dairy it is difficult to make substitutions. I have not tried it, and cannot recommend it, BUT if you really want to try a substitution my best guess would be to use 1 can full fat coconut milk in place of the cream cheese, omit cheddar cheese, and double garlic to cover up the coconut flavor.  We do have many dairy-free recipes, see them here. 
Don't knock ground beef
Ground beef- it's not ribeye, but it's amazing! Start dressing up this staple that gets a reputation for being boring and you'll find yourself reaching for it even if you have ribeye in your freezer!
Ground beef is a favorite among families, as it's easy for little mouths to chew, not to mention budget friendly! 
Think grass-fed sustainably raised meat is out of your price range? Think again! Click here to see how you can get grass fed beef more affordably than you expect!
Ground beef also lends itself super well to meal prep, which is a favorite for busy people everywhere, or even not busy people who just don't enjoy cleaning up grease splatters each meal.  See how to meal prep your ground beef here for super fast nutrient-dense dinners, a kitchen that stays clean all week long, and delicious variety that your family will love!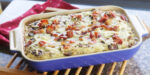 Hearty and Warm Hamburger Mushroom Bake
Print
Ingredients
2

lbs

ground beef

2

teaspoons

salt

1

teaspoon

black pepper

optional

4

cloves

garlic

crushed (optional)

12

ounces

cream cheese

GAPS used dripped yogurt cheese

6

eggs

4

slices

bacon

or 2 tablespoons butter+ fat for greasing pan

1

lb

mushrooms

1

tablespoon

parsley

2

cups

cheddar cheese

grated
Instructions
Preheat oven to 350° F. Grease a 2-Liter (8 cup- dish shown is 8.5x11; 9x13 also is a good size) casserole dish with butter, bacon grease, or other desired fat.

In a large pan over medium heat, brown ground beef, sprinkle with 2 teaspoons salt and optional pepper.

As the ground beef browns, fry bacon in a large saute pan over medium heat, and remove once it is mostly cooked (reserve to chop and top casserole), leaving the grease in the pan.

Rinse mushrooms and slice or quarter as the beef is browning and the bacon is frying. Saute mushrooms in the bacon grease over medium-low heat until they are soft and stop releasing water, about 15 minutes. Mix with the browned ground beef.

In a food processor, with an immersion blender in a wide-mouth quart-sized mason jar, or with a whisk and a lot of perseverance, mix softened cream cheese and one egg at a time and optional crushed garlic until smooth.

Once cream cheese mixture is smooth, mix the browned ground beef mixture, sauteed mushrooms, parsley, and cream cheese mixture together. Pour into the greased casserole dish and press down gently until smooth.

Top with cheddar cheese and crumbled bacon, if you are doing the bacon version.

Place casserole dish on a cookie sheet, or over foil, in case it bubbles over.

Bake casserole for 35 minutes on the lowest rack until hot and bubbly. Allow to rest 20 minutes before serving so the casserole can set up. Enjoy!
Recipe Notes
Casserole can be frozen before baking. To freeze, cover tightly with plastic wrap or foil and slip into a freezer bag. Thaw before baking. If cold (from thawed) baking time will be longer- cook until heated through, approx 60 minutes. 
Nutrition Facts
Hearty and Warm Hamburger Mushroom Bake
Amount Per Serving (1 serving)
Calories 656
Calories from Fat 486
% Daily Value*
Fat 54g83%
Cholesterol 287mg96%
Sodium 1092mg46%
Potassium 646mg18%
Carbohydrates 5g2%
Protein 36g72%
Vitamin A 1074IU21%
Vitamin C 2mg2%
Calcium 289mg29%
Iron 4mg22%
* Percent Daily Values are based on a 2000 calorie diet.

Other keto-friendly casserole recipes you're sure to love: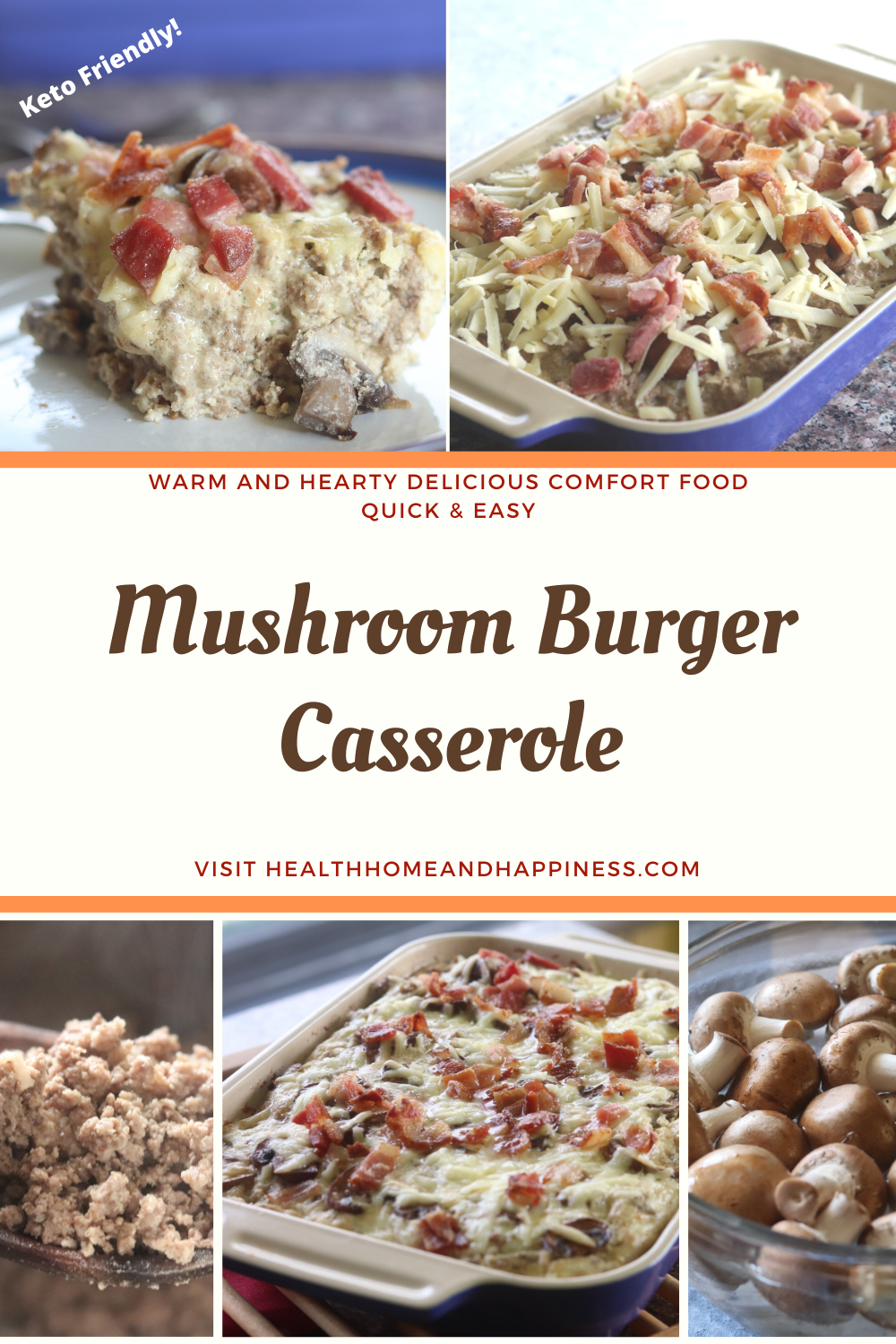 Please follow and like us: