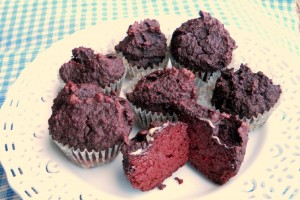 "Mommy, I lube beeeeeets" my son sings. Beets in our house are a hit because they are bring pink, sweet, something different, and often made into chocolate muffins!  These beet chocolate muffins are a great way to hide beets for veggie-phobic kids, plus the beets add a nice sweetness and moisture to the grain free baked good.  Stevia and honey option allow this to be low carb/anti-candida or just full GAPS legal. Check out more GAPS and grain free recipes here.
Chocolate Beet Muffins
2 large (apple sized) or 3 medium beets, peeled and coarsely chopped
6 eggs
1/4 teaspoon sea salt
1/2 cup coconut milk
1/2 cup coconut flour
1 cup almond flour
1-1/2 cup cocoa powder
1 teaspoon vanilla
1/2 teaspoon cinnamon
5 servings of stevia or 1/4 cup honey
Preheat oven to 375 degrees.  In a food processor, puree raw beets and eggs until smooth.  Add in remaining ingredients.   Grease muffin tins or place paper liners in and pour a little melted fat in each liner.  Spoon in batter evenly across all 12 muffin cups, cups should be fairly full.  Bake for 20-25 minutes, or until a toothpick inserted into the center of one comes out clean.  Allow to cool a couple minutes before removing from the pan. My children love these!
21 Easy and Delicious Grain-Free Meals
Curious about eating grain-free? I want to show you how easy and delicious it can be!
Try our best-selling meal plans... for free!
Just enter your information and I'll email it to you right away.