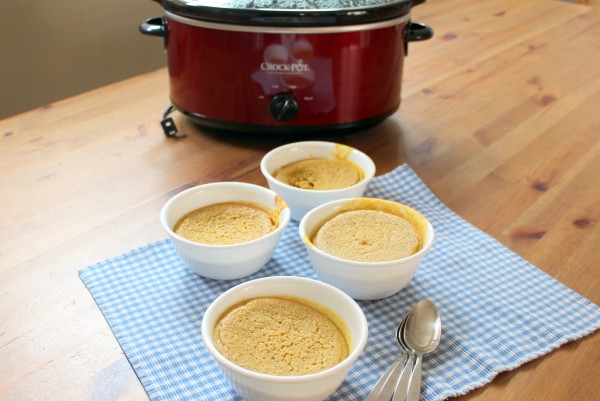 This creamy rich custard uses all the flavors of fall.  Simpler to put together than a pumpkin pie, this pumpkin custard is sure to be a family favorite!  I especially love that you can put it in the crock pot and then go out and come home to a house that smells like fall and a warm snack or dessert.  In my mind this is a totally legitimate side dish, dessert, or breakfast.
It's so easy in the crockpot, and the ramekins can be stacked and they still steam cook so they stay nice and soft.  The cook time is more flexible than in the oven as well.  If you need a creamy warm dessert in a hurry, use your Instant Pot and you'll go from measuring ingredients to enjoying delicious custard in less than 30 minutes.
Crockpot Pumpkin Custard
3 cups cooked pumpkin or butternut squash (how to cook squash– using organic canned is an easy though more expensive substitute)
6 eggs
1/4 cup coconut milk, full fat
2 packets stevia, or 1/4 cup maple syrup or honey (maple syrup is not GAPS legal, stevia isn't either, but more people on GAPS have been okay with stevia than maple syrup)
1/2 teaspoon ginger
1/2 teaspoon cinnamon
pinch of sea salt
Cock Pot Directions:
Fill crock pot with 1 inch water and turn on high.  Allow to pre-heat for 30-45 minutes (for you multi tasking moms, doing this before taking a shower and/or starting breakfast works well)
In a blender, puree all ingredients (blender will be quite full).  Pour into oven/heat proof ramekins or mason jars, filling 2/3 full.  Gently set into the water, stacking the ramekins (pictured) if needed.  Cover.  Allow to steam for 4-6 hours.
Turn crock pot off, and it will continue to stay warm for another hour or so, serve warm or cover with plastic wrap and store in the fridge to serve chilled.
Instant Pot Directions
Want to learn more about the Instant Pot? Click here
Pour 1-1/2 cups water in the Instant Pot bowl.
Fill ramekins, or other heat-proof containers 2/3 full with the custard mixture.
Gently set filled ramekins in the Instant Pot bowl, stacking if necessary (this may take two batches) but still allowing the lid to close.
Close lid, set to manual — 10 minutes. Set vent to seal and allow to cook.  All pressure to naturally release.
Once pressure has naturally released, use a hot pad to carefully remove custard cups.  Allow to cool on a rack and enjoy warm, or cover and chill.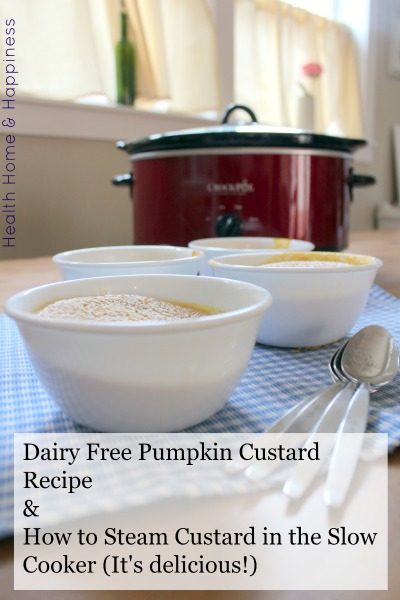 5 Delicious Keto FatBombs
Sign up to get my 5 Best Keto Fatbomb Recipes sent right to your inbox! Plus a bonus pizza recipe :)