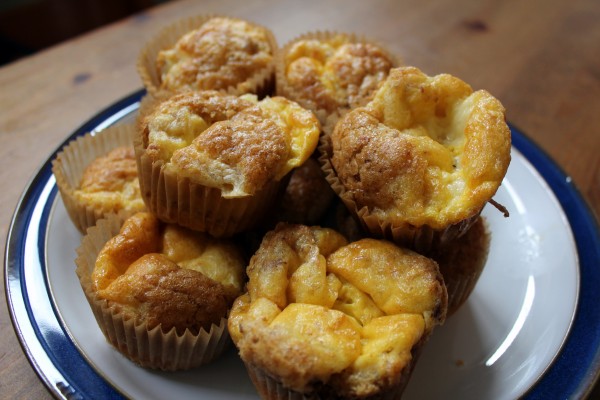 "It looks like your mom wants you to have protein!" Says my daughter's teacher upon seeing GAPS lunchboxes after the Christmas break.  A classroom helper remarks "That's great!" when she hears me say that I give the kids two eggs scrambled in butter and a broth cube every morning. I'm thankful when people who work with my children are open to the idea of alternative diets.
We did GAPS again over the break and I saw all of us benefit from the high protein low carb diet with increased energy, attention, and ability to learn.  We're not continuing it strictly ('real GAPS' has to be super strict to work) but we are going to continue to eat mainly GAPS meals for the time being.
I wanted to have some fast breakfasts in the fridge that could also go in lunchboxes if needed, so I made a batch of these egg and bacon muffins. I experimented with baking the bacon in the muffin tin rather than frying it on the stove or baking it on a baking dish, and it worked wonderfully while saving dishes. I'm always trying to save dishes!
They're baked in these baking cups, which are both totally chlorine free and nonstick – a huge plus when you're baking eggs.  I'll warn you, if you don't use the muffin cups, the muffin pan after baking eggs can be a nightmare to clean.
This recipe is super easy and delicious. I whipped these up while also making lunch after church today.  Enjoy!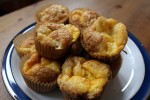 Baked Egg and Bacon Cup Recipe
Print
Ingredients
Instructions
Cut the raw bacon into 1/2 inch sections.  Place in the muffin pans with the liners in, distributing evenly through the cups.

Back at 350 degrees F until crisp, about 20 minutes.  Leave in the muffin pan.Mix the eggs, paprika, salt, and cheese while the bacon cooks. Pour over cooked bacon and bacon grease in the muffin cups.

Fill muffin cups about 2/3 full.  Return to 350* oven for 20-25 minutes, or until egg is set.

Remove from oven to cool.  Keep in an air tight container in the fridge and enjoy!These are delicious cold or reheated in a toaster oven for a few minutes.
Nutrition Facts
Baked Egg and Bacon Cup Recipe
Amount Per Serving (1 muffin cup)
Calories 91
Calories from Fat 63
% Daily Value*
Fat 7g11%
Cholesterol 117mg39%
Sodium 215mg9%
Potassium 59mg2%
Protein 5g10%
Vitamin A 225IU5%
Calcium 33mg3%
Iron 0.6mg3%
* Percent Daily Values are based on a 2000 calorie diet.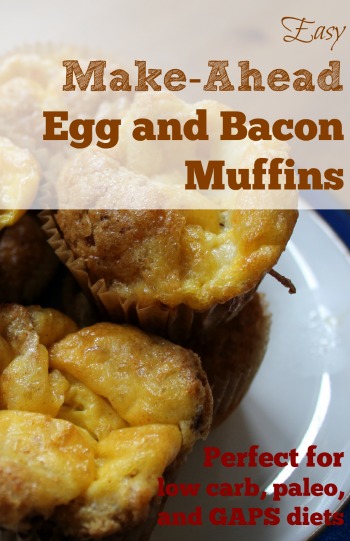 Please follow and like us: