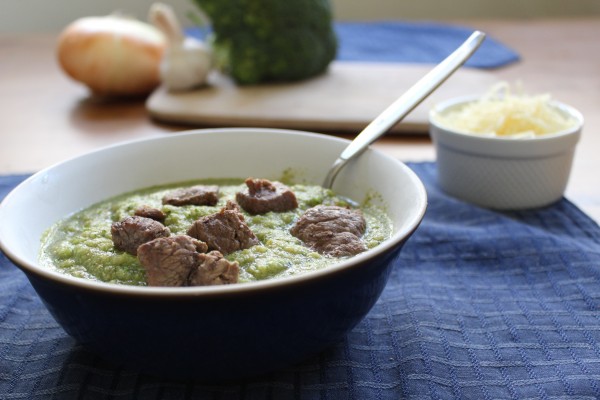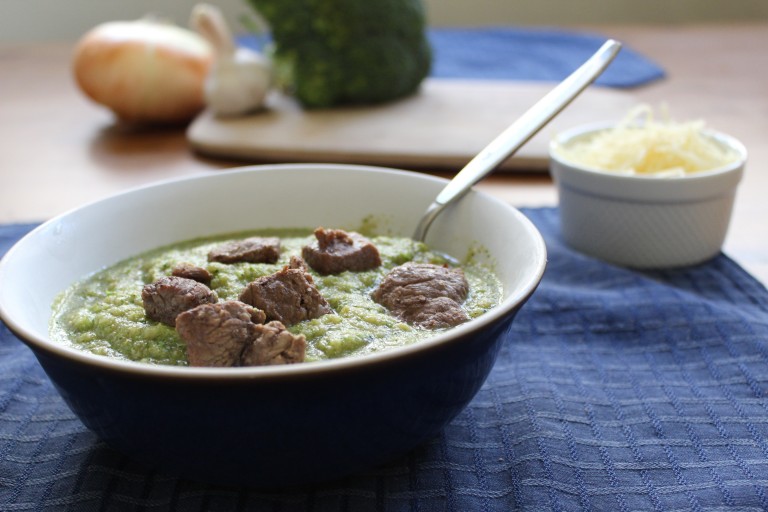 Broccoli Beef Soup is a warm and filling winter classic, that is rich in protein from the beef chunks and homemade stock.  Make use of Broccoli and onions during the winter, as they are seasonal, inexpensive, and give a burst of green in an otherwise white winter wonderland.
This soup is mostly made in the slow cooker, with the meat added at the end to preserve texture and flavor.  Pack in a thermos for the next day's lunch.

Hearty Beef Broccoli Soup with Homemade Broth (Paleo, GAPS, Gluten Free)
Ingredients
1-2 quarts chicken or beef broth (buy nourishing broth here)
Filtered water
1-2 pounds beef, any cut (tritip) (buy grassfed beef here)
2 tablespoons sea salt, divided
4 cloves garlic
2 onions, chopped
2 pounds broccoli florets, fresh or frozen
Optional: 1 cup shredded cheddar cheese
Directions
In a crockpot, combine broth, filtered water to fill the crock pot ¾ full, 1 tablespoon sea salt, garlic, and broccoli. Cover, and allow to cook on low all day.
An hour before you are ready to eat, cut beef into ½ inch cubes, season with a pinch of salt and brown in a skillet over medium high heat until browned on the outside and partially cooked.
Using an immersion blender, puree the soup in the slow cooker, leaving some chunks of broccoli and onion if desired.
Add beef to pureed soup and allow to cook until dinner time.
Taste and adjust salt as necessary.
Ladle into bowls and top with optional cheese to serve.
Notes
This recipe is one of the Recipes I have up as part of the
Real Plans Menu Service
! Click over here to find hundreds of recipes like this and automatically load them into a weekly meal plan, complete with a grocery list that is easily accessible right from your phone, tablet, or computer.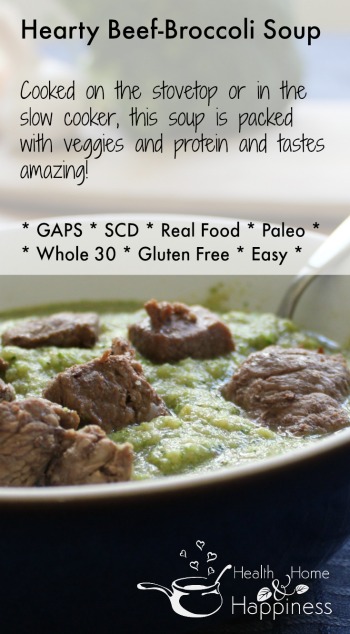 21 Easy and Delicious Grain-Free Meals
Curious about eating grain-free? I want to show you how easy and delicious it can be!
Try our best-selling meal plans... for free!
Just enter your information and I'll email it to you right away.