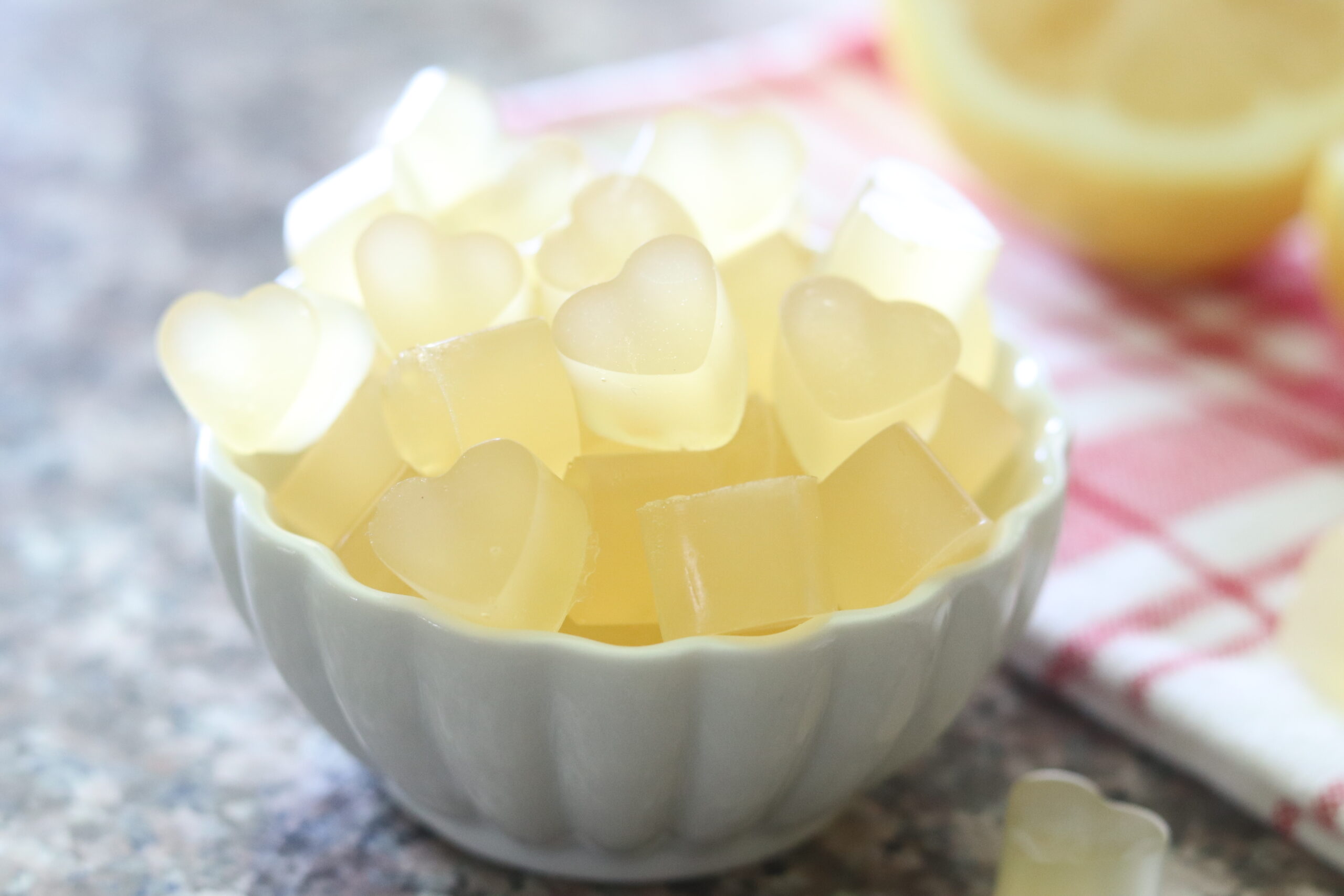 Lemon juice combines with gelatin and a little sweetener to make these gummy treats easily.  They give you your gummy candy fix without sugar, corn syrup, or food dye.
If you don't have molds, pour the mixture into a square casserole dish and then cut into squares.  Square gummy candy also is delicious, you won't mind the shape at all?  Most days these treats will hold up in a lunchbox for a lunchtime treat when a cold pack is also included.
Equipment used for keto lemon gummy candy:
Substitutions and Diet-Specific Adjustments
GAPS Diet: Technically, stevia or monkfruit are not allowed on the GAPS diet. Many low-carb GAPSters use stevia without harm. To be true to the GAPS diet as written, use raw honey in place of the erythritol.
Carnivore diet: If you need to supplement vitamin C on the carnivore diet, these may fit the bill! Omit the sweetener, just using lemon juice, gelatin, and essential oil as desired.
Essential Oils in Cooking: I do use some essential oils in small quantities in cooking. We add a couple drops of peppermint oil to our brownies, and add citrus oil to any citrus recipe that wants the zing of intense flavor.  Not everyone is comfortable with this, and you can absolutely leave out the essential oil in this recipe. I do cook with essential oils that I trust from YoungLiving.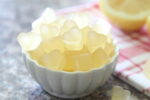 Sweet Tart Keto Lemon Gummies
One easy, kid-friendly way to get the power of gelatin into your family's diet is by making gummies. Think gummy bears without the sugar high. You can't go wrong.
Print
Ingredients
1

cup

lemon juice

about 4 large lemons per cup

1/3

cup

erythritol

or 6 packets of pre-portioned monkfruit or stevia sweetener. GAPS use raw honey in place of other sweeteners.

1/3

cup

gelatin

5

drops

citrus essential oil

optional
Instructions
Combine all ingredients in a cold saucepan. Whisk or mix with a fork and allow to absorb for 5 minutes.

Heat saucepan on stovetop over medium-low heat, stirring every few minutes, until gelatin melts and mixture becomes transparent. This step takes about 10 minutes.

Pour mixture into silicone candy molds or an 8×8-inch glass baking dish. Chill in the fridge for at least 1 hour.

Remove pan or molds from fridge and remove gummies. If using a baking dish, use a spatula to gently loosen the edges and part of the bottom of the gelatin from the sides of the dish. Gently turn it upside down onto a cutting board and let the gelatin fall out. Use a large knife to cut it into squares or strips. Refrigerate any leftovers.
Recipe Notes
This recipe is sweet-tart. For a more sweet version, double the sweetener to taste. You can cool a little and taste it to adjust before pouring into the candy molds. 
Nutrition Facts
Sweet Tart Keto Lemon Gummies
Amount Per Serving (1 serving)
Calories 26
Calories from Fat 9
% Daily Value*
Fat 1g2%
Sodium 13mg1%
Potassium 21mg1%
Carbohydrates 2g1%
Protein 6g12%
Vitamin C 8mg10%
Calcium 5mg1%
Iron 1mg6%
* Percent Daily Values are based on a 2000 calorie diet.

Other treat recipes for keto that are mouthwatering good: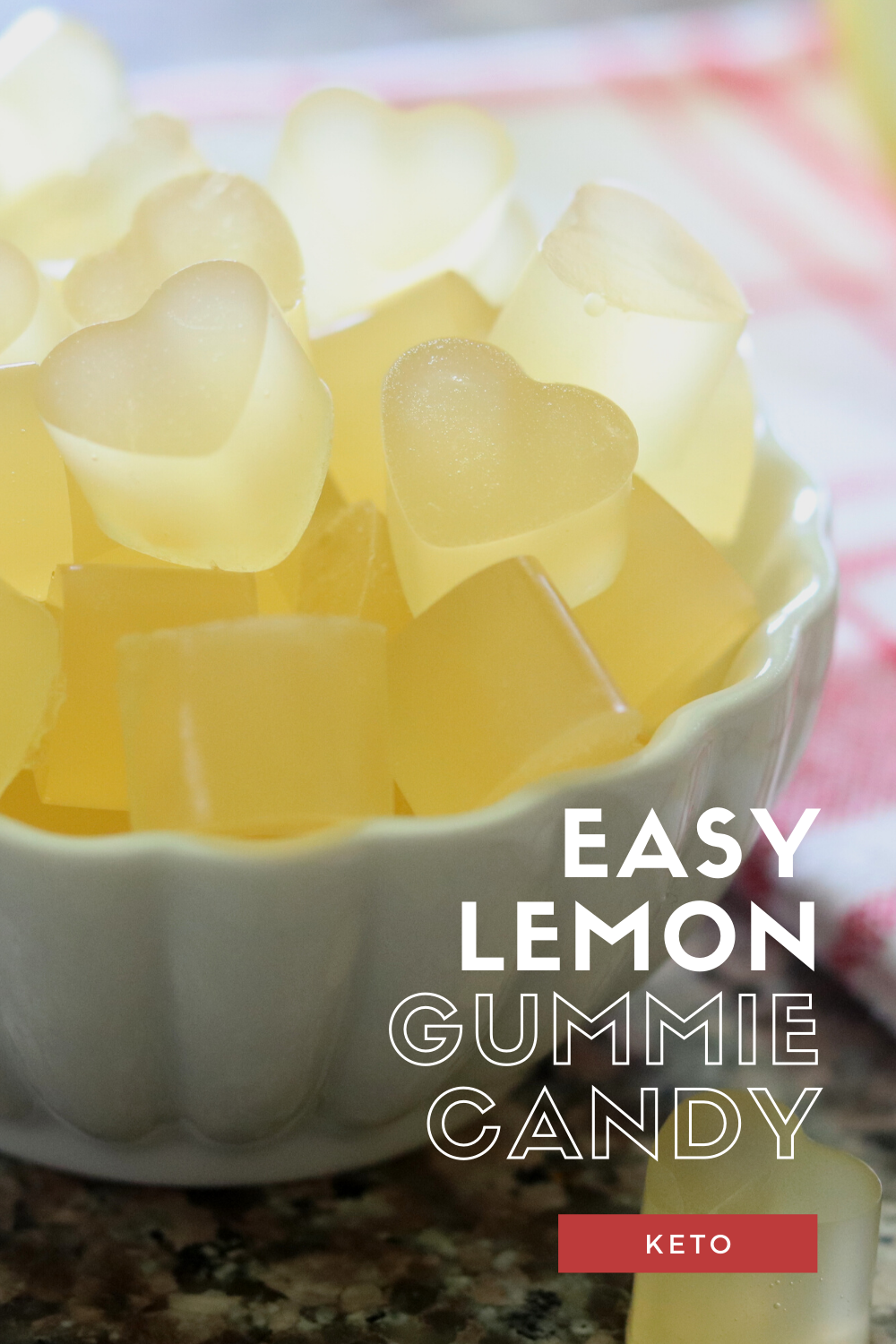 Please follow and like us: