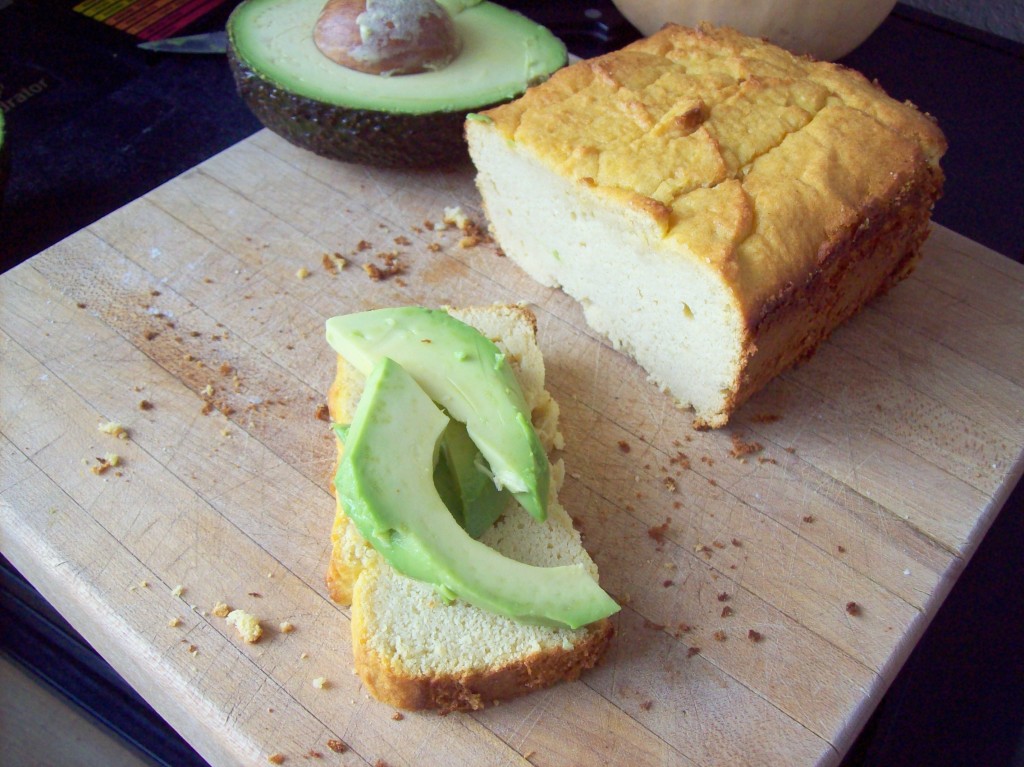 For that year that my daughter (and, off and on, the rest of our family) has been following GAPS I've been learning to work with non-grain flours; almond and coconut. Coconut flour is my preferred flour to work with because a grain free diet should not be a diet primarily made of nuts, and it's easy to eat too many when using nut flour in baking every day.  Coconut flour is available through small retailers in the US here.  Watch for 'coconut flour blends' made with grain flours, you just want 100% coconut.
What is coconut flour?
Coconut flour is very finely ground dried coconut, which is left over from extracting the coconut oil. Coconut flour is low-carbohydrate, high in fiber, and gluten free. It is a very dense flour, so in most recipes many eggs are used in proportion to the flour. The eggs allow the baked good to rise in the absence of a leavening agent (baking powder, soda, or yeast), bind the bread together in the absence of gluten. Gluten is the protein found in wheat that so many people are finding that they are sensitive to. Gluten is what makes wheat dough sticky, trapping the air bubbles from the yeast to make it rise.
What do I need to account for when cooking with coconut flour?
Cooking with coconut flour has both differences and similarities with other gluten free flours.   Coconut flour is finely ground, it is very dense, and it can make baked goods a bit dry. Here are some tips for working with it.
Coconut flour contains phytic acid. Like all nuts, seeds, and grains, coconut flour can benefit from being soaked in an acidic solution to neutralize the phytic acid. However, because very little coconut flour consumed in comparison with wheat flour, (in pancakes 1/4 cup coconut flour vs 4 cups of whole wheat flour) I generally do not do the soaking step.
Coconut flour is dense. Recipes using coconut flour often have many eggs in them, which helps the baked good to rise.  The eggs are also very nourishing! Eggs from healthy chickens are full of protein and healthy fats.  For this reason, baked goods made with coconut flour will not cause the blood sugar spike like grain-based baked goods.
Coconut flour can be dry. Nobody likes dry bread or muffins, but this can be remedied by adding pureed fruit or vegetables to the batter in place of some of the liquid called for, or even half of the fat. Adding applesauce to muffin recipes in place of butter is a well-known 'low fat' substitution. In this case we are not doing the substitution because we are concerned about fat, only because the pureed fruit or veggie makes a more moist treat.
Coconut flour tends to clump.  Batter made with coconut flour needs to be mixed very well to get all the lumps out, as the coconut flour tends to want to stick together. This is best achieved by using a whisk if mixing by hand, or by using a food processor.  Unlike gluten-containing flour, there is no worry of over mixing coconut flour containing recipes, so mix away!
Coconut flour baked goods are dense and filling! Because of how filling coconut flour breads and muffins are, you can compensate by using mini muffin tins to make bite sized treats.  Smaller sized loaf pans are helpful for bread making, and you will find mini sandwiches made out of this bread to be just as filling as the larger sized conventional counterparts.  Silver dollar sized pancakes are recommended for breakfast as well.  If using a regular sized loaf pan to make coconut flour bread, you may want to enjoy your sandwiches 'open faced', as shown.
I wanted to share my coconut flour bread recipe using applesauce or pureed onion to lighten the bread.
Coconut Flour Bread Recipe
Ingredients:
6 eggs
1/3 cup butter or
ghee
, soft or melted
1/3 cup applesauce for sweeter bread, or 1 medium onion, pureed, for savory bread
2 tablespoons honey
1/2 teaspoon sea salt
Instructions:
Grease 1 standard sized loaf pan or 2 mini loaf pans well with butter, ghee, or coconut oil.  Mix all ingredients until there are no lumps. Pour the batter into bread pan, filling 3/4 full if dividing between multiple mini bread pans.
Bake in preheated oven at 350 degrees for 40 minutes for a standard sized loaf, or 25 minutes for mini loaves.  Cooking time may vary as loaf pans vary in size; bread is done when a knife inserted into the middle comes out clean.
Allow to cool before trying to remove bread from pan.  To remove, gently run a butter knife around the outside edges, between the bread and the pan.  Flip the bread pan over a plate and (hopefully) it will come out all in one piece.  Turn right side up, slice as desired, and store, covered, in the fridge.
More coconut flour recipes around the web:
Nourished Kitchen's Coconut Flour Cake calls for a dozen eggs, coconut milk, orange extract, and other yummy nourishing goodies! (I would suggest this whipped frosting to go with it)
My Grain Free Banana Nut Muffins: Perfect alongside soup one night, then for breakfast the next day!
Free Ebook this month only: 20 Grain-Free Breakfast Recipes
20 Delicious Breakfast Recipes suitable for GAPS and Paleo diets!