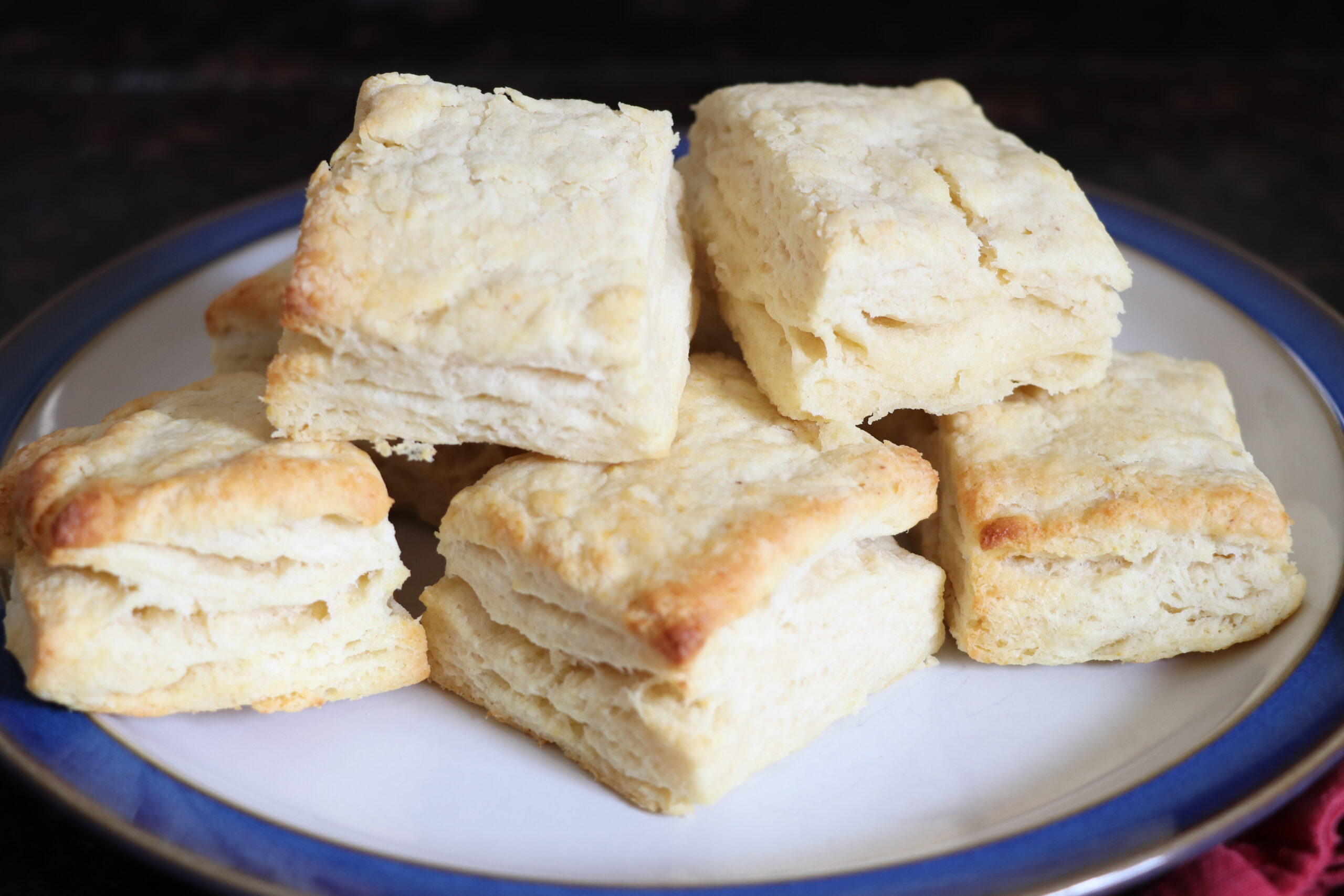 Flakey rolled biscuits are a favorite in our house.  Biscuits have so many delicious uses.  Biscuits can be topped with sausage gravy or a fried egg for breakfast, made into delicate turkey and cheese sandwiches for lunch, served alongside a hearty soup or grilled chicken for dinner, and sweetened with strawberries and whipped cream for dessert. 
Biscuits are a treat in our house.  They come together quickly and easily with ingredients you probably already have on hand, and are leaps and bounds better than the chemical-laden franken-food variety from the cans in the grocery store. 
This biscuit recipe works best when you use your fingers to incorporate the butter into the flour mixture. If you really don't want to, a pastry blender can be used instead. Be sure to follow the directions exactly so your biscuits turn out light, flakey, and tender – not tough, dry, or crumbly. 
Simple Classic Flakey Biscuits
Flakey Biscuits are a staple that every beginning baker wants to know how to cook. I'm currently teaching my young bakers how to make classic recipes. We're using wheat flour (folic acid free) and reducing the sugar, but still making 'not weird' versions of classic recipes.
As my children get older*, I realize that they will be eventually leaving my house. And I'd like them to develop a love for a lower-sugar, real-butter versions of 'regular' recipes rather than have their first taste of banana bread be soaked in corn syrup and Crisco, or develop a taste for brownies that are made with rancid oils and waxy chocolate.
This recipe is this mom's way of saying, "I know you're not going to always eat how I eat, but here, let me show you how GOOD biscuits made with real butter and lots of love taste.
*My daughter is on keto for medical reasons and she remains on the keto diet. She is happy to help make and share these recipes, even though she cannot eat them right now.
Can't have wheat? These recipes are suitable for other diets: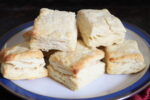 Classic Flakey Biscuits
These are perfect flakey biscuits to eat with soup, top with jam, or even roll out into a flakey biscuit pizza crust. 
Biscuits are best made by getting your hands all into the butter and flour to combine. If you don't like touching your food as you make it, a pastry blender can be used - but trust me, the best results come from using your fingers to find clumps of butter and work it into the flour.
While we usually post recipes for the GAPS and Keto diets, I do still enjoy baking for friends and family with wheat flour. If you're going to indulge, it should be good - right? :) This is part of a baking series as I show my children how to bake classic recipes from scratch - most of these recipes are adapted from Joy of Cooking.  When adapting recipes, typically  I reduce the sugar and change the directions so that both the wet and dry ingredients are done in the same bowl to save dishes. 
We always use folic-acid-free flour. 
Print
Ingredients
2

cups

all purpose flour

2-1/2

teaspoons

baking powder

1/2

teaspoon

sea salt

5

tablespoons

butter

cold, cut into pieces

2

tablespoons

sugar

or honey, optional

3/4

cup

half and half

You can make half-and-half by using half whole milk and half heavy cream
Instructions
Preheat oven to 425° F. Line a baking sheet with parchment paper.

In a large mixing bowl, combine flour, baking powder, and sea salt.

Cut cold butter into pieces- about 16 pieces per stick (cut lengthwise and then at each tablespoon marker). Butter must be cold or your biscuits will not have the correct texture.

Drop a few pieces of butter into your flour mixture at a time, and toss gently - like you're coating chicken for frying. You don't want the butter to clump together, but instead want to have it evenly distributed in the flour.

Next, use your fingers to work the flour into the butter, until about half the mixture resembles breadcrumbs, but the other half still contains pea-sized pieces of butter. This takes about 5 minutes. Do not use a stand mixer for this step or your biscuits will be tough. A pastry blender can be used instead of your fingers if desired.

Once the butter and flour is combined, sprinkle with optional sugar or honey. Add in all the heavy cream and mix with a fork, gently, and without overmixing.

Add up to 3 tablespoons milk as needed to make a stiff dough that just holds together for rolled biscuits, or a slightly more wet dough (cookie dough consistency) for drop biscuits.

For flakey rolled biscuits (my favorite!), divide dough into 2 halves, and roll to 1-1/2 inches thick between two pieces of parchment paper. If dough is tacky, sprinkle 1-2 tablespoons flour over the top, but do not add too much flour.

After rolling out, cut into desired shapes - we usually just cut into equal rectangles or squares, but cookie cutters can be used for extra special biscuits.

Brush off excess flour after rolling out. Tops can be sprinkled with sugar or cinnamon-sugar if desired.

Transfer biscuits to prepared cookie sheet, leaving 1-1/2-2 inches between biscuits. Bake on the center rack for 12-18 minutes, until the corners turn golden brown and the biscuit is cooked through. Cool for 5 minutes on the cookie sheet and serve.

For drop biscuits (faster, but less flakey), mix in additional 1/4-1/2 cup half and half. Use a soup spoon or serving spoon to drop 1/4-cup portions of biscuit dough on the prepared cookie sheet 2 inches apart and bake on the center rack for 12-18 minutes, until the corners turn golden brown and the biscuit is cooked through. Cool for 5 minutes on the cookie sheet and serve.
Recipe Notes
Adapted from the Joy of Cooking Book (reduced sugar, gluten-free option, changed instructions)
Nutrition Facts
Classic Flakey Biscuits
Amount Per Serving (1 Biscuit)
Calories 145
Calories from Fat 63
% Daily Value*
Fat 7g11%
Cholesterol 18mg6%
Sodium 145mg6%
Potassium 76mg2%
Carbohydrates 19g6%
Protein 3g6%
Vitamin A 199IU4%
Vitamin C 1mg1%
Calcium 35mg4%
Iron 1mg6%
* Percent Daily Values are based on a 2000 calorie diet.
Other recipes in this series: 
Please follow and like us: