Have you tried homemade popsicle recipes and found they were too hard to eat, didn't set up right, the flavor wasn't good, or the popsicles were overly complicated to make? Do you love giving your kids whole fruit popsicles but hate the $1+ each price tag that they come with from the store?
You just need to understand a few key things to be making delicious popsicles at home!
Tips for the best homemade popsicles
You need more flavor because the super coldness of the freezer mellows out flavor- fruit juice concentrate is what they use in store to do this, and it's super easy to just add fruit concentrate at home.
Adding fats (like coconut milk) or too much sugar keep popsicles from setting up hard enough.
The right mold is key. We love the Tovolo Rocket Pop Molds- they hold a seal, are a good size, and come clean in the dishwasher. Dollar store or off-brand popsicle molds just make us frustrated.
Make sure your popsicle mold is really dry, not overfilled, and frozen upright for easiest popsicle removal without frustration.
Homemade popsicles
Cooling down after building bike ramps, slipping across the slip-n-slide, digging in the dirt, and spending mornings at summer camp can be helped along with a sweet treat of a homemade popsicle. We generally don't snack, but I make an exception for active kids in the summertime. These homemade popsicles are small, and don't interfere with our meals when enjoyed mid afternoon.
You want to watch labels carefully if you are purchasing store bought popsicles- some of the natural looking packaging still contains loads of sugar or corn syrup.  Or you can make your own, in less time than it takes to run to the store!
DIY Popsicles are easy
Popsicles are so easy to make! You'll find yourself whipping up a batch of homemade popsicles whenever you have fruit that's about to go bad, or you think up a new flavor combination.
Making popsicles yourself saves loads of money, and you can also add different ingredients like magnesium or tart cherry juice or dairy kefir that are beneficial to specific health issues.
Troubleshooting your way to The Best Homemade Popsicles
If you've felt like popsicles were a lot of work to make, your recipe might be too complicated.  If you can make a smoothie, you can make great popsicles! These tips ensure success every time!
For little kids
If you have very young children who haven't been exposed to sweet popsicles and you want to help them cool down without the sticky-drippy mess and wasted popsicles, simply freeze water in popsicle molds and they will love the novelty of the different shapes of their ice pops.  And you won't mind that they take a few licks and then drop the pop in the sandbox in pursuit of other activities.
If you have younger children who are no longer fooled by the ice pop mentioned above, you still will want to use smaller popsicle molds as they lose interest quickly.  These molds are perfect for little ones (under 5). 
Getting enough flavor
When you freeze popsicles, they taste less sweet due to the cold.  If you've tried freezing fruit juice and been disappointed, add some fruit juice concentrate to bring out the flavor and sweetness that you expect in a treat.  Because of popsicles small size, I don't really worry about this sugar that much.
To keep some of the texture of whole fruit without jamming up your popsicle mold, pulse whole fruit in your blender without completely pureeing it. See the Grape Popsicles, below, for an example for that.
Choose the right popsicle mold for your recipe
Popsicle molds hold less than you may expect.  Either make tiny batches (2 cups max) or get lots of popsicle molds and make a week's worth at once.  If you're like me and prefer to offer neighbor kids our food vs having my kids eat over there, you'll find that you quickly go through lots of pops!
If your popsicles aren't freezing solid, they may have too much sugar or fat in them, or something else (like magnesium) is preventing them from freezing solid.  If you're using coconut milk or lots of honey or lots of fruit juice concentrate, there isn't enough water in the pops to freeze solid.  These won't work with the kind of popsicle molds that have the stick and pull out of the mold, but they do work really well with these squeezie pop molds.
The squeezie pop molds above are also great if you don't have time to freeze your popsicles solid before wanting to consume them- they can be enjoyed after just a couple hours in the freezer.
Easily pop popsicles out of the molds
To make removal after freezing easy, make sure you start with dry popsicle molds. If I try to refill them right out of the dishwasher when there still is condensation on them, I find they stick more when trying to remove the finished popsicle.
When you're ready to remove, run under hot water for a few seconds on all sides, and they should pop right out! I like to use the sink in my laundry room for this, since it's right next to the hot water heater and gets hot water super fast.
Easy Grape Popsicle Recipe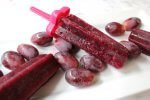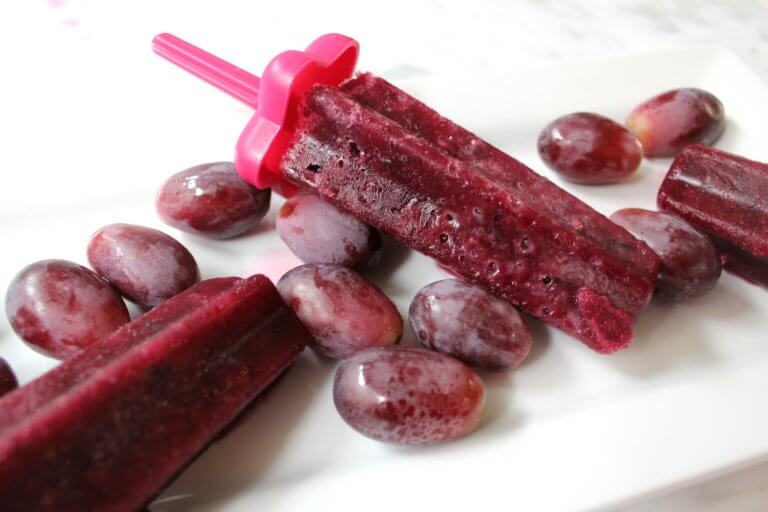 Whole Fruit Grape Popsicles (and homemade popsicle secrets)
Quick, easy, and delicious red grape popsicles are a favorite in our home.
Print
Ingredients
1/4

cup

grape juice concentrate

found in the frozen food section

2-3

cups

red seedless grapes

rinsed
Instructions
In a blender, pulse grape juice concentrate and grapes until mixed through but there are still small chunks of grapes.

Gently pour into molds.

Snap the lids on top of the molds and freeze upright overnight.

To remove, run the clear part of the popsicle mold under hot water and firmly pull out the handle.

Enjoy!
More popsicle ideas




This month's ebook!
Sign up to get the 20 Cool Treats sent to your email right away!
Please follow and like us: